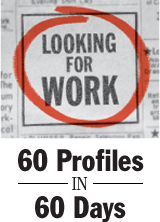 44/60 At Temple University, Rob Hill, 30, a sports and recreation-management major from Philadelphia, was the king of community service. He provided emotional and physical support for Temple's wheelchair basketball team, the Rolling Owls.
Hill set up games at the Roslyn Boys and Girls Club and organized exercise sessions for the United Cerebral Palsy Foundation.
He snagged two great internships - one with the Philadelphia 76ers, working in marketing, and the other at the Legendary Blue Horizon, concentrating on arena maintenance. Another job? Cleaning and inspecting boxing gloves used in the matches.
So why can't Rob Hill get a better job than delivering pizza? It's not just the economy.