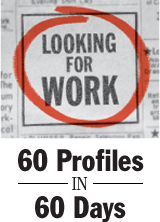 17/60 So what is Gregory S. Hemmings' favorite beer?
Until 2008, when he was laid off from his job as a distributor development manager for Miller Brewing Co, which included Miller and Coors brands, his top choice was one of those brews.
Now? "Let's just say I like beer," he said with a laugh. For maximum hireability, he has one philosophy and he is sticking to it: He'll love the one he's with.
For more than 20 years, Hemmings, 51, of Mount Royal in Gloucester County, was working in sales and sales management in the beverage industry, first soda, then beer.
Whatever the beverage, the underlying idea is the same. Convince distributors that they should stock more of his company's products vs. the competitors' brands.
"You try to work with them to get as much space as possible," Hemmings said. "We try to make our products one of the focal points."
The way Hemmings sees it, a good marketing push by his company equals good sales for the distributor. "If I am successful in helping them do well, it will come back to me and my products."
As eastern regional manager responsible for 17 states, Hemmings helped distributors benchmark their results so they could improve inventory handling and reduce theft and employee turnover.
When he lost his job, Hemmings decided to start his own consulting business.
But the downturn in the economy meant that cash-strapped distributors couldn't afford his help.
Downsizing, the credit crunch, consumer spending down - "nothing worked in my favor to help me be successful," Hemmings said, "but not for lack of trying."
Now he wants a job in consumer products. "This is the first time I've ever been downsized or lost a job," he said.
His wife also runs a business and they have two grown children.
There's a lot of action in the beer business, but it hasn't added up to a job for him.
Gregory Hemmings

Hometown:

Mount Royal, Gloucester County

.

Profession:

Sales/operations manager

.

Experience:

Worked for beer and
soda companies; managed key retail
accounts.

Education:

University of Pennsylvania -
bachelor's in economics

.

E-mail address:

Ghemmings1@aol.com
Gregory Hemmings' LinkedIn page


Big breweries, such as Anheuser Busch, are consolidating. That's how Hemmings lost his job. His company, Miller Brewing, merged with Coors, which had a different sales philosophy.
The smaller craft beer companies aren't quite ready for his sales management layer, Hemmings said. "The people that are in those roles now are the owners of the company.
"They may have some entry-level people who are actually out merchandising and promoting the brand," he said. "As they grow and expand, that's the next step, but they aren't there yet."
Update: As of December 2011, Hemmings is running a window-washing franchise that he purchased earlier in the year.
---
The Inquirer is not endorsing this individual as a job candidate; potential employers should do their own background checks.
---
Contact staff writer Jane M. Von Bergen at 215-854-2769 or jvonbergen@phillynews.com.