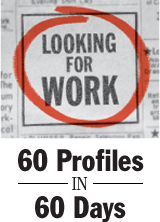 17/60 So what is Gregory S. Hemmings' favorite beer?
Until 2008, when he was laid off from his job as a distributor development manager for Miller Brewing Co, which included Miller and Coors brands, his top choice was one of those brews.
Now? "Let's just say I like beer," he said with a laugh. For maximum hireability, he has one philosophy and he is sticking to it: He'll love the one he's with.
For more than 20 years, Hemmings, 51, of Mount Royal in Gloucester County, was working in sales and sales management in the beverage industry, first soda, then beer.