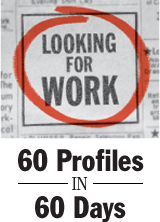 52/60 Alayne Green has a pretty simple way of describing her expertise: "I run businesses."
"I take something that isn't working - whether it's a project, or a team or a business, assess it and figure out how the options of how to make it better and then get it done.
"I'll figure out the process and I'll figure out the people and the money and I'll make it happen," she said.
The last time Green, 45, made it happen was in June 2009, when she lost her job as vice president of operations and consulting at Scientific Voice, a medical speakers' bureau that had been part of Publicas Healthcare Co.
For that job, Green commuted to Chicago from her home in Elverson, Chester County. Earlier, she created a speakers' bureau for Wyeth Pharmaceuticals in Collegeville.
Most of her career was spent at TVG Inc. in Fort Washington, a medical marketing agency that served pharmaceutical companies.
Convincing doctors to prescribe medicines requires a lot of attention to detail by many people, and that's what Green oversaw.
For example, if there was a dinner meeting, the physicians might receive medical books, or even a stethoscope. The items, which had to be carefully chosen to be compliant with regulations governing medical marketing, needed to be organized and packed - a job for a big crew.
At TVG, Green supervised 12 departments employing 200 people. She was in charge of a 100-seat call center. Data analysts, supervisors and managers reported to her.
"Too many managers believe that as they move up the ladder, they are supposed to have more and more of the answers," she said. "You are actually supposed to have more and more finesse in assimilating more information. Then you still have to make the decisions."
Green, who is now a consultant, would like to bring her operational skills to serving the elderly. Her thought: She can take care of the business side so the doctors and health-care professionals can concentrate on taking care of the elderly.
Update: As of December, 2011, Green is working fulltime as a consultant in a two-year contract.
AlayneGreen

Hometown:

Elverson

.

Profession:

Business and operations executive

.

Experience:

Ran medical marketing operations;
managed consultants, contractors
and vendors.

Education:

Shippensburg University -
bachelor's in business administration,
marketing.

E-mail address:

apgreen1@netzero.net
Alayne Green's LinkedIn page

These days, push for a full-time job has a particular urgency. Her husband is also out of work. He once supervised warehouses at QVC Inc. that were as big as six football fields. Recently he finished a short-term job at a quarter of the pay.
Even though they've spent most of their savings, they've managed, so far, to avoid tapping into college money set aside for their children, age 13 and 9.
"Sometimes," Green said, "my husband and I look at each other and say, 'Is it your day to say we're going to be OK, or is it mine?' "
---
The Inquirer is not endorsing this individual as a job candidate; potential employers should conduct their own background checks.
---
Contact staff writer Jane M. Von Bergen at 215-854-2769 or jvonbergen@phillynews.com.