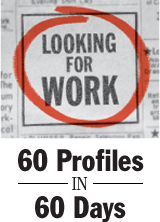 52/60 Alayne Green has a pretty simple way of describing her expertise: "I run businesses."
"I take something that isn't working - whether it's a project, or a team or a business, assess it and figure out how the options of how to make it better and then get it done.
"I'll figure out the process and I'll figure out the people and the money and I'll make it happen," she said.
The last time Green, 45, made it happen was in June 2009, when she lost her job as vice president of operations and consulting at Scientific Voice, a medical speakers' bureau that had been part of Publicas Healthcare Co.