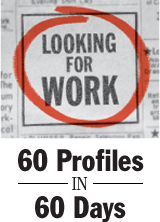 3/60 Glenn C. Lloyd, 57, seems like a quiet man with a resume full of geek words such as "Lotus," "CoreDossier," "knowledgebase solutions" and "third-party software."
"I'm very laid back," said Lloyd, of Shamong, Burlington County, who specializes in information technology support and service and lately has developed a specialty in regulatory submissions in the pharmaceutical industry.
So what's missing from Lloyd's resume?
Lloyd regularly plays the role of Jesus in the musical Jesus Christ Superstar, a part that calls for a lot of singing and some dancing.