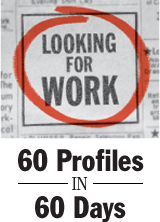 3/60 Glenn C. Lloyd, 57, seems like a quiet man with a resume full of geek words such as "Lotus," "CoreDossier," "knowledgebase solutions" and "third-party software."
"I'm very laid back," said Lloyd, of Shamong, Burlington County, who specializes in information technology support and service and lately has developed a specialty in regulatory submissions in the pharmaceutical industry.
So what's missing from Lloyd's resume?
Lloyd regularly plays the role of Jesus in the musical Jesus Christ Superstar, a part that calls for a lot of singing and some dancing.
"I've directed plays, as well," said Lloyd. "But you need to find a place that needs a director and there aren't that many, which is why I got into a different line of work."
Lloyd, who was laid off from his last contracting job in the pharmaceutical industry in December 2009, had been steadily employed with QAD Inc. in Mount Laurel from 1992 to 2004. There he had advanced through the ranks to become a technical-support consultant. When he was laid off from that job, he networked his way into the pharmaceutical sector.
These days, pharmaceutical companies are merging.
"They are laying off a lot of people because they have duplicative positions," Lloyd said.
Update: As of December, 2011, Lloyd is looking for work in his field. He works as a part-time janitor at his church.
GlennLloyd
Hometown: Shamong.
Profession: Information technology support.
Experience: Developed help systems,
trained support teams.
Education: Western Connecticut State University,
bachelor's degree in speech, communication and theater.
E-mail address: Glenn.Lloyd@BurCoPSG.net
Glenn C. Lloyd's LinkedIn page
The pharmaceutical jobs returned the Navy vet to the health-care field, which always interested him. As a child, he patiently worked with a disabled neighbor to teach him how to ride a tricycle. "His mother thought I was an angel," Lloyd recalled.
These days, Lloyd spends a lot of time networking and job hunting. At night he heads to a nearby church where he works part time as a custodian, a job he also got through networking. His wife directs a preschool at the church.
"We're getting by, but falling behind," said Lloyd, who collects unemployment benefits. He has an adult son, but another child is in college. "We're trying to help our son go through school.
"It's a twofold problem," he said. "Financially, you have this salary and you are running your life and then, all of a sudden, it's gone. But you have the same expenses.
"The other part is the mental part. Being out of work, I feel like I'm not a whole person."
---
The Inquirer is not endorsing this individual as a job candidate; potential employers should do their own background checks.
---
Contact staff writer Jane M. Von Bergen at 215-854-2769 or jvonbergen@phillynews.com.