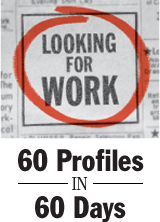 6/60 Talk about being thrown into the fire. Deborah J. Gallagher, 55, began her part-time job at Macy's at 8 a.m. on Black Friday, Nov. 26, the crazy shopping day after Thanksgiving.
It was insane in the men's sporting goods department, but Gallagher, who was laid off from her human resources job in February 2010, kept marveling at how good it felt.
Yes, she was earning only $7.75 an hour and standing on her feet all day. But, "I was thinking, 'This feels normal, having to be there at 7:45, going to work, going to lunch, going back to work, going home and making dinner.'
"The most troubling thing about being unemployed is that you don't feel productive," said Gallagher, of Mount Laurel. "I want to work.