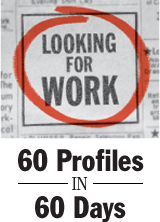 6/60 Talk about being thrown into the fire. Deborah J. Gallagher, 55, began her part-time job at Macy's at 8 a.m. on Black Friday, Nov. 26, the crazy shopping day after Thanksgiving.
It was insane in the men's sporting goods department, but Gallagher, who was laid off from her human resources job in February 2010, kept marveling at how good it felt.
Yes, she was earning only $7.75 an hour and standing on her feet all day. But, "I was thinking, 'This feels normal, having to be there at 7:45, going to work, going to lunch, going back to work, going home and making dinner.'
"The most troubling thing about being unemployed is that you don't feel productive," said Gallagher, of Mount Laurel. "I want to work.
"It is challenging when you don't have a schedule. You have to make your own schedule and force yourself to do it. It's easy enough to sit home and watch television."
But with the holidays over, her hours are dwindling to next to nothing. "I don't see any hours for me on the schedule," she said.
Besides whatever hours she can get at Macy's, Gallagher spends her time networking and looking for human resources work.
Gallagher grew into her human resources job at Universal Technical Resource Services Inc. in Cherry Hill, where she worked for 14 years until she was laid off after a change in management. She advanced from receptionist to administrator of purchasing and human resources.
Update: As of December, 2011, Gallagher is working fulltime.
DeborahGallagher

Hometown:

Mount Laurel

.

Profession:

Human resources administrator,
purchasing administrator

.

Experience:

Handled recruiting, orientation,
terminations, benefits administration,
government reports, purchasing,
government security and
401(k) administration

.

Education:

Enrolled at Burlington County College

.

E-mail address:

Deborah.Gallagher27@gmail.com
Deborah Gallagher's LinkedIn page

Even though she has handled almost every human resources responsibility, including recruiting, orientation, benefits administration, personnel file maintenance, government reporting, security clearances and administration of the company's 401(k) plan, she doesn't have a college degree.
That has proven to be an obstacle - one that she's trying to overcome by majoring in business administration at Burlington County College. It's a challenge, because her income is limited. Divorced, Gallagher lives with an adult daughter and has managed, so far, with unemployment benefits and her work at Macy's, to stay on top of her rent and bills.
---
The Inquirer is not endorsing this individual as a job candidate; potential employers should do their own background checks.
---
Contact staff writer Jane M. Von Bergen at 215-854-2769 or jvonbergen@phillynews.com.