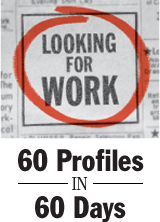 18/60 It's a good line, so Theodore R. Fitzer, a laid-off finance director, uses it to launch his "elevator speech." That's the 30-second sound bite unemployed people learn to make when asked, "So, what do you do?"
"I'm the only accountant I know with thermodynamics, atomic physics and three levels of calculus in my background," said Fitzer, 60, of Chalfont, who has been out of work since June 2009 when his company's corporate headquarters shifted to Denver.
Fitzer started as a civil engineer, but later discovered that finance interested him more. Both require precision and attention to detail.
"A lot of engineers call people like me 'bean counters,'" he said, "but I can relate how the engineering and manufacturing process gets to the profit-and-loss statement."