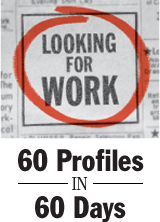 18/60 It's a good line, so Theodore R. Fitzer, a laid-off finance director, uses it to launch his "elevator speech." That's the 30-second sound bite unemployed people learn to make when asked, "So, what do you do?"
"I'm the only accountant I know with thermodynamics, atomic physics and three levels of calculus in my background," said Fitzer, 60, of Chalfont, who has been out of work since June 2009 when his company's corporate headquarters shifted to Denver.
Fitzer started as a civil engineer, but later discovered that finance interested him more. Both require precision and attention to detail.
"A lot of engineers call people like me 'bean counters,'" he said, "but I can relate how the engineering and manufacturing process gets to the profit-and-loss statement."
He can handle finance anywhere, but manufacturing is where his heart lies.
"That's where I thrive the most, but manufacturing factories are a little gun-shy [about the economy] at this point," he said.
What he really enjoys is the task of developing "standard costs," for manufactured products. That's an analysis of how much a product costs to make, and also how those costs are distributed over time.
"It's very creative, because you have to develop everything from scratch," Fitzer said.
"You have to monitor the jobs to make sure you are staying on budget," he said. "If you commit to the client that you are going to spend $10,000 overall, you can't spend $5,000 in the first month. "
Unemployment has been rough on Fitzer.
He blames it, in part, for the dissolution of his marriage. "I apologize if I get a little emotional about it," he said, his voice growing husky.
Update: As of December, 2011, Fitzer is still looking for work.
TheodoreFitzer

Hometown:

Chalfont, Bucks County

.

Profession:

Financial controller

.

Experience:

Enhanced cash flow in
several financially restricted companies

.

Education:

La Salle University -
30 credits toward an MBA.

E-mail address:

tyajfitzer@aol.com
Theodore Fitzer's LinkedIn page

He has two children, 26 and 21, who live with him. His wife moved out.
Since Fitzer lost his job, he has continued to volunteer as controller for his church, while he handles a couple of short-term financial contracts.
"The one positive thing is that I expanded the people that I know" through the job-hunt networking," Fitzer said. "I have met a lot of good, honest, hardworking people who want to help each other out."
---
The Inquirer is not endorsing this individual as a job candidate; potential employers should conduct their own background checks.
---
Contact staff writer Jane M. Von Bergen at 215-854-2769 or jvonbergen@phillynews.com.