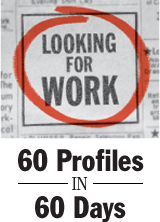 14/60 Amy L. Dinning works four days a week in her field, which is training, curriculum design and talent management.
So, in many ways, Dinning, 47, of King of Prussia, could be considered employed.
But Dinning would consider herself tentatively employed, in a situation that is increasingly common among those who are out of work.
In December 2008, Dinning was laid off from her job as vice president and director of learning at Willow Financial Bank in Wayne.
Three months later, working through a staffing agency, she landed a six-month contract job at AstraZeneca P.L.C., where she now manages a training budget of $400,000. Her contract was renewed several times. The time before each renewal, she said, was marked with uncertainty.
Her most recent contract will end in March and cannot be renewed, according to company policy.
"It's been a fantastic experience for me - no downsides," Dinning said. "But as a contractor, I still feel that I don't belong anywhere."
With companies reluctant to hire, many unemployed people wind up in temporary jobs, which helps explain the steady expansion of payrolls in temporary services, according to U.S. Labor Department reports.
Dinning is doing better than many because she is officially an employee of the staffing agency. That means that she will be able to apply for unemployment benefits when she loses this job.
Other unemployed people, from white-collar professionals to blue-collar construction workers, often get short-term gigs as independent contractors. Officially, they are business owners, not employees, so when their contracts end, they don't qualify for unemployment benefits.
Update: In January 2012, Dinning's temporary contract position will turn into a permanent fulltime job.
AmyDinning

Hometown:

King of Prussia

.

Profession:

Senior training and
development professional

.

Experience:

Developed process workshops
in the U.S. and U.K. Built a training plan
for 450 employees. Developed "train the trainer"
programs.

Education:

Penn State - master's
in instructional systems and design

.

E-mail address:

Amydinning@juno.com
Amy Dinning's LinkedIn page
Dinning uses her extra time to look for a lasting job and to volunteer. In April, she organized a training workshop for the newly unemployed called "Jump Start Your Job Search." More than 100 people attended. Another is scheduled for April 16 at Villanova University.
"You volunteer to help other people, so you are not focused on yourself," she said. "People get depressed when they are looking for a job."
It's also professionally fulfilling, she said. "There is something really gratifying about being able to help other people develop in their careers and learn something new."
---
The Inquirer is not endorsing this individual as a job candidate; potential employers should conduct their own background checks.
---
Contact staff writer Jane M. Von Bergen at 215-854-2769 or jvonbergen@phillynews.com.