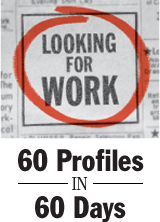 14/60 Amy L. Dinning works four days a week in her field, which is training, curriculum design and talent management.
So, in many ways, Dinning, 47, of King of Prussia, could be considered employed.
But Dinning would consider herself tentatively employed, in a situation that is increasingly common among those who are out of work.
In December 2008, Dinning was laid off from her job as vice president and director of learning at Willow Financial Bank in Wayne.