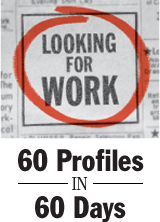 37/60 In Jersey City, two gleaming glass towers dominate the skyline, reflecting the Hudson River and Manhattan's towers.
The address of the combination condo and apartment complex is 77 Hudson. Project superintendent: Jeffrey Jon Davis, 49, of Yardley, who was laid off in November 2009 as the construction sector went through its free fall.
"It's a beautiful, beautiful project - a square city block. One of the nicest-looking projects on the west side of the Hudson," said Davis, who pulled out his laptop to show off the project.
He supervised every aspect of the $80 million development's construction, from the laying of the foundation to the erection of 96 floors of reinforced concrete to the 10-story parking garage topped by a swimming pool.