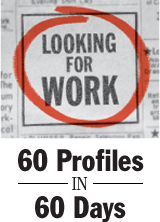 37/60 In Jersey City, two gleaming glass towers dominate the skyline, reflecting the Hudson River and Manhattan's towers.
The address of the combination condo and apartment complex is 77 Hudson. Project superintendent: Jeffrey Jon Davis, 49, of Yardley, who was laid off in November 2009 as the construction sector went through its free fall.
"It's a beautiful, beautiful project - a square city block. One of the nicest-looking projects on the west side of the Hudson," said Davis, who pulled out his laptop to show off the project.
He supervised every aspect of the $80 million development's construction, from the laying of the foundation to the erection of 96 floors of reinforced concrete to the 10-story parking garage topped by a swimming pool.
"You don't get a chance to build a 50-story building very often," said Davis, who started his career using a hammer. "I'm a union carpenter by trade. I spent 10 years working as a carpenter."
His understanding of what it is actually like to work on a building sets him apart from other top managers.
The workers "give you respect," he said. "You are not someone who went from high school to college and never worked on a project. I'm from the old school. I came up through the ranks."
Local projects include some of the Tower Bridge high-rises in Conshohocken, the Metroplex Corporate Center in Plymouth Meeting, and the garage near the Cira Centre in West Philadelphia.
After years in construction management, Davis joined Hunter Roberts Construction Group's Philadelphia office with the proviso that he'd work on big projects in Philadelphia and New York.
But that mobility meant that when the work began to shrink, Davis, as a rover, had not established himself in any office. He was the odd man, and then, out.
"Private development projects have dried up and gone away," he said. "Most of the work now is institutional, especially hospitals. Unfortunately, I have no experience in building hospitals."
Update: As of December, 2011, Davis is still unemployed.

JeffreyDavis

Hometown:

Yardley

.

Profession:

Construction management

.

Experience:

Scheduling, budgets, safety
enforcement, quality control, reporting,
documentation for multimillion-dollar
construction projects

.

Education:

Minnesota State University, Mankato -
course work in construction management.

E-mail address:

Davis-jeff@comcast.net
Jeffrey Davis' LinkedIn page
Fortunately, his wife has been able to keep her job in pharmaceutical research. Unemployment benefits help, but Davis had been earning six figures in his last job.
At home, besides hunting for a job, Davis has been working on his honey-do list - refinishing the basement and installing a kitchen countertop.
And he's been able to take over as chauffeur for their daughter, 16. The chance to reconnect with her, after years of 14-hour days, has been an unexpected benefit.
"But I'd prefer to be working," Davis said. "In my whole career, this is the first time I've ever been unemployed."
---
The Inquirer is not endorsing this individual as a job candidate; potential employers should conduct their own background checks.
---
Contact staff writer Jane M. Von Bergen at 215-854-2769 or jvonbergen@phillynews.com.