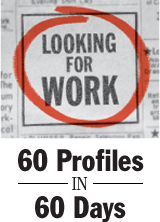 26/60 For years, Alfred C. D'Souza, 64, was one of those information technology road warriors, "leaving my home every Sunday and coming home on Fridays," consulting for companies around the nation.
From 2004 until 2009, though, he worked closer to his Malvern home. His employer was based in Texas, but D'Souza had a long-term assignment in Philadelphia. The assignment ended in December 2009 and D'Souza has been looking for full-time work since.
Before his family moved to the United States, D'Souza grew up in India.
"In those days, you either became a doctor, a lawyer or an engineer," he said. "I had no interest in medicine, because I don't like blood."
But he found he had a real aptitude for electrical engineering. "I was good at math and physics," he said.
At his first job, his boss saw his potential and put him in charge of the company's lofty goal to design and develop the first microprocessor-based diagnostic equipment for cars - at a time when California was setting clean-air standards.
"The first company that hit the street would get the lion's share of the business and we were the first to hit the market with the product," D'Souza said.
Over time, his responsibilities morphed to information technology project management. "What I really enjoy is taking technology, whatever it is, and making it useful to people and successful commercially," he said.
Update: As of December, 2011, D'Souza had fulltime work as a contractor at the Sunoco refinery in Marcus Hook. That refinery is in the process of being shut down.
Alfred D'Souza

Hometown: Malvern.

Profession: Engineer, IT
project manager.
Experience: Business and government consultant
on business strategy and IT.
Education: University of Chicago -
master's in finance, international
business.

E-mail address:

Dsouza46@verizon.net

Alfred C. D'Souza's

LinkedIn page




This is not the first time that D'Souza has been unemployed. More than once, he found himself on the wrong side of an acquisition.
But, he had always been able to tide himself over with consulting work. Now, there are longer spaces between assignments.

To keep himself from getting depressed, D'Souza sings tenor in his church choir. "I'm not the lead soloist," he said. "I love to harmonize."
In the past, he's been willing to take a pay cut to keep working, as he did when he accepted his last job, in 2004. He'd do it again, especially if he could land something in project management with profit-and-loss responsibility.
Being laid off is "difficult and it takes some adjustment," he said. "You know you can contribute, but it's hard to get anybody to pay attention. I could go on Social Security, but I want to work. I have a mind. I don't want to be on unemployment."
---
The Inquirer is not endorsing this individual as a job candidate; potential employers should conduct their own background checks.
---
Contact staff writer Jane M. Von Bergen at 215-854-2769 or jvonbergen@phillynews.com.