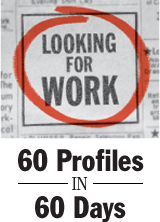 57/60 Todd Cosey is nearly in a state of paralysis when it comes to figuring out his life.
He's only 21 and he's already been laid off from a job - as a cemetery stone-setter. He'd like to get some training in something he would enjoy, something working with his hands, something that involves moving around, but what?
Where are the jobs?
What if, he asks, he chooses a field, tries to swing tuition for training, "and then I get a degree and there are no jobs anyway?
"It's really scary," said Cosey, who lost the stone-setting job in January when the crew was cut from four to two. "It's almost like 'What do you do?' "
His father, Robert E. Cosey Jr., 53, an unemployed electrician, understands - all too well. Except for some odd jobs, he's been out of work since October 2008, part of the massive shedding of jobs in the building trades.
"I feel bad for him," the elder Cosey said of his son. "It's true. There's no future for the young people."
Father and son, both out of work, sat around the dining room table - not their dining room table. Their family now shares a modest three-bedroom rancher in Mantua Township, Gloucester County, with a relative.
On Feb. 25, they sold their home in Sicklerville. The Coseys consider themselves lucky that they were able to sell it before it went into foreclosure. They had hoped to make enough on the sale to pay off a car loan, but instead they had to put money on the table to close the deal.
"I used to pull up in front of that house and say" 'I can't believe it is mine.' We had a beautiful home. We had a pool," Bob Cosey said.
"We had to downsize our lives. It was very upsetting, but it was becoming a burden. We couldn't afford it any more," he said.
Unlike his son, Cosey had an inkling, when he graduated from high school, that he wanted to go into electronics. He landed a job with a security firm, fixing alarm systems.
Cooper University Hospital was a client. A Cooper supervisor noticed Cosey's work ethic and hired him away, sponsoring him in an apprenticeship program to become an electrician.
Cosey stayed at Cooper for a decade - long enough to meet his wife - and then moved to what seemed to be a better opportunity. Later, there were gaps in employment, as is typical in the building trades, but Cosey always found another job.
In 2008, he helped install the electricity in a huge Gatorade bottling plant in Virginia. "We were running the cable, pulling over 40,000 feet of wiring on that job. It was so much pressure. You had to be on the money with it."
Cosey would very much like to return to being a hospital electrician. "Hospitals keep you busy," he said. "I'm the type of person who likes to keep busy."
It has crossed his mind that he and son could go into business together. His wife, who works at Cooper as an office manager, could do the books.
"Neither of us knows what it costs to go into business," he said. "We don't have any extra money right now" to buy the necessary tools and equipment.
These days, Bob Cosey continues to look for work. Besides being an electrician, he can handle many other aspects of the building trades, including painting, basic carpentry and plumbing, tile installation and wallboard patching and repair.
Todd Cosey spends his time at the state-run Gloucester County One-Stop Career Center, taking aptitude tests and getting career counseling, hoping to figure out where to place his bets on the future.
He thinks that, at his age, he should have a job, an apartment and a chance to start his life.
"I would love to have my own place, but I can't," Todd Cosey said.
"Even my parents can't."
His father shook his head, and said: "I would never have dreamed at 53 that I would be in this position - basically homeless and out of work."
Update: As of December, 2011 Bob and Todd Cosey are both working. Bob is an electrician at the University of the Arts and loves his job. Todd Cosey works in building maintenance and thinks he can move up in the company. They moved into a new house in the fall.
Robert Cosey Jr.
Hometown: Mantua Township, Gloucester County
Profession: Electrician
Experience: Skilled in industrial, commercial and residential electrical installation and repair, as well as in interior painting, tile installation, basic carpentry and plumbing.
Education: Camden County Vocational and Technical School - four-year apprenticeship.
E-mail address: twocosey@yahoo.com
Robert Cosey Jr.'s resume
Robert Cosey Jr.'s LinkedIn page
Todd R. Cosey
Hometown: Mantua Township, Gloucester County
Profession: Undecided
Experience: Worked at area cemeteries; experienced with boom crane, forklift and concrete-foundation installation, landscaping; cashier and photo lab technician.
Education: High school graduate.
E-mail address: tcosey1004@gmail.com
Todd Cosey's resume

---
The Inquirer is not endorsing job candidates; potential employers should conduct their own background checks.
---
Contact staff writer Jane M. Von Bergen at 215-854-2769 or jvonbergen@phillynews.com.