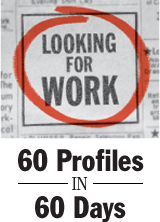 57/60 Todd Cosey is nearly in a state of paralysis when it comes to figuring out his life.
He's only 21 and he's already been laid off from a job - as a cemetery stone-setter. He'd like to get some training in something he would enjoy, something working with his hands, something that involves moving around, but what?
Where are the jobs?
What if, he asks, he chooses a field, tries to swing tuition for training, "and then I get a degree and there are no jobs anyway?