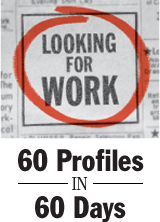 34/60 When Willard Coefield lost his warehousing job in 2009, he did what all the experts advise - go back to school, even at age 56, and learn a new trade.
Coefield, of Bristol, learned two new trades.
He acquired a certificate as an electrocardiography technician and another as a phlebotomy technician.
But he is still unemployed.