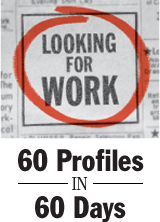 34/60 When Willard Coefield lost his warehousing job in 2009, he did what all the experts advise - go back to school, even at age 56, and learn a new trade.
Coefield, of Bristol, learned two new trades.
He acquired a certificate as an electrocardiography technician and another as a phlebotomy technician.
But he is still unemployed.
"With this economy, you are going to take a job wherever you can find one," he said.
Until 2009, Coefield worked 15 years at the Federal Express Corp. warehouse in Croydon. But he said the company was moving toward making everyone a driver and he didn't want to be on the road in inclement weather.
Then, too, warehouse work can be tough on the body. "That's why I looked in the health-care field," he said. "There is more wear and tear on the mind than on the body.
"I wanted to get into a growth field - where you can continue to grow in the job as you grow into older age," he said. "You can continue to work from a physical point of view because you are able to handle your workload."
Coefield finds himself in the same boat as a youngster fresh out of school - trained, but with no experience.
"Everybody asks for experience, but if you just get into something, how do you get the experience?" he said.
Over the years, he's had a lot of jobs, but he most loved the 20 years he spent as an operator and supervisor in the chemical industry for Pennwalt Corp. and for Heucotech Ltd.
Even though there are formulas for mixing chemicals and paints, the experienced operator has to take into consideration other changing factors, such as humidity or temperature, he said.
"It's kind of like baking," he said. "We're both cooking the cake. We use the same ingredients, and they are in the oven at the same time, but yours comes out better.
"In workplaces now, they have controlled temperature, but back in the day when I learned, you were always dealing with different types of atmosphere," he said. "You had to keep an eye on it."
In the health field, he finds the same idea fascinating: How external factors impact the body's electrical system.
Update: As of December 2011, Coefield is still looking for work.

WillardCoefield

Hometown:

Bristol

.

Profession:

Warehouse worker, phlebotomy and electrocardiology tech.

Experience:

Assembled front and rear trailers;
staged trucks for loading and
unloading; supervisor, trainer, payroll administrator.

Education:

Philadelphia Biblical University -
bachelor's in theology.

E-mail address:

willardcoefield22@comcast.net

Coefield earned a college degree in theology from the Philadelphia Biblical University in Langhorne. He leads a weekly Bible study, but he finds that unemployment is a test of his faith, especially when he has barely enough money to make the rent.
"I believe in Christ Jesus," he said, "but at the same time Christ Jesus [himself] is not going to give me a job. It's the faith factor, and the faith is what is keeping me looking forward.
"It is going to get tougher and tougher," said Coefield, who lives by himself. "I have to be optimistic that something can happen in the next 60 days."
---
The Inquirer is not endorsing this individual as a job candidate; potential employers should conduct their own background checks.
---
Contact staff writer Jane M. Von Bergen at 215-854-2769 or jvonbergen@phillynews.com.