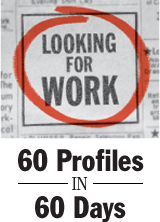 9/60 Financial analyst Michael J. Bruni likes watching how companies make money.
It would be nice if Bruni, 27, were making money, as well. But, instead, unemployed, he has moved back in with his parents and is now looking for work.
"I like the analysis of the stock market," said Bruni, of Jacobstown, who was a senior analyst responsible for client service and retention of more than $2 billion in client assets at the Concord Advisory Group Ltd. in Princeton.
He'd like to return to the same field or, perhaps, branch into real estate.
When Bruni was laid off in March, he made a financial calculation and decided that he could best protect his real estate investment - his condominium in Plainsboro - by renting it out for enough to cover mortgage and taxes.
It was a bit of a switch, moving back into his old room. "I was used to being on my own," he said.
Besides looking for a job, Bruni has been helping other people who are unemployed by volunteering as the job development co-chairman of the Professional Services Group of Burlington County.
"The people I deal with at the meetings are doing everything possible to get off unemployment," he said.
Update: As of December, 2011, Bruni has a fulltime job in the financial sector.
MichaelBruni

Hometown: Jacobstown, Burlington County.

Profession: Financial analyst.

Experience: Responsible for client service
and retention of more than
$2B in client assets.
Managed a three-member client team,
shortened client reporting cycle,
conducted investment manager and
performance analysis.
Education: Penn State University -
bachelor's in finance.

E-mail address: Mike.Bruni@gmail.com
Michael Bruni's LinkedIn page

What frustrates Bruni the most about being unemployed is the lack of feedback from companies. He's been on 14 job interviews, and he'd really like to know what has kept him from clinching the deal.
"I'd like to know where I fell down, what I lacked," he said.
One thing he has learned is that "in this economy, you can't just apply to a job post and expect a call. You have to know this person, who knows that person. It's not who you know, it's who knows you.
"You can't be shy or scared. You have to say, 'I'm unemployed and I'm looking for a new opportunity.' "
---
The Inquirer is not endorsing this individual as a job candidate; potential employers should do their own background checks.
---
Contact staff writer Jane M. Von Bergen at 215-854-2769 or jvonbergen@phillynews.com.