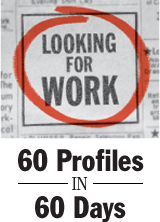 51/60 As a boy, Harvey Brown used to follow his father around, picking up carpentry and other building trades.
"My hand-working skills just came naturally to me," said Brown, now 61, of Philadelphia.
And so, Brown relied on his hands to make a living in manufacturing.
For 20 years, Brown operated a paper machine for Simpson Paper Co. in Miquon. It was a good job, enough to provide for his family of three sons. During slow times and layoffs, he worked for a contractor, putting his building-trade skills to use.
The plant closed in 1995.
But Brown wasn't too worried. His wife, who works for the city, had her job. And he had a plan.
As severance, Simpson provided grants to people who wanted to become entrepreneurs. Brown opened a roofing business with his sons.
"I had an accident on May 21, 2008," Brown said. He remembers going up a ladder to fix some window trim, but he doesn't remember coming down. When he woke up, he was in the hospital, paralyzed from the waist down.
"From there, I didn't know what I was going to do. I was depressed, to say the least," he said. "I had been physically active. I was an athlete - played basketball, football, baseball, played with my sons, played pickup games."
Eventually, he hooked up with Liberty Resources, a nonprofit that helps people like Brown gain independence, and Pennsylvania's Office of Vocational Rehabilitation, which funded training.
He learned customer-service skills and became technologically savvy on computers.
"I'm looking for something where I can use my voice and my mind," he said. "I've had all these years of dealing with people. I feel as though I could help someone by listening and then solving their problems.
"I haven't gone on an interview yet, but I'm ready now," he said.
One hand had atrophied. Through sheer willpower, he exercised it until it now works as well as ever.
Update: As of December, 2011, Brown is working parttime as trainer for the disabled. He's happy.
HarveyBrown

Hometown: Philadelphia.

Profession:

Customer service, entrepreneur

.

Experience:

Trained in all clerical skills;
machine operator; excellent hand skills

.

Education:

Academy at Liberty Resources -
technological training

.

E-mail address:

hbrownsons@verizon.net
"Using my hands is very important to me," he said. "My hands are how I made my whole life."
Here's what Brown conquered: lack of mobility, loss of his traditional way of making a living, and overwhelming depression.
In Brown's mind, his ability to persevere is a huge asset, in addition to his new skills.
"The work world can learn from someone like me," he said. "You can learn to be dedicated to what you do - to do it with every ounce of your ability and to be prompt and professional. I don't care how mundane the task may seem to you. Do it well."
---
The Inquirer is not endorsing this individual as a job candidate; potential employers should conduct their own background checks.
---
Contact staff writer Jane M. Von Bergen at 215-854-2769 or jvonbergen@philly.com.