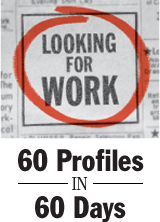 15/60 Evidently Jeffrey Adam Baxt passed the test, because he was able to get work washing dishes at Albert Einstein Medical Center one Labor Day weekend.
"You actually have to take a written test to be a dishwasher," marveled Baxt, a writer, event planner, publicist and actor from Roxborough who was laid off from his media relations job at the Girl Scouts of Eastern Pennsylvania in February 2009.
As an unemployed person, he has also wiped down hospital beds, unloaded trucks for Marshalls, and worked the midnight shift as a mall greeter handing out fliers the day after Thanksgiving.
"That job came through a casting agency," he said.