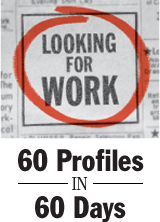 41/60 Joelle Badeau, 26, graduated from college with high hopes and bad timing.
The end of her formal education in December 2007 coincided exactly with the start of the recession, and Badeau found it impossible to get a job in her major - communications - despite internships at Comcast and stints producing programs for the campus TV station.
"I thought I could get something in Comcast," she said, "but they were laying people off. I couldn't even find entry-level work."
So Badeau, of Philadelphia, turned to a strategy adopted by many young graduates. She signed up for a year of service with City Year, and followed that with another year with EducationWorks.
"You don't get paid too much," she said, "but you get health benefits and they give you money to pay back your loans, or to put aside for school."
With both programs, Badeau worked in Philadelphia schools. For City Year, she assisted seniors at Samuel Fels High School with their senior projects. For EducationWorks, she handled many responsibilities at an elementary school.
"It really didn't use my professional skills," she said, "but it does help with skills like team building and public speaking."
When her service years ended, she was out of a job and no one was hiring.
Badeau is now on welfare, eking by on a little more than $300 a month for herself and her son, 2. The job opportunities her counselors show her are for retail or customer service. She has assignments through her welfare program, but they don't make full use of her capacities.
"I think I'm the only one in my group with a college degree," she said.
Update: As of December, 2011, Badeau is working several parttime jobs as a teaching assistant.

JoelleBadeau

Hometown: Philadelphia.

Profession:

Communications, TV production.

Experience:

Campus news station, recording
and editing material. Wrote
and edited Web content.

Education:

Lincoln University -
bachelor's in communications.

E-mail address:

JBadeau07@yahoo.com
Joelle Badeau's LinkedIn page


She deeply desires work in her field. Ideally, she would be a talent scout, or work on television, either as a production assistant or hoisting a camera as she did in college.
"I have to work," she said. "It was not my goal to get on welfare."
Badeau's background is unusual. She has 21 siblings, most of them adopted, and is one of only a handful of them to earn a degree. That's one reason she feels particularly stung by her joblessness.
"I went to school for 4-1/2 years and paid a lot of money," she said. "I got a degree. People said that if you get a degree, you'll get a good job.
"I feel like I wasted money and time going to school and now I can't get a job."
---
The Inquirer is not endorsing this individual as a job candidate; potential employers should conduct their own background checks.
---
Contact staff writer Jane M. Von Bergen at 215-854-2769 or jvonbergen@phillynews.com.