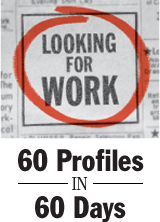 41/60 Joelle Badeau, 26, graduated from college with high hopes and bad timing.
The end of her formal education in December 2007 coincided exactly with the start of the recession, and Badeau found it impossible to get a job in her major - communications - despite internships at Comcast and stints producing programs for the campus TV station.
"I thought I could get something in Comcast," she said, "but they were laying people off. I couldn't even find entry-level work."
So Badeau, of Philadelphia, turned to a strategy adopted by many young graduates. She signed up for a year of service with City Year, and followed that with another year with EducationWorks.