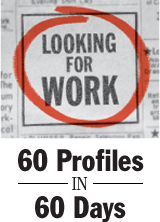 2/60 Many people go to art school and find they can't make a living at what they love to do most, but that's not what happened to Khaleel Adger, 32, of Philadelphia.
Shortly after he graduated from college, he began working at Miskeen Originals, designing one-of-a-kind clothing for the urban market.
"It turned out to be a great career," he said. "I got paid very well and I was able to buy two houses."
In 2008, after six years, Miskeen laid off Adger, and then a related company brought him back on a contract basis. Those contracts faded out last spring.
As an artist, Adger tends to be a realist, but that's not the kind of work he did at Miskeen. "People like the abstract - abstract and impressionism and a lot of really bright colors.
"We would try to use the colors that went with the latest footwear and accessories," he said.
Adger said he was painting 40 shirts a day - quite a change from his art school training, where projects could take weeks.
Now he finds himself with a dilemma. On the one hand, he'd like to take his art in the same direction his father did, teaching art to young people.
However, he doesn't have teaching credentials, nor does he have the money to return to college. He'd need a private school to hire him on the basis of his talent.
KhaleelAdger
Hometown: Philadelphia.
Profession: Clothing designer, artist.
Experience: Created one-of-a-kind designs for
hand-painted urban clothing, muralist and camp arts
counselor for inner city youth.
Education: School of Visual Arts, New York,
bachelor's degree in illustration and fine arts..
E-mail address: adger2414@hotmail.com

On the other hand, he dreams of starting a business like the one that laid him off, but there's no money for that, either. "All we'd need is $15,000" to buy a silk-screen machine and pay some rent. "I know how to start a clothing line," he said.
Meanwhile, unemployment benefits, his wife's teaching salary and rent from their first home support their two young sons. Because their income is low, they qualify for assistance to pay utility bills.
"I do feel some guilt," he said of his dream of running his own business when practicality might dictate settling for any job that he can find. He can't deny the attraction of controlling his own destiny, a control that shows itself in even the simplest ways.
"I see these guys running on East and West River Drive. How do they do that? How do they go about that way of life?"
Update: Adger still dreams of owning a business, but now works parttime as a teaching assistant.
The Inquirer is not endorsing this individual as a job candidate; potential employers should do their own background checks.
---
Contact staff writer Jane M. Von Bergen at 215-854-2769 or jvonbergen@phillynews.com.