Archive: September, 2011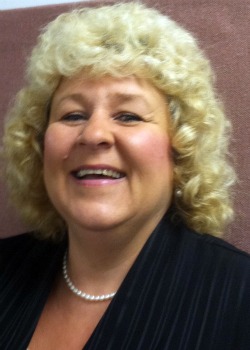 Dianne Slane trained herself out of a job she loved. For years, Slane worked at St. Mary Medical Center in Langhorne, particularly helping doctors handle the paperwork for electrocardiograms. They even trained her to administer them. Part of her job was to complete an electronic record of the procedure.
It was all good until the hospital got a new software system. "What I used to type, the doctors could handle by hitting one button and the computer would take care of the rest," she said.
Because Slane was so competent, the hospital sent her to Florida to be trained on the new system. Then she came back and trained the doctors. "The doctors told me I was going to train myself out of a job," she said. They were right, although she did stay on for a while filling in for various administrative assistants who were on leaves. When they returned, she was out of work as of June 2010, after 13 years.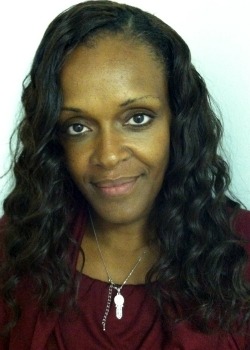 Too bad the computers that scan job applicant resumes can't see Nia Gibson's eyes light up when she talks about taking care of people with disabilities or developmental delays.
The resume seems fine, but pro forma. Gibson's enthusiasm is anything but. "It feels so good to be needed," she said. She used to work weekends at a group home and she loved walking in the door to be greeted with so much affection from the residents. She loved taking them to New York, or on outings. She was so proud that she taught a person how to use a straw -- even trained therapists hadn't been able to accomplish that.
Yes, it takes a lot of patience, she said, "but if you have the passion, you have the patience." Gibson joked that sometimes she has more patience for her clients than for her daughter who lives with her in Morrisville. "She's 7 and she knows everything."

There's a certain irony to the reason that Catie Hughes, a housing expert, is out of a job. For much of her career, she has managed properties that have been foreclosed, and that's what she did at Keystone Asset Management in Colmar until she was laid off in January.
You'd think there would be a lot of work for someone like Hughes, given the economic times, but you have to factor in the politics. And right now, banks are holding back on foreclosures, even though many, many mortgages are in arrears. Maybe they don't want the bad publicity. Maybe they've been stopped from acting, as they were for awhile in Philadelphia. Maybe they don't want to show the bad results on their books. Whatever the reason, they are slowing up on the foreclosures.
"The flow of foreclosures is not big enough" Hughes said, unwilling to speculate on why. "If I wanted to move to Dallas, or to San Diego, I could get a job easily in this business. There are a lot of REO shops there."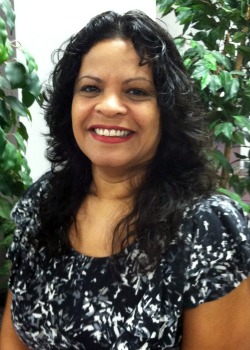 Marilyn Melendez knew what it was like to grow up in a family dependent on welfare. "I said, I don't want to live like that," she said. "Trust me, since I got my first paycheck at age 14, I was hooked."
She's hooked on work, but can't find a job in her chosen field, which is health care administration. She likes the hospital atmosphere. "I love people and I love working in clinics," she said. She thinks that she's a good listener and that it's a skill that helps particularly in a health situation when people are under stress. "People tell me that I'm such a good listener. I should have been a therapist."
Melendez, of Bristol, has all the standard office skills, and one plus. She's a Ms. Fixit when it comes to computers, even though she hasn't had any formal training. "People have always had me fix their computers, even though I never went to school for it, but I always manage to fix them."
Jane M. Von Bergen, Inquirer Staff Writer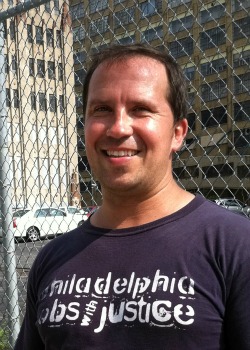 Imagine starting a labor union to represent workers against two powerful forces -- one of the largest security guard companies on the globe and one of the nation's largest labor unions. That's what Fabricio Rodriguez, 37, a labor entrepreneur faced when he set out to organize security guards at Temple University, the University of Pennsylvania and later, the Philadelphia Museum of Art.
To set the stage, Rodriguez came to Philadelpha about six years or so ago and soon found work as the coordinator for the local branch of the Jobs With Justice organization. This group helps labor unions with their campaigns to help workers by enlisting sympathetic allies to apply community pressure to the companies.
When the Service Employees International Union set out on a national campaign to organize security guards employed by Allied Security LLC, headquartered in Conshohocken, they enlisted Rodriguez' group to round up the sympathizers, bring in the preachers, mobilize the students, and build some outside support for the campaign. AlliedBarton, as the company is commonly known, dispatches security guards to many locations, including Temple, Penn and the museum.
Jane M. Von Bergen, Inquirer Staff Writer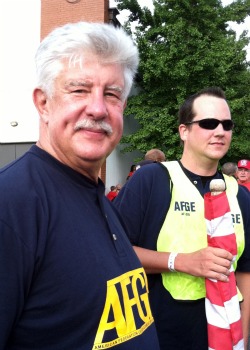 Negotiations begin tomorrow for a first collective bargaining agreement for the nation's 44,000 Transportation Security Administration airport screeners.
At Monday's Labor Day parade, I asked John Gage, president of the screeners' union, about the main issues for the 44,000 screeners. Top on the list is a much-hated evaluation system that is part of the reason, he said, that screeners tend to earn less than similar federal employees.
Gage, a former pro-ball player with the Baltimore Orioles, heads the American Federation of Government Employees. You can read my Philadelphia Inquirer story about how the AFGE came to represent the screeners.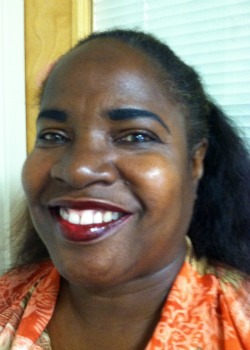 Patricia Ruger has a passion for community involvement and if there were any justice in the world, she'd be able to do it for a paycheck. Instead, she said, she is "penniless." Ruger, a former sales consultant in home remodeling for Sears, was laid off in January -- the bye, bye time for many retailers.
A temporary job derailed her unemployment benefits.
"My goal is to unite different organizations," said Ruger, who is involved in two different block captain associations and the 60th Street Business Association. "They all have the same purpose and they all have the same goals, but they don't work together unless they have to. I want to get more people involved in the community to set up youth programs and to actively deal with the politicians."
Jane M. Von Bergen, Inquirer Staff Writer
Once upon a time, there were two neighbors, one with a goat....
Like many teachers, Philip Harvey, a professor of law and economics at Rutgers University, likes to use parables to illustrate a point -- and here's the preview -- the goat stands in for a good union job with what used to be standard benefits -- health insurance, pension, vacation time.
Anyway, once upon a time, there were two neighbors, one with a goat, Harvey said. To reconcile the inequity, the goatless neighbor killed his neighbor's goat.