Jane M. Von Bergen, Inquirer Staff Writer
What's good about Philadelphia? People tend to stick around -- generation to generation, even in the same neighborhood. What's bad about Philadelphia? People tend to stick around. They don't want to leave. That tendency has posed a problem that Cardone Industries' CEO has never encountered anywhere else he worked on the globe.
"One of the challenges we have is we have operations all throughout North America is to get our people to be willing to leave Philadelphia, even for an assignment," Keith Cramton, the relatively new chief executive at Cardone Industries, told me during our Leadership Agenda interview. "They have roots here that go back, in some cases, for a couple hundred years, which is new for me."
Cramton spent most of his career working for Ford Motor Co., but for them, and other firms, he worked all over the nation, and the world, living for a time in Japan, among other places. In Philadelphia, he heads the city's largest manufacturing facility. The company re-manufactures auto parts. It has a plant here and another in Mexico, plus various distribution facilities around Canada and the U.S, particularly in Texas.
Jane M. Von Bergen, Inquirer Staff Writer
When I first met Amy Dinning, she was sort of employed and sort-of-not, locked in the role of independent contractor and sweating it each time the contract came up for renewal. A human resource specialist, she didn't really consider that she had a job, just a series of breathing places on the rocky climb to employment.
Over the last couple of years, Amy has put together a one-day workshop for the unemployed, particularly aimed at people who recently lost their jobs. Titled "Jump-Start Your Job Search," this year's session takes place Saturday, Nov. 2 from 9 a.m. to 4 p.m. There are sessions on motivation, marketing, networking and interviewing, some with authors who have written books on related topics. The place is the Church of the Saviour, the cost is $15 and lunch is not included, so pack one!
This event is sponsored by Church of the Saviour, ASTD Philadelphia chapter, Doubletree Hotel Valley Forge, Greater Valley Forge Human Resources Association, Hire One "a CCEDC initiative", My Career Transitions, Penn State Great Valley Career Center and St. Joseph's University.
Jane M. Von Bergen, Inquirer Staff Writer
Flyers President Peter A. Luukko also serves as chief operating officer of Comcast-Spectacor, a business that generates $4 billion in sales. He also plays hockey many mornings a week with his co-workers. (Not the Flyers!) He's been a coach and his children also play hockey.
In my Leadership Agenda interview, I asked him what lessons from sports apply to business. Of course he mentioned teamwork, the aggressive pursuit of a common goal and the importance of locker-room camaraderie in a business setting. But it was another point he made that really struck me:
"The thing you learn most in sports, frankly, is team work and how to lose," he said. "Winning's easy. When you win, you know, it's fun, everybody's getting credit. It's easy.When you lose, you have that terrible feeling in your stomach that you can't describe.
Jane M. Von Bergen, Inquirer Staff Writer
How big a mistake do you think your boss would tolerate before he sent you packing? Even though Peter Luukko cost his company $90,000, his boss, Ed Snider, kept him on. Here's the story, fresh from my Leadership Agenda interview. The moral of it comes at the end.
"In the early 1990s, we created a rib festival out in our parking lot and we got rib joints from all over the country to come into our parking lot to serve ribs," Luukko told me as we sat in his office in the Wells Fargo Center. Luukko is president and chief operating officer of Comcast-Spectacor, a company that manages arenas, stadiums, convention centers and performing arts venues.
"Our marketing people did a great job promoting it. We had bands. It was really fun and then the week hits and it is record heat. If it is 100 degrees out, it's 140 degrees in the parking lot, so our attendance is OK, but we lose $30,000," he said.
Jane M. Von Bergen, Inquirer Staff Writer
Former Xerox CEO Anne M. Mulcahy took the company's helm at a time when it was is in such financial turmoil that some wondered whether it would exist. In her first few years on the job, she slashed the staff in half. On Tuesday morning, Mulcahy talked about leadership at the Forum of Executive Women's annual breakfast Tuesday.
Her speech was inspiring, even to me, and I've heard a lot of CEOs talk and I'm not inclined, in general, to be impressed. What made it more inspiring is what I learned after the event -- her husband had died no more than two weeks ago. In light of that, her grace and poise was even more impressive.
Here are a few of the points that she made to this group that finds itself keenly interested in leadership, particularly for women.
Jane M. Von Bergen, Inquirer Staff Writer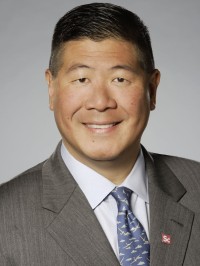 Chemical engineer Stephen Tang, chief executive of the nonprofit University City Science Center, was recruited from the for-profit world, where he led a $1 global billion life sciences for Olympus America Inc. Before that he was a CEO of a company that he shepherded through its initial public offering. In my Leadership Agenda interview, I asked him about the differences in leading a for-profit and a nonprofit.
"Here again, there were misconceptions I had," said Tang, as we sat in his office in the 16-building Science Center complex on Market Street. Tang leads a $22.1 million combined real estate and business incubator organization where rents help fund the mission of encouraging young companies.
"If you are working for a nonprofit company, in general what you worry about is that you can't retain, attract and grow talent. And that's absolutely not true," he said.
Jane M. Von Bergen, Inquirer Staff Writer
I love to ask the chief executives I'm interviewing for Leadership Agenda about common mistakes that their peers make. Here's a response from Stephen Tang, chief executive of the University City Science Center. Tang used to lead for-profit businesses, so he's had plenty of opportunity to meet top executives.
"The presumption of knowledge is a real danger," said Tang. "It's presuming that you know something. It's over-confidence, it's arrogance, whatever you call it. It's not recognizing the subtle differences in situations," he said.
"I'm a big fan that a lot of decision making is about pattern recognition," he said. "So, a lot of what we do as human beings is see patterns. But some of us see the pattern in a little bit different detail than others do. I think where most CEOs fall into traps is that they assume [a new situation resembles a pattern] they have seen in the past when it is actually something far different. I think that CEOs have been doomed by that faulty pattern recognition."
Jane M. Von Bergen, Inquirer Staff Writer
Preparation is key when it comes to a performance review, said Shawnice Meador, director of career management and leadership at the University of North Carolina's MBA program.
Here are some of her suggestions: