Jane M. Von Bergen, Inquirer Staff Writer
We mere plebeians rarely get a visit from the President of the United States at our workplaces, but last year, President Obama came to K'nex Brands LP in Hatfield. He was impressed that the company had decided to bring back its manufacturing from China. I'll let Michael Araten, K'nex CEO, pick up the story.
"It almost didn't happen because it started with an email form the White House that I almost deleted because who gets an email from the White House," said Araten, who grew up in Cherry Hill, graduated from Cherry Hill West and had his first job with Zinman Furs.
"Because it had a Washington DC area code, I called. From there it was real -- the Secret Service and the security and they all came ahead of time. It was about a week prep, so we got the call, Tuesday before Thanksgiving last year. We met the advance team Sunday after Thanksgiving and he was scheduled to come that Friday.
Jane M. Von Bergen, Inquirer Staff Writer
In my interview with Michael Araten, chief executive at K'nex Brands LP, the Hatfield toy company, we talked a lot about management philosophies, and, not surprisingly, leadership. I asked him what advice he'd give to a fledgling CEO, or for that matter, to any leader.
"If you're a leader of a group -- I think about this a lot -- you are putting on a show every day," he said. "So who's your audience? What's important to them? Speak in a way that's meaningful to them with content that matters to them, because if you do that, then they'll follow you anywhere. In the business sense of audience, you'll probably hear customer or consumer, but if you are teacher, your audience is students. Or you might have multiple audiences, we do. We have audiences of grandparents, and parents and schools and kids and retailers. I think that's the core of it.
"Beyond that, listen," he continued. "I also watch "Judge Judy" and "Judge Judy" says you have two ears and one mouth for a reason. I try to listen more than I talk. I think you learn a lot more that way and you are able to make better decisions that way and the people you are talking to tend to feel much more respected that way."
Jane M. Von Bergen, Inquirer Staff Writer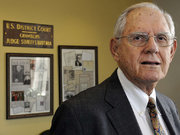 No doubt, U.S. District Judge Stanley Brotman, 89, who signed his last order as a federal judge August 29, is still trying to pack up his chambers at the federal court house in Camden before heading into retirement after 38 years on the bench. On Labor Day, I wrote a profile of him. The next day, I got this email from a former federal law enforcement agent. I don't ordinarily share my mail, but his mob story is too amazing to keep to myself. I'll put a few explanatory phrases in brackets.
"Jane, I wish I had a chance to talk to you before you wrote your article on Judge Brotman. When the Scarfo [organized crime] wars were going on and he shot Joe Salerno's father, I was the agent who testified in his court before he put Scarfo away. [Joseph "The Plumber" Salerno, Jr. was a prosecution witness against Scarfo].
Up until that time Scarfo, [Nicodemo "Little Nicky" Scarfo, then head of Philadelphia's organized crime family] was threatening and harassing the agents investigating him. My family was a victim of his viciousness.
Jane M. Von Bergen, Inquirer Staff Writer
"If labor is going to grow again, it has to alter the terms of the debate."
Those words came from Janice Fine, a Rutgers University professor who specializes in worker centers, organizations that represent workers outside the collective bargaining relationship. The way Fine sees it, last week's round of fast-food worker walks offs had more than one mission. Yes, one goal was to help low-wage workers gain a pay raise. The protesters want to earn to $15 an hour. The ones I interviewed in Wilmington were earning $7.25, the minimum wage
The other, Fine said, was to "alter the terms of the debate."
Jane M. Von Bergen, Inquirer Staff Writer
Organizing workers into unions has never been easy, but these days, it's a very different challenge. Today's workforce is much more mobile, much less settled and not as likely to be working for the same employer for long periods. How do unions reach workers when they aren't staying put?
"The concept is that there's a new class of worker, freelancers who go from project to project, day workers who shape up every morning in a Wal-mart parking lot, agricultural workers who work seasonally, taxi drivers have some of the burdens of ownership," said Doug Allen, a professor of labor relations at Penn State University. "There is a whole category [that doesn't stay] with one employer for any long time and doesn't have the stable relationship that [once] defined the workplace."
"The labor movement has to look at a way to represent those workers," he said, pointing to the fast-food walk offs as an example. "The labor movement is trying all different kinds of models, to see what works."
Jane M. Von Bergen, Inquirer Staff Writer
Last week's fast-food worker walk offs relied on a big and growing union, the Service Employees International Union, for technical support. But what's in it for the union?
Worker solidarity -- it's all good, but in the end, unions, and any membership organization, need dues to keep the lights on and the computers running. How likely is it that the tens of thousands of dollars, if not more, that the SEIU is putting out in the salaries of organizers and media people will be lead to fast-food workers becoming dues-paying union members, in general, and of the SEIU, in particular?
"We've decided not to make that question the question," said Gabriel Morgan, Pennsylvania state director for the SEIU. "The labor movement has been in a general decline for 50 years. Our union has grown, doubled in size in that time. We're in the service sector, where we have that potential. We don't believe that way the labor unions [can grow] is by attempting to recreate the organizations that existed in 1945. Our experience has been that isn't what works. We have never approached the work like we were trying to organize a factory in 1945."
Jane M. Von Bergen, Inquirer Staff Writer
The unemployment rate fell in Camden, Gloucester and Burlington counties, although it continued to creep up in Philadelphia, surrounding Pennsylvania counties and the Wilmington area. However, July's rate was less than it was a year ago, the U.S. Labor Department reported Wednesday morning.
In Philadelphia and its Pennsylvania suburbs, the unemployment rate rose slightly, from 8.2 percent to 8.3 percent, although it is down from 9.0 percent a year ago. The Wilmington area, which includes parts of Maryland and Salem County in New Jersey, also increased, again slightly, from 7.9 percent to 8.0 percent, but down from 8.3 percent in July 2012. The only gainers were the three South Jersey counties, who needed some improvement. Their statistics show an unemployment rate of 9 percent, down from 9.4 percent in June and 10.8 percent in July 2012.
The entire region had an unemployment rate of 8.4 percent, stable from June and down from 9.3 percent a year ago.
Jane M. Von Bergen, Inquirer Staff Writer
Came into work Monday morning to receive two missives -- both relating to the Post Brothers and their long dispute with the city's building trades.
On my desk was a crumpled leaflet from the International Brotherhood of Electrical Workers Local 98 illustrated with a photo of a rat. Real nice. In my email in-box was a note from the communications director with the Pennsylvania Chamber of Commerce who asked me, given my past coverage of this story, whether I'd like to speak to someone at the Chamber about proposed Pennsylvania legislation that would curb the ability of unions to protest as the building trades did at the Post Brothers construction site on 12th and Wood Streets near Chinatown. The subject line said "union stalking." Charming.
One missive was written rather crudely, with typos, spelling errors and grammatical mistakes, although the message was perfectly clear. The other was much more urbane, its intent somewhat cloaked in professional language. Still, very understandable. Sigh. All the rhetoric was way too exhausting for a Monday morning. I stood up and got myself a nice cup of herbal tea; I went for one described as "delicate and soothing," the opposite of these two letters.