Archive: May, 2010
Dan DeLuca

, Inquirer Music Critic
Pretenders founder and PETA activist Chrissie Hynde will be protesting animal cruelty at the McDonald's on 40th and Walnut Streets off the Penn Campus at 12 noon today. The Rock and Roll Hall of Famer will be unveiling an "I'm Hatin' It" parody ad and appearing with a a fellow PETA person wearing a chicken costume, while handing out "Unhappy Meals" and urging hungry lunchers to "ketchup with the times." I'm not feeling quite so peckish, all of a sudden. Hynde will be back in West Philly on June 3 when she plays a special Thursday Free at Noon at the World Cafe Live with her new band JP, Chrissie and the Fairground Boys as part of the Non-Comm Convention.
Previously: U2 Concert At The Linc Postponed Until 2011
Dan DeLuca

, Inquirer Music Critic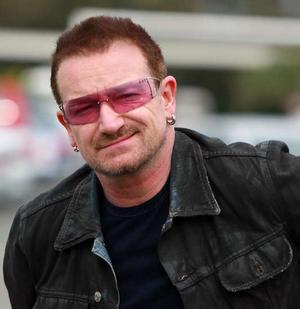 The good news for U2 fans is that Bono has been released from the hospital after undergoing emergency back surgery in Germany on Friday. The bad news is that the Irish band's mouth piece will need eight weeks to recover from his Munich operation, so the band's U2 360 North American Tour, the biggest full size stadium tour on the books for the summer, will be postponed till next year. That includes the July 12 date at Lincoln Financial Field, the band's first scheduled Philadelphia show since the release of No Line On The Horizon last year. The surgeon who operated on Bono at Ludwig Maximillians-University Hospital, identified in a LiveNation press release only as "Professor Tonn" said that the singer, who turned 50 this month, had been suffering from "severe pain with partial paralysis in the lower leg." After successful surgery, the grimacing guy on the left now has "complete recovery of his motor deficit," but needs to undergo a two-month minimum recovery plan. No word yet of an exact date when the Linc show will be rescheduled.
Previously: Celebrating Dylan's 69th
Dan DeLuca

, Inquirer Music Critic
"How does it feel?," is, I suppose, the obvious question. Bob Dylan turns 69 today, but they'll be no answers forthcoming from the Bard, at least until Saturday, when the songwriting deity opens the latest leg of the Never Ending Tour in Athens. (That's Greece, not Georgia.) If you're looking for a way to celebrate in Philadelphia, however, there are options. At the Skyline Room at Rembrandt's in the Art Museum area, there's a four-hour plus Bob Dylan Birthday Bash going on, which will feature a few dozen Philadelphia songwriters, each taking a shot at a Dylan song. (Info here.) Among the 44 performers are John Houlon of John Train doing "I Threw It All Way" (nice choice), Suzy Brown essaying "Buckets Of Rain" and '50s rockabilly star Charlie Gracie putting some pep into "Blowin' In The Wind." It kicks off at 8, and it'll be tempting to stick around till at least 11:30 or so, when Jason Cohn has a go at "Who Killed Davey Moore?" Hear Bob sing that here. And if you'd rather sing than watch, there's an opportunity to break out your wheezing Dylan imitation at the Bob Dylan Birthday Karaoke night at 12 Steps Down at 9th and Christian in South Philadelphia. More info on that here.
Previously: The Roots "How I Got Over" Guest List
Dan DeLuca

, Inquirer Music Critic
The Roots' How I Got Over - the Philadelphia hip-hop band's first album since they took over house band duties on Late Night With Jimmy Fallon - finally has a hard and fast release date. It comes out June 22. And it's got a doozy of a guest list, thanks, no doubt, to the Rolodex building experence of being TV's premier late night band. A couple of bullet points speak to the increasing indie-rock/hip-hop crossover trend: The album will include a "reimagining" of the Monsters Of Folk's "Dear God," featuring originators Conor Oberst, M. Ward and Jim James of My Morning Jacket, and love-her-or-hate-her harpist Joanna Newsom on "Right On." Also helping the Ahmir "?uestlove" Thompson and Tariq "Black Thought" Trotter-led band with their lofty goal of "depicting the everyman's search for hope in this dispiriting post-hop zeitgeist" will be Philly-based Icelandic singer Patty Crash, Phonte Coleman of Little Brother and Mercedes Martinez of Jazzyfatnastees. Not to mention, on "The Fire" and "Doin' It Again," soul man John Legend, who is backed by the Roots on his own new album of covers, Wake Up, which is also due in June. Legend and the Roots will be in Philadelphia on June 4 at the World Cafe Live at the Non-Comm Convention and, orf course, at the third annual The Roots Picnic at the Festival Pier on June 5.
Previously: Everybody Was In The French Resistance ... Tonight
Dan DeLuca

, Inquirer Music Critic
There's a music industry seminar called Show Me The Money being held at the MarBar in West Philadelphia on Sunday afternoon, aiming to help anyone's interested in getting their head around what it takes to make a living in a business that's been turned upside down in the last decade. Luminaries such as original gangsta rapper Schoolly D (that's him), Marc Brownstein of the Disco Biscuits, Philadelphia rapper Freeway, producer Prince Paul, Geoff Gordon of Live Nation, R5 Productions promoter Sean Agnew, WXPN program director Dan Reed and former Inquirer music critic Tom Moon will be on hand. The event starts at 2, and $20 gets you lots of brilliant advice, plus performances by Toy Soldiers, Kuf Knotz and Lady, plus tacos. More info here.
Previously: Springsteen Goes Gaga For Rainforest
Dan DeLuca

, Inquirer Music Critic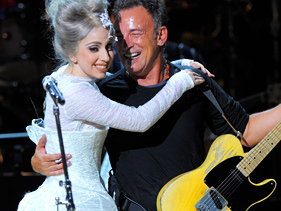 This is just too deliciously, wonderfully strange: Last night at Trudy Styler and Sting's annual Rainforest Foundation benefit at Carnegie Hall, Bruce Springsteen was joined for an all-hands-on-stage grand finale version of Journey's "Don't Stop Believin'," by Lady Gaga, Elton John, Dame Shirley Bassey, Debbie Harry, Sting, and a whole bunch of dudes jumping around in colored jockey shorts. Witness the audience video below, and tell me how Gaga stands up in those shoes. Read Jim Farber of the NY Daily News' review of the show here.
Previously: Buzzcocks at the Troc
Dan DeLuca

, Inquirer Music Critic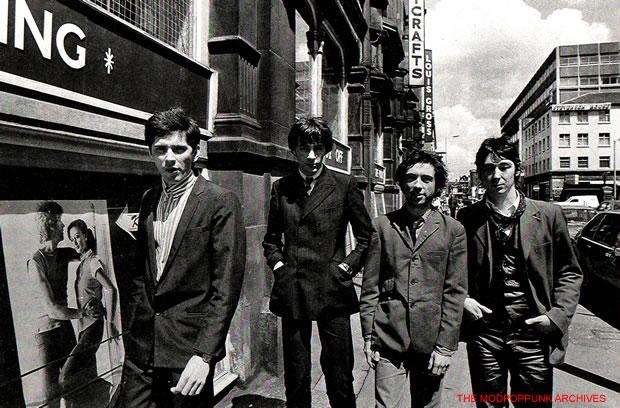 The Buzzcocks were one of the greatest - and most frequently overlooked - British bands of the punk era. The Mancunian foursome led by Pete Shelley and guitarist Steve Diggle specialized in adrenalized sonic assaults that never stinted on songcraft. The hits, such as they were, were "Orgasm Addict," "What Do I Get?" and "Ever Fallen In Love (With Someone You Shouldn't've)" but their two classic 1978 albums Another Music From A Different Kitchen and Love Bites were power punk-pop packages that didn't let up from start to finish. On the Another ... Bites tour, which comes to the Troc on Friday night, the current version of the 'Cocks, which includes Shelley and Diggle, will play both in their entirety. (Never fear, the songs are short.) Bass player Steve Garvey, who played on both albums and didn't play for the Los Angeles Dogers in the '70s, gave up touring with the reunited band in 1992, and now lives in New Hope in Bucks County. These days, Garvey (he's the one on the left) works for Toll Brothers as a carpenter, handyman and self-described "jackass of all trades," but tonight he'll be up on stage for the encore with his old mates. Get there early for the The Dollyrots. More info here.
Previously: Dr. Dog At The Electric Factory
Dan DeLuca

, Inquirer Music Critic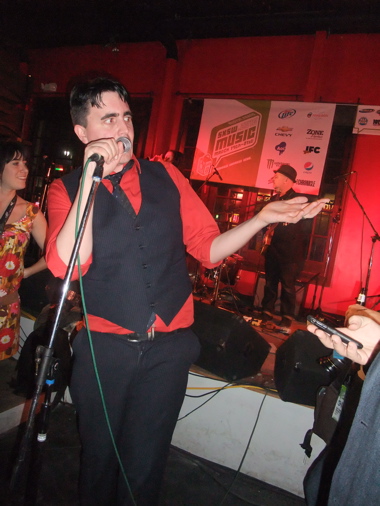 Eddie Argos is quite possibly the funniest man in rock and roll. The leader of Art Brut has currently gone batty with the side project Everybody Was In The French Resistance ... NOW! The band's debut album Fixin' The Charts 1 consists entirely of answer songs to other people's hits. "Billie's Genes," "Hey! It's Jimmy Mack," for example. The concept works well enough, but it's Argos' inspired stage patter that's really worth the price of admission. Above, Argos performs, dressed like The Mentalist, at the SXSW music fest. Tonight, EWITFR...N! will be at the North Star Bar. Below, the band, which also includes his real life girlfriend Dyan Valdes, does "G.I.R.L.F.R.E.N. (You Know I've Got A)."
Previously: Show Me The Money on Sunday