Archive: April, 2011
Dan DeLuca

, Inquirer Music Critic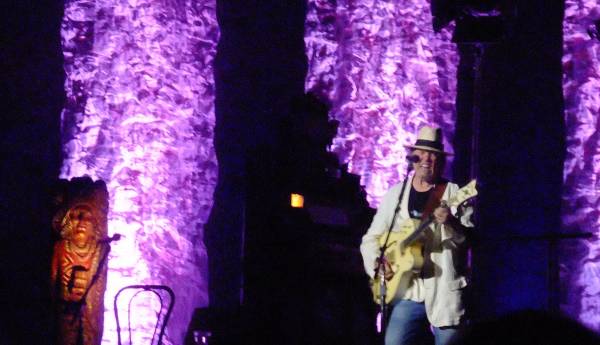 Neil Young played the first of two solo concerts at the Tower Theater in Upper Darby on Saturday, supporting last year's Daniel Lanois-produced Le Noise. The show was a mixed of acoustic instrumentation and feedback-fired electric noise rock. Young will be back at the Tower on Sunday night. My review is in Monday's Inquirer and here.
The set list from Saturday's show, which included two as yet unrecorded songs, went like this: My My, Hey Hey (Out of the Blue) / Tell Me Why / Helpless / You Never Call / Peaceful Valley Boulevard / Love and War / Down By The River / Hitchhiker / Ohio / Sign Of Love / Leia / After The Gold Rush / I Believe In You / Rumblin' / Cortez the Killer / Cinnamon Girl
Dan DeLuca

, Inquirer Music Critic
There's an impressive - though not particularly French - music bill at the PIFA Street Fair on South Broad Street on Saturday, headlined by Sharon Jones & the Dap Kings (that's them), who go on at 6 on the Pine Street stage, and who speak the international language of rugged Otis Redding-inspired '60s soul.
Portland, Oregon humanist punks The Thermals, Roy Orbison-influenced New Jersey songwriter Nicole Atkins, Ghanian born rapper Blitz the Ambassador - the lineup gets around. The can't miss prize booking for my money, though, is Diblo Dibala, the born-in-the-Congo (now Zaire) guitarist whose given name might lead sme to believe he's a Philadelphia based global DJ superstar and Blackberry spokesman.
But no. What he is is one of the great guitar players in the world, a pearly fingered soukous master of the West African dance music whose name derives from the French verb secouer, meaning "to shake." Dibala used to play with Kanda Bongo Man, then he fronted his own Loketo ensemble. Currently, Diblo is based n New York and he'll be playing with his current band Matchatcha at 2 on the Pine Street stage. The full street fair music schedule is here. See what Diblo does below.
Dan DeLuca

, Inquirer Music Critic
Last night in Las Vegas, MTV put on its inaugural O Awards for online music achievement. (Because with the Grammys condensing categories, more awards are needed.) Lady Gaga won Most Innovative Artist and Must Follow Artist on Twitter, and Kanye West, who was the only nominee in the category, won Best Tweet for "I hate when I'm on a flight and I wake up with a water bottle next to me like oh great now I gotta be responsible for this water bottle." I hate that too.
More interesting than any of the awards presented, however, was what former Drexel University student Chidera "Chiddy" Anamege of Philadelphia hip-pop duo Chiddy Bang accomplished. That's him on the left.) The rhymer earned his way into the Guinness Book Of World Records by for Longest Freestyle Rap by rhyming non-stop for - get this - 9 hours, 18 minutes and 22 seconds.
Really? Really, apparently. Rapping though bathroom and Doritos breaks, all of the couplets might not have been awe inspiring, but most of the stream of consciousness ones I heard were pretty endearing, like "I've been rapping for nine hours / It's okay, I'm gonna take like nine showers" and "Flowin' to the finish, here's my homie in the suit and tie / Make some noise for Guinness!"
Dan DeLuca

, Inquirer Music Critic

Let the celebrity alignment behind 2012 Presidential candidates begin. Beyonce has served a reminder that she's with Team Obama by releasing an exercise video of sorts in support of First Lady Michelle Obama's "Let's Move!" campaign against childhood obesity. In the clip, Queen B. shows up in a school cafeteria in short shorts and knee socks - dress code rules apparently being suspended that morning - and leads students though a non-partisan dance routine, with lyrics adapted from her 2007 hit "Get Me Bodied."

Yes, she advises the impressionable youth to move "to the left, to the left." But lest she be targeted by conservative pundits, she also urges them to head "to the right, to the right." The inspiring routine culminates with the pop star patriotically exhorting followers to wave the Stars and Stripes before taking a healthy bite out of an all-American apple. If only the gym teachers looked like that when I was in grade school, I might not be in this sorry state today.

Previously: RIP, Poly Styrene
Dan DeLuca

, Inquirer Music Critic

Nilsson, Schmilsson. Camplight, Schamplight. Melodious and gravely under appreciated Philadelphia piano man Brian Christinzio - who performs as B.C. Camplight - will shine a light tonight on the works of another cult hero, the late Los Angeles songwriter and John Lennon drinking buddy Harry Nilsson. Nilsson wrote "One" and "Without You," and sang Fred Neil's "Everybody's Talkin'" in Midnight Cowboy. Below, he does "Without Her." Tonight, Camplight does Nilsson at Johnny Brenda's. Illinois opens.

Previously: Beyonce Moves Body, Waves American Flag
Dan DeLuca

, Inquirer Music Critic

Phoebe Snow wasn't the only pseudonymous singer with the intials P.S. whose early death made unwelcome news yesterday. There was also Poly Styrene, the leader of femme punk pioneers X-Ray Spex, who was born Marianne Joan Elliot-Said, and who died of cancer at age 53 on Monday. "Little girls should be seen and not heard," Styrene said sarcastically at the start of her best known song, then shared her feelings on the matter: "Oh Bondage! Up Yours!" See that video below. My favorite Styrene quote is this: "I chose the name Poly Styrene cause it's lightweight and disposable and that's what pop stars are meant to be." Look for Sara Sherr's review of Styrene's new album, Generation Indigo, which came out yesterday, in this coming Sunday's Inquirer. And here's a track by track interview about the new album with the late singer.

Previously: Yuck at the First Unitarian Church
Dan DeLuca

, Inquirer Music Critic
British baby band Yuck play at the First Unitarian Church tonight, on the same bill with Australian indie psych rockers Tame Impala. (TI's dreamy '60s trip "Solitude Is Bliss" is here.) My interview with Yuck frontman Daniel Blumberg (that's him, crouching) from the Inquirer Wkend section is here. Below, "Georgia," from the debut album Yuck, which bears the influences of '90s American rockers Dinosaur Jr., Pavement and Sonic Youth.
Previously: Going Back To New Orleans
Dan DeLuca

, Inquirer Music Critic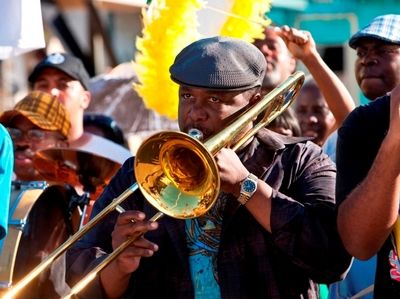 David Simons' post-Katrina New Orleans drama Treme returns on HBO at 9 o'clock on Sundays, starting tonight. I've got a piece about in the Sunday Inquirer A & E section here. That's Wendell Pierce pretending to blow the horn actually played by the ReBirth Brass Band's Stafford Agee. This season, every Monday a video of a complete song performance from the previous night's episode will be released on iTunes, starting tomorrow, with Galactic and the Drity Dozen Brass Band doing "From the Corner To The Block" with Juvenile. Below, a season preview with Bennie Pete and the Hot 8 Brass Band's "New Orleans After The City" as the backdrop.
Previously: The Shad Must Go On