Archive: March, 2013
Dan DeLuca

, Inquirer Music Critic
When the first issue of Crawdaddy! was published in 1966, two years before Rolling Stone, 17 year old founder Paul Williams. then a student at Swarthmore College, wrote:
"You are looking at the first issue of a magazine of rock and roll criticism. Crawdaddy will feature neither pin-ups nor news-briefs; the speciality of this magazine is intelligent writing about pop music. Billboard, Cash Box, etc., serve very well as trade news magazines; but their idea of a review is a hard-driving rhythm number that should spiral rapidly up the charts just as (previous hit by the same group) slides.
"Crawdaddy believes that someone in the United States might be interested in what others have to say about the music they like."
Dan DeLuca

, Inquirer Music Critic
Red Baraat. the Sunny Jain-led dhol n' brass octet from Brooklyn who combine Northern Indian party music with funk, hip-hop and New Orleans brass band strut, play the World Cafe Live tonight.
I took the picture of the band - or at least as much of it as I could fit in the frame - during an ecstatic, muscular showcase at a small club called Speakeasy in Austin, Texas during SXSW. An item I wrote about that night, when I also saw the Malian blues band Terakraft, is here.
To get a taste of what Red Baraat does, watch their NPR Tiny Desk Concert below. Show details about tonight's 'Festival of Colors' are here.
Dan DeLuca

, Inquirer Music Critic
Watching All In The Family as a kid, it never occurred to me that a La Salle was a car.
At the start of every episode of Norman Lear's top rated sitcom, which ran on CBS from 1971 to 1979, Carroll O'Connor and Jean Stapleton, as Archie and Edith Bunker, sat at a piano facing the audience singing "Those Were The Days."
The lyrics, written by Lee Adams (with music by Charles Strouse) waxed nostalgic for the good times of yesteryear, putting a tune to Archie's famously bigoted view on social upheaval. "And you knew you you were then, girls were girls and men were men / Mister, we could use a man like Herbert Hoover again."
Dan DeLuca

, Inquirer Music Critic
Gram Parsons has been dead since 1973, so we're all 40 years late to the party of seeing Emmylou Harris sing with her ideal duet partner.
In 2013, Rodney Crowell will have to do. And Crowell, who sang with her at the Academy of Music on Tuesday night, and who has a new album with Harris called Old Yellow Moon - their first with equal billing though they've frequently worked together since the mid-70s – did just fine.
Not that that Emmylou doesn't still carry the hard-to-compete-with ghost of Gram around. The first two songs she played with Crowell, backed by a fine five piece country band who at their best were nearly able to transform the 156 year old opera house (which to opener Richard Thompson appeared to be "like La Scala, only bigger") were Parsons songs. "Return of the Grievous Angel" was rushed, a little too hurried, but "Wheels" settled in nicely.
Dan DeLuca

, Inquirer Music Critic
Philadelphia rocker Kurt Vile already has his own mural, and now a parade with his name on it, too.
The hirsute Philadelphia rocker's new abum, Wakin' On A Pretty Daze, comes out April 9 and is already immortalized in a mural on Front and Master streets by Steve Powers, which serves as the cover art for Vile's third full length collection.
Yesterday, the Matador Records website put out the call for Vile fans to email kurtvileparade@gmail.com to participate in said event this Saturday. No further details are yet available, though the event is presumaby in connection with a video to be directed by Tom Scharpling of The Best Show on WFMU with Tom Scharpling fame.
Dan DeLuca

, Inquirer Music Critic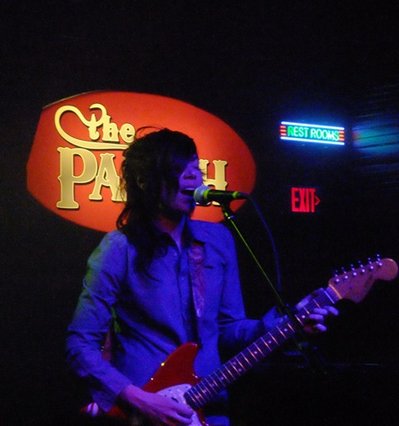 Mount Moriah, the North Carolina country-leaning rock band fronted by Heather McIntire, whose Miracle Temple on Merge is one of the standout releases of the year so far, headline at Johnny Brenda's tonight.
That's a picture I took of McIntire at SXSW in Austin, Texas earlier this month. My Inquirer review of Miracle Temple is here.
"Bright Light" is below.Blessed Feathers and Edison are also on the bill. Show details here.
Dan DeLuca

, Inquirer Music Critic
There's a top flight double bill at Underground Arts on Saturday night with San Francisco's folkies Thao & the Get Down Down Stay Down headlining and more rambunctious Portlandians Sallie Ford & the Sound Outside opening.
That's Sallie Ford playing at Antone's in Austin, Texas at SXSW last Friday night. My preview of the show is in Fridays' Inquirer Wkend section and here. Two SF & SO and one T & GDSD songs are below.Ticket info here.
Previously: Questlove: 'The New Funk Doc Severinsen' Follow In The Mix on Twitter
Dan DeLuca

, Inquirer Music Critic
If Jimmy Fallon takes over as host of The Tonight Show from Jay Leno in 2014 in the marquee late night spot for Comcast-owned NBC, as has been widely speculated this week, does that mean The Roots will be the new Tonight Show band?
Probably. They may not change their name, but it's highly unlikely that Fallon would make the move from Studio 6B in 30 Rockefeller Center, where Late Night with Jimmy Fallon is currently produced (and where Johnny Carson made his home during his late '60s-early'70s Tonight Show years in New York) to the new state-of-the-art 30 Rock studio being built for him without bringing the Philadelphia band billed as The Legendary Roots Crew with him.
Why's that? Because NBC is interested in moving Fallon, 38, into an earlier time slot than his current 12:35 start time to attract younger viewers, and keep ABC's Jimmy Kimmel from gaining a stranglehold on a not-yet-graying demographic, now that the 45 year old Kimmel is in direct time slot competition with Leno, 62 and David Letterman , 65.