Archive: February, 2011
Dan DeLuca

, Inquirer Music Critic
Suze Rotolo, who walked down a Greenwich Village street with her boyfriend Bob Dylan on the iconic cover of the his 1963 album The Freewheelin' Bob Dylan, has died after a long illness. She was 67. Rotolo inspired much of Freewheelin', which is the best of the Bard's purely-folkie, pre-electric albums. Including the mean but beautiful "Don't Think Twice, It's All Right," which, according to biographer Clinton Heylin, Dylan wrote upon learning that Rotolo planned to stay in italy indefinitely studying art, rather than come back to be with Bob. An obituary is here. Rotolo's book A Freewheelin' Time: A Memoir of Greenwich Village in the 1960s, came out in 2008. A New York Times interview with her from then is here.
Previously: Deluka with a K
Dan DeLuca

, Inquirer Music Critic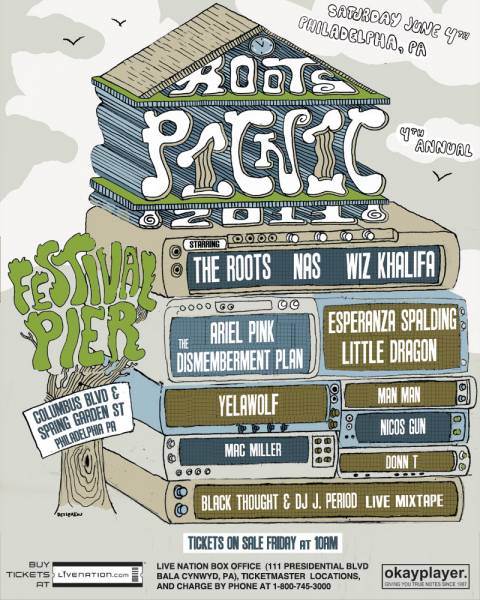 Roots drummer Ahmir "?uestlove" Thompson announced the 4th annual Roots Picnic on Monday night on his Twitter feed. It's happening at the Festival Pier on Saturday June 4th, and the lineup is on the poster you see before your eyes. "Black and Yellow" rapper Wiz Khalifa and Nas (both backed up by The Roots) join the titular Philadelphia hosts in a more hip-hop-centric bill than in previous years, when Vampire Weekend and Gnarls Barkley have been marquee attractions. Jazz bassist Esperanza Spalding returns (this time as a best new artist Grammy winner) to give ?uestlove a run for his money in the big hair sweepstakes, and Ariel Pink, the Dismemberment Plan and Philadelphia's own Man Man head up the indie rock contingent. Rapper Mac Miller and ?uesto's sister Donn T. are also on the bill. The full press release is here at OkayPlayer.com
Previously: Suze Rotolo, RIP
Dan DeLuca

, Inquirer Music Critic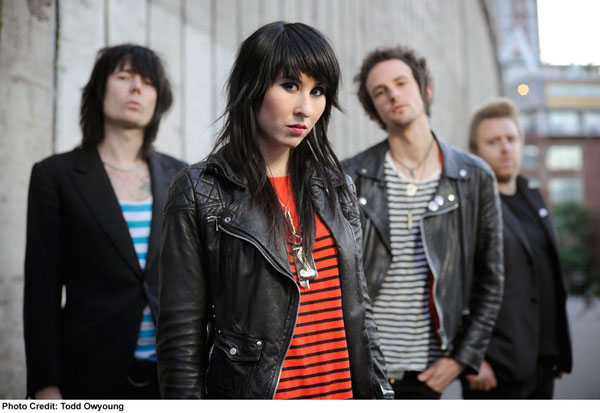 And not a capitol L. Deluka, the British rock and roll band fronted by Eli Innocenti with the name that's so pleasing to the ear, play the Hard Rock Cafe on Market Street tonight. The electro-tinged quartet from Birmingham are on their way to SXSW in support of their album You Are The Night. "Cascade" is below. Fefe Dobson opens. Details here.
Previously: While I Shovel The Snow
Dan DeLuca

, Inquirer Music Critic

Partly Philadelphian indie quintet The Walkmen make the white flakes seem so pretty in their new clip for "While I Shovel The Snow" from last year's Lisbon. Almost makes me miss the stuff. The band plays Bonnaroo on June 9.

Previously: Steve Wynn at the Record Collector
Dan DeLuca

, Inquirer Music Critic
Former Dream Syndicate leader Steve Wynn has another formidable rock and roll noir album out. It's called Northern Aggression, and is credited to Steve Wynn & the Miracle 3, the band that includes Linda Pitmon, Wynn's wife, on drums. Wynn and Pitmon are also one half of The Baseball Project, the quartet that also features Scott McCaughey and Peter Buck of R.E.M., whose second album of national pastime themed songs, High and Inside, comes put Tuesday. Wynn & the Miracle 3 play the Record Collector in Bordentown, New Jersey tonight. Hear a bunch of Baseball Project songs, including the ode to the Phillies' Roy Halladay "30 Doc, " here. Details of the Record Collector show here.
Previously: Hunters Gathered
Dan DeLuca

, Inquirer Music Critic

No, it's not an NRA meeting. It's a WXPN Free at Noon. Friday's locked and loaded lineup brings together Charlie Hunter, master of the 8 string guitar and a jazz-funk player of exemplary taste, with James Hunter, the admirably restrained Brit soul man of who's made a fan of Van Morrison. Below, the animated J. Hunter walks down the street crooning to "Carina," while C. Hunter takes "A Closer Walk With Thee." Details here.

Previously: Did You See It? Did You Read It?
Dan DeLuca

, Inquirer Music Critic
Comeback kid Wanda Jackson put on one of those better-than-it-had-a-right-to-be shows to be a bigger-than-expected crowd at the World Cafe Live on Tuesday. That's her at the WCL, with her backing band, the Lustre Kings. (No, Jack White was not there, though Jackson did a) compare him to Elvis Presley and b) reveal that he had a Wanda Jackson pin-up poster on his wall when he ws a teenager.) My review from the Thursday Inquirer is here. Jackson and White do Johnny Kidd & the Pirates' "Shakin' All Over" below.
Previously: Galactic at the Troc
Dan DeLuca

, Inquirer Music Critic

The season finale of Carrie Brownstein and Fred Armisen's sketch comedy show Portlandia is on IFC on Friday night. But don't fret if you haven't seen it yet: The entire season will air again, starting next Friday.

Previously: Galactic at the Troc