Archive: December, 2011
Diplo has come a long way since he was hosting Hollertronix parties at the Ukrainian Club in Northern Liberties in the early '00s. All the way to 10th and Spring Garden, in fact, where the DJ-producer and Blackberry salesman played to a sold-out all-ages crowd at Union Transfer on Thursday.
The Mississippi-born, Philadelphia and Los Angeles-based cultural anthropologist and beat maker born Wesley Pentz topped an all-local deejay bill that included opener Xaphoon Jones, the nom de rap of Noah Beresin of hip-pop duo Chiddy Bang and DJ/producer Dirty South Joe.
After Jones and Joe warmed up the former Spaghetti Warehouse – with the latter, in particular, making the walls quake with booming dubstep and slow-grinding hip-hop – Diplo walked on a few minutes after 11.
Diplo - Sirius/XM "Blow Your Head" 12-16-2011 by diplo
Fitz and the Tantrums, the hard-touring L.A. sextet that distinguished themselves in 2011 as among the best of the onslaught of indie retro-soul acts, play the Music Box at the Borgata in Atlantic City tonight. Below, see Mike Fitzpatrick and Noelle Scaggs sing "Don't Gotta Work It Out," while floating down a canal in Amsterdam, and below that, hear the band's Christmas song "Santa Stole My Lady."
Previously: Review: Diplo at Union Transfer Follow In The Mix on Twitter here
Concert industry magazine Pollstar has released its list of the Top 25 North American touring acts, and Irish rockers U2, who played to 70,000-plus at Lincoln Financial Field in July, easily tops the list, grossing $156 million in 25 shows that drew an average of 81,000 fans. Wyomissing's own Taylor Swift came in second at $97.7 million (earned in 80 shows, with an average attendance of 23,000) and country party boy Kenny Chesney was third with $84.6 million. Lady Gaga, Bon Jovi, Elton John, Sade, Kanye West & Jay-Z, Lil Wayne and Celine Dion rounded out the Top Ten.
Worldwide, the Top 25 tours made $2.1 billion, which was nearly identical to 2010's total, according to Pollstar. North Americans, who spend more money entertaining themselves by going to concerts than the rest of the world combined, accounted for $1.19 billion of that total, down 4% from the year before.
Never fear, though: 2012 looks like it will be a big year. There will me no shortage of proven big-time attractions on the road, with Madonna, Tom Petty & the Heartbreakers, the reunited Beach Boys, Roger Waters, Bruce Springsteen & the E Street Band, Fleetwood Mac, Chesney and Tim McGraw, Black Sabbath, David Lee Roth-led Van Halen and, in all likelihood, the Rolling Stones, all back out on the boards. "There is ample reason to think business will be even better in the new year," Pollstar editor Gary Bongiovanni wrote in the magazine's year end report.
Hallelujah, everybody say cheese. Robert Earl Keen - whose name is misspelled below - plays Union Transfer on January 25. One of my favorite Christmas songs.
Previously: Bon Jovi: Not Dead Follow In The Mix on Twitter here
Like it or not, Jon Bon Jovi is not dead. This despite a fake Internet news story today with the dead giveaway (sorry) headline that read 'International Rockstar Legend Jon Bon Jovi dead at 49' that claimed he was. The web ruse involved a faux news story reporting the Jersey arena rocker was found comatose in the Empress Hotel in Asbury Park and later pronouned deceased. Chances are, one of your Facebook friends shared it in the mad rush to be the first to spread the non-news. As the photo on the left taken this evening shows, however, the co-star of New Year's Eve is still living on a prayer in God's country.
Previously: In honor of Christopher Hitchens, Gruff Rhys' Atheist Xmas Follow In the Mix on Twitter here
Almost perfectly timed to coincide with the death of famous atheist and formidable journalist Christopher Hitchens comes Atheist Xmas, a holiday EP from Gruff Rhys, the front man of proudly iconoclastic Welsh pop band Super Furry Animals. The three song set is released Tuesday via Rhys' web site, the The Gruffington Post, and one of the three uncompromising downers, "Post-Apocalyptic Christmas," can be streamed below. Happy Christmas, Hitch.
Previously: RIP, Cesaria Evora Follow In the Mix on Twitter here
Gruff Rhys - Post Apocalypse Christmas by PIASGermany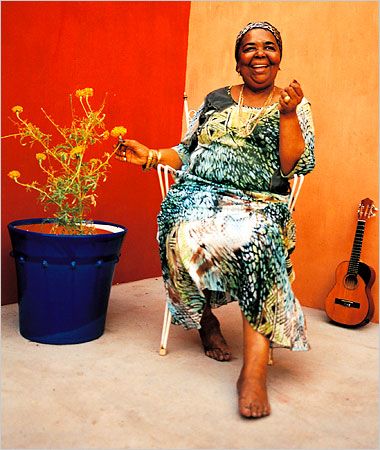 Rest in peace to Cesaria Evora, the "Barefoot Diva" from Cape Verde who was one of the great soulful voices of Lusophone Africa. She was 70, and the Cape Verde cultural minister announced her death this morning. Evora toured frequently until announcing her retirement for health reasons three months ago. She most recently played Philadelphia at the Kimmel Center in 2006. Kevin L. Carter interviewed her before a show at the Keswick Theater in 1996, when Evora explained that the Cape Verdean style of song known as morna "is not hot or cold. It is warm. Like with the blues, it is how we Cape Verdeans express everything, our sadness, our happiness, our sodade.'' Read more of that interview here. Reacting to Evora's death, Beninese singer Angelique Kidjo tweeted: "She had the most amazing voice and was the most generous person I have ever met." Below, watch Evora sing "Cabo Verde," and hear more Evora here.
Previously: In The Mix Live: The War On Drugs interview and "Your Love Is Calling My Name" Follow In The Mix on Twitter