Archive: December, 2009
Here's Billy Bragg and Florence & the Machine doing a 2009 version of the Pogues' "Fairytale In New York." In a pinch, I'd go with Shane MacGowan and Kirsty MacColl, but this is a sweet update. Thanks to Steve Klinge for passing it along.
Previously: Vic Chesnutt, RIP
Athens, Ga. songwriter Vic Chesnutt died on Christmas Day. He was 45. Michael Stipe of R.E.M. said, "We have lost one of our great ones." Patti Smith said this: " 'I flew around a little room once.' A line from Supernatural. He was just that. He possessed an unearthly energy and yet was humanistic with the common man in mind. He was entirely present and entirely somewhere else. A mystical somewhere else. A child and an old guy as he called himself. Before he made an album he said he was a bum. Now he is in flight bumming round beyond the little room. With his angel voice." More reaction here.

Chesnutt's obituary is here, and his interview with Terry Gross on Fresh Air is here.
Previously: Christmas Feathers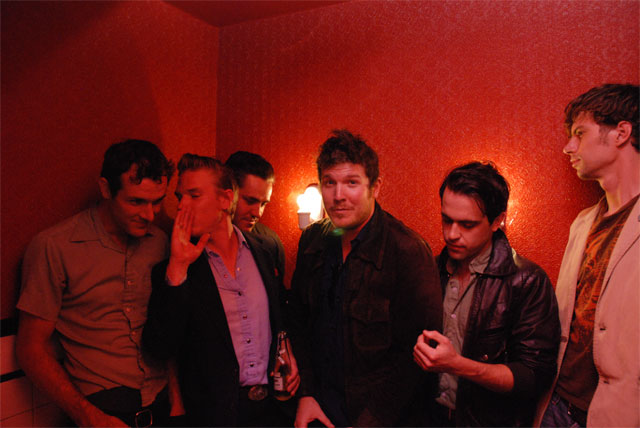 Blood Feathers, the Philadelphia indie sextet fronted by Ben Dickey and Drew Mills whose 2006 debut, Curse & Praise, was one of the strongest local releases in recent memory, are back with album number two, Goodness Gracious, which is due in January on LP and CD as the first release on Joey Sweeney's Philebrity label. (It's already available on iTunes.) But before they get to the main course, there's a soupcon of a holiday single to whet the appetite: "Christmas Will Help You Feel O.K.," was made available as a free download earlier this week, and is here to help ease your Xmas angst. Blood Feathers play Johnny Brenda's on Jan. 16. Go here to download the track, or click here to listen.
Previously: Jimmy Fallon & the Roots: Drunk On Christmas
There's been a stocking full of Christmas music on Late Night with Jimmy Fallon of late, with Ronnie Spector, Julian Casablancas and the Michael McDonald all showing up to get jolly with the Roots. Last night, Fallon debuted his own new Xmas tune, which rhymes "everyone's bipolar" with "put some Jack in my soda."
Previously: Rage Against Simon Cowell
How much do people hate Simon Cowell? So much that, thanks to a British Facebook group called Rage Against The Machine For Christmas No. 1, the anti-conformist 1992 Rage single "Killing In The Name" - that's the one in which which Zach de la Rocha repeatedly screams the phrase "F- you, I won't do what you tell me!" - has won the hotly contested competition to be at the top of the British pop charts at Christmastime.
In the UK, getting the Christmas No. 1 is a bit of a big deal. The Beatles did it four times, and Cliff Richard, the Johnny Hallyday of England, also had a hand in winning it four times. And here's a local angle for you: South Philadelphia's own Al Martino, who died in October, had the first ever Christmas No. 1, with "Here In My Heart," in 1952.
For the last four years, however, the top holiday spot has gone to the winner of X Factor, the British talent show, of which the too-tight shirted Cowell is owner, as well as principal judge and jury. In 2007, Leona Lewis won, and last year's winner Alexandra Burke took the top spot with a cover of Leonard Cohen's "Hallelujah."
Here's my 2009 Christmas mix, to go with an annotated playlist in Saturday's Inquirer. "I Wish It Was Christmas Today," the song by Strokes-frontman-gone-solo Julian Casablancas, comes from the Saturday Night Live Xmas skit with Horatio Sanz, Jimmy Fallon, Chris Kattan and Tracy Morgan.

via videosift.com
There's no such thing as a free Kosher Chinese buffet. Of at least the one that was advertised to go along with Matisyahu's show at the Theatre of Living Arts on South Street on Christmas eve is not happening. That's because next Thursday's show by the Hasidic reggae singer Matisyahu has been cancelled. The reason given: "Unforeseen circumstances," upon which his publicist would not elaborate. His appearance at the Wachovia Center after the Sixers game on Jan 13th as part of Jewish Heritage Night is still on, however. Below is a clip from Letterman back in 2006.
Previously: Top Ten of 2009
Here are ten videos to go with my Top Ten album list from the Sunday Inquirer Arts & Entertainment section, which is here.
Previously: The Year End Mix
1. Amadou & Mariam, "Sabali."
2. Girls, "Hellhole Ratrace."
3. Miranda Lambert, "White Liar"
4.Lucero, "What Are You Willing To Lose?"
5. Maxwell, "Pretty Wings."
6. Mos Def, "Life In Marvelous Times."
7. The Pains Of Being Pure Of Heart, "Everything With You."
8. Phoenix, "1901."
9. The xx, "Crystalised."
10. Yeah Yeah Yeahs, "Heads Will Roll."