Archive: November, 2012
Dan DeLuca

, Inquirer Music Critic
Rock and roll hath no fury like the sound of Neil Young & Crazy Horse.
"I might pick up a pen, scribble on a page / Try to make sense of my inner rage," the enduring 67 year old guitarist and songwriter sang in "I'm From Ontario" early on in a hellacious 13 song two hour-plus show that went on ringing in satisfied customers ears long after they exited the Wells Fargo Center.
With his longtime cohorts Crazy Horse – the primeval trio of guitarist Frank "Pancho" Sampedro, drummer Ralph Molina and bass player Billy Talbot with whom he released both the covers album Americana and double-disc of originals Psychedelic Pill this year - Young lets his inner rage roar through a maelstrom of unapologetically unkempt guitar noise.
Dan DeLuca

, Inquirer Music Critic
Earlier this year, electro-pop band Passion Pit shot the video for their breakout hit "Take A Walk" in Philadelphia. Or rather from above Philadelphia. See the clip, shot with a remote control helicopter, below.
A couple of weeks ago, I talked to Passion Pit singer Michael Angelakos - the guy who write all the band's songs, sings them, and plays most of the instruments in the studio - from a tour stop in Leeds during a tour of the UK. That conversation is in today's Inquirer.
The "Take A Walk" video is below. Angelakos is the one sitting at the piano, not lying on top of it. Passion Pit play the Electric Factory tonight.
Dan DeLuca

, Inquirer Music Critic

Neil Young & Crazy Horse righteously roared at the Wells Fargo Center in South Philadelphia on Thursday night, letting loose the feedback and turning up the volume on a 13 song two-hour plus set.

The show was preceded by a bunch of white lab coat wearing roadies setting up a giant mic stand Rust Never Sleeps-style while The Beatles "A Day In The Life" played and the band members and roadies standing at attention for "The Star Spangled Banner." And it ended with an extended noise jam on "Like A Hurricane" that would have made Sun Ra smile. Patti Smith was fabulous in an opening slot, including a lovely take on Young's "It's a Dream" in the middle of her set.

Young's set list is below. A full review will be up online Friday and in Saturday's Inquirer. Young & Crazy Horse return to the area for a Hurricane Sandy benefit show at the Borgata in Atlantic City next Thursday.

Neil Young & Crazy Horse set list:

Love and Only Love / Powderfinger / Born in Ontario / Walk Like A Giant / The Needle and The Damage Done / Twisted Road / Singer Without A Song / Ramada Inn / Cinnamon Girl / F*#%in' Up / Mr. Soul / Hey Hey, My My (Into The Black) / / Encore: Like A Hurricane
Dan DeLuca

, Inquirer Music Critic
Neil Young & Crazy Horse will play a benefit for victims of Hurricane Sandy at the Borgata in Atlantic City on Dec. 6. The Godfather of Grunge, who's headlining the Wells Fargo Center in South Philadelphia on Thursday night in support of his new double album with Crazy Horse Psychedelic Pill, apparently wants to do his own show to aid those devastated by the October superstorm, rather than join the ever expanding bill on the 12-12-12 Madison Square Garden lineup headed up by Bruce Springsteen, Paul McCartney and Kanye West.
Tickets are $75 and $150 and go on sale on sale Friday, November 30 at 10 a.m. at www.TheBorgata.com or by-phone at 866-900-4849. All seating is general admissing. will be priced at $75 and $150. All seating is general admission.
Proceeds go to the American Red Cross Hurricane Sandy relief effort. More info go to: redcross.org/hurricane-sandy.
Psychedelic Pill's 27 minute "Driftin' Back is below.
Dan DeLuca

, Inquirer Music Critic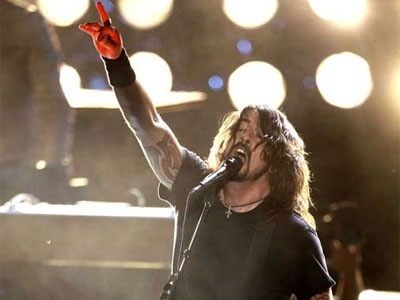 Pearl Jam's Eddie Vedder, the Foo Fighters' Dave Grohl and the guys in Bon Jovi who aren't named Bonjovi have been added to the 12-12-12 fundraising for Hurricane Sandy relief concert at Madison Square Garden in New York.
Jon Bonjovi, Bruce Springsteen & the E Street Band, Kanye West, Paul McCartney, Alicia Keys, Roger Waters, Billy Joel and The Who were already on the bill. All moneys go to the New York based Robin Hood Relief Fund, which a press release says will be "providing money, material and know-how to local organizations that are serving families and individuals in the regions hardest hit by the storm."

Tickets go on sale Monday at noon via Ticketmaster but there's a pre-sale for Chase cardholders on Saturday at 9. More info at www.121212concert.org and www.robinhood.org. The show will be telecast by HBO, AMC, Showtime and Sundance Channel (as well as others, probably) and streamed on Hulu, Yahoo and AOL.
Dan DeLuca

, Inquirer Music Critic
Sufjan Stevens had a confession to make.
Standing on the stage of Union Transfer on Black Friday night in front of a 12 foot spinning "Wheel of Christmas," the baroque-folk indie-electronic songwriter was flanked by band members dressed as an angel, reindeer, unicorn, Santa Claus and Superman. It was the opening night of a tour billed as "The Surfjohn Stevens Xmas Sing-A-Long Seasonal Affective Disorder Yuletide Disaster Pageant On Ice."
"Ten years ago, when I started recording these Christmas EPs," said the 37 year old Stevens, whose 5 EP 58 song box set Silver & Gold came out last week on his Asthmatic Kitty label. "I hated Christmas music. It was like an exercise in loving your enemy."
Dan DeLuca

, Inquirer Music Critic
Happy Black Friday, everybody. Here's a review of Led Zeppelin's Celebration Day for your post-Thanksgiving shopping pleasure.
Why won't Led Zeppelin commit to a reunion tour and cash the biggest unsigned check in the music business? Partly because Robert Plant has better things to do (and new music to make). And partly because, in their heart of hearts, the band members know that sustaining the thrilling excellence demonstrated throughout this document of a one-night-only get together over the long slog of a world tour would be no easy business.
Celebration Day (Atlantic *** 1/2) was recorded at London's O2 arena in 2007 in honor of then recently deceased Atlantic Records executive Ahmet Ertegon. "Ahmet, we did it!" Plant shouts skyward after the band performs "Stairway To Heaven."
Dan DeLuca

, Inquirer Music Critic
Fiona Apple, whose 2012 release The Idler Wheel... just might be the best album of the year, has cancelled her upcoming South America tour to care for her dying pit bull Janet.
The often-tortured 35 year old songwriter posted a note of explanation on Facebook yesterday, which begins: "I have a dog Janet, and she's been ill for almost two years now, as a tumor has been idling in her chest, growing ever so slowly. She's almost 14 years old now. I got her when she was 4 months old. I was 21 then, an adult officially – and she was my child..."
You can see the entire handwritten, heartbreaking note here,or go here to read a more legible version of the missive, in which Apple writes "if I go away again, I'm afraid she'll die and i won't have the honor of singing her to sleep, or escorting her out." See if it doesn't tear you up.