Archive: October, 2009
Dan DeLuca

, Inquirer Music Critic

"We've played a lot of shows here over the years," Eddie Vedder said from the stage of the Spectrum on Friday night after a fist-pumping, standing-on-the-speakers singalong encore of Pearl Jam's emphatic anthem "Alive." "We started in a little place called J.C. Dobbs that held about 65 people," he added before taking a moment to take in the ardent audience before him. "And this is the crowd we've been waiting for."

So it was on the next to last night at the Spectrum, with Raul Ibanez, to whom "Force Of Nature" was dedicated, in the house, and the pumped-up audience showering the hard working Seattle grunge graduates with adulation during a show that has started inching towards three hours. Earlier on, before another shout out to friend-of-the-band Ibanez, Vedder said, "There's no place I'd rather be than Philadelphia these days. There's something going on in this town."

And he and his bandmates - with drummer Matt Cameron and keyboard player Boom Gaspar each sporting Phils shirts - played like they couldn't be happier to be here, once again digging deep into their catalog while sprinkling in choice covers including Victoria Williams' "Crazy Mary," the Dead Boys' "Sonic Reducer," and a not-on-the-setlist finale of The Who's "Baba O'Riley."
Dan DeLuca

, Inquirer Music Critic

Pearl Jam is playing the final two shows at the Spectrum this weekend. And if you keep your ear to the Internet, you might have heard that a whole lot of other notables are likely to join Eddie Vedder and crew on stage on Saturday night. Personally, I'm expecting the final show to begin with Jimi Hendrix playing the "The Star Spangled Banner" and come to a close with Jim Morrison singing "The End." In between, who knows? Wishful thinkers on the web have everyone but Kurt Cobain showing up on Saturday, including Bruce Springsteen, Dave Matthews, Billy Joel and Neil Young. Will any of them actually materialize? Springsteen would seem to be the most likely, in terms of musical compatibility and geographical proximity, but the Boss could well be busy handing out Halloween candy and rooting for the Yankees on Saturday. One thing seems for sure: The Spectrum's swan song isn't going to make for an early evening. In the first night of PJ's last stand on Tuesday, Vedder hinted that the band would still be playing a 2 a.m. on Sunday morning.

Previously: Game 2 Music
Dan DeLuca

, Inquirer Music Critic

Nothing gets the attention of rap fans like a feud. Philadelphia rapper Beanie Sigel - a.k.a the Broad Street Bully - used to be the best of buddies with Jay-Z. No more, apparently. Last week at the Power 99 Powerhouse concert at the Wachovia Center, Beanie dropped the lines, "I'm a grown a-- man, I don't sit on n----- laps/I'm looking for gifts out of Santa Claus' sack." And according to MTV.com, those rhymes are featured on his new song "What You Talkin' Bout (I Ain't Your Average Cat)." (Though in the song snippet available on MTV.com you'll find below, they are not heard.) This morning, Sigel - real name: Dwight Grant - went on radio station 100.3 F.M. (The Beat) to talk to deejay Charlemagne Tha God about his failed relationship with his former mentor and Roc-A-Fella records kingpin, and explain such be-careful-or-I'll-tell Beyonce-lyrics as "I was a fly on the wall, sh-- I witnessed/I can say sh-- that will make B look at you different." Part of the problem, it seems, is that Jay-Z is no longer saving spots for Sigel on his high profile album releases, such as the new Blueprint 3. "I'm not really dissing Jay," he claims, but "I feel he gave out a lot of pairs of shoes on that album. I felt my feet was meant for a couple of them."

Listen to a clip of the interview from 100.3 here. Read all about it on MTV.com here. And check out the partial "What You Talkin' Bout," from the MTV site, below.

Previously: Spectrum Rumor Mill
Dan DeLuca

, Inquirer Music Critic

After Jay-Z and Alicia Keys put those damn Yankees fans in a "Empire State of Mind" - what, they couldn't get Billy Joel? - during tonight's pre-game show, University of Pennsylvania grad (and Manhattan resident) John Legend will bring a bit of Philadelphia schooled soul power to "The Star Spangled Banner." Here are he and Stephen Colbert having their way with with the Francis Scott Key composition back in 2008, when The Colbert Report was taping at the Annenberg Center in West Philly.

Previously: C.L. Smooth: He'll Take You There
Dan DeLuca

, Inquirer Music Critic

In case you missed it, here are the two pre-game Game 2 World Series performances. Jay-Z and Alicia Keys' "Empire State Of Mind": Not knock-your-socks-off, but not bad, despite the song's objectionable content, and the ridiculous stage set-up all by its lonesome on second base. (The clip will also have its appeal for those who have always hoped to see Keys shot almost exclusively from the ankles up.) And then there's John Legend's "The Star Spangled Banner": No match for Marvin Gaye, but soulful and dignified, and neatly putting a personal stamp on a song that's no picnic to sing.

Previously: Tenacious Lee
Dan DeLuca

, Inquirer Music Critic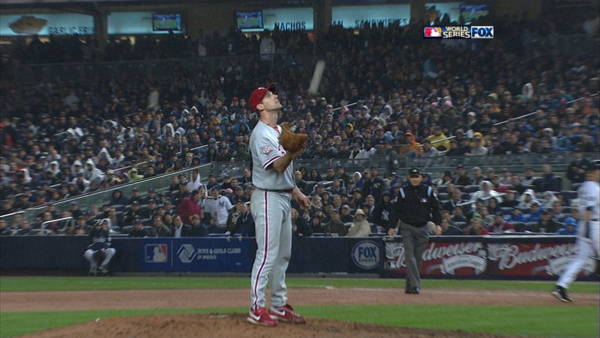 Cliff "C.L. Smooth" Lee was at it again last night, shutting down the big bad Yankees and acting all nonchalant as he caught Johnny Damon's lazy pop up. Like his old school hip-hop namesake, he'll take us there.
Previously: Pearl Jam Setlist, Night Two
Dan DeLuca

, Inquirer Music Critic

Before we get back to the business of watching and worrying over Game 2, let us take another moment to revel in the awesomeness that was Cliff Lee's Game 1 performance, and ponder such questions as, if former Wham! and Style Council singer Dee C. Lee had married Cliff Lee, would she be Dee C. Lee Lee? And while we puzzle over that, there's this, a timely and brilliant C. Lee tribute, set to the tune of "Lee," by Jack Black and Kyle Gass' Tenacious D. Thanks to the Inky's Amy Rosenberg for passing it along.

Previously: John Legend To Sing Game 2 National Anthem
Dan DeLuca

, Inquirer Music Critic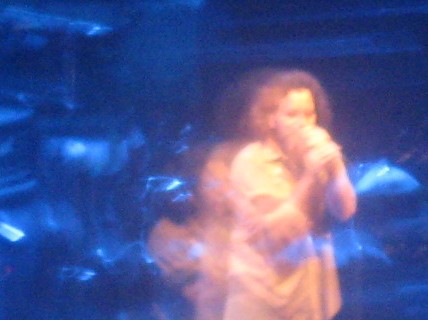 There are more good things that come from Seattle besides Raul Ibanez. There's also Pearl Jam, the rock band from the Pacific Northwest that played the second of their four final shows at the Spectrum on Wednesday night. You know, the guys who dedicated "Wishlist" to "our friend Raul Ibanez," and "Given To Fly" to Shane Victorino, and "Save You" to Brad Lidge on a night when Eddie Vedder took to the stage early to join openers Social Distortion on "Ball and Chain" and then brought Social D.'s Mike Ness out for "Down." Vedder (multiply exposed, above) was very much aware that there was something else besides his band's 2 1/2 hour performance on Philadelphian's minds. "I know there's a big baseball game going on, I'm very curious myself," he said before bringing out a boxing round card girl named Katie who showed up periodically with good news Phillies-Yankees score updates.
Vedder again came armed with praise about the Spectrum: "This is an incredible sounding room and a great place to play. My cousin was outside at 4 p.m. during soundcheck, and he said it even sounded great outside...Around that time there were these shafts of light coming through these side windows. It was like God's light, if there is one. It was amazing." Vedder also gave a shout-out to J.C. Dobbs, the South Street venue they first played in Philadelphia, while playing to the back of the house on "Last Kiss," the Wayne Cochrane and the C.C. Riders cover that kicked off the second encore.