Archive: January, 2013
Dan DeLuca

, Inquirer Music Critic
Going to see an artist who has had the words "paralyzing stage fright" written next to her name as many times as Cat Power - the stage name of the singer Chan Marshall - can be a perilous proposition.
Will Marshall, who pronounces her first name "Shawn," make it through the show? How is the 41 year old indie chanteuse with the shadowy, soulful voice coping after she got dumped by that scallywag Giovanni Ribisi and had to cancel a number of shows last fall, including one at the Electric Factory, due to financial trouble and her hospitalization with the facial-swelling condition angioedema?
Did she really not only cut off her signature long dark tresses, but also dye her hair blonde, and fashion it into a Mohawk? And will the self-recorded electro rhythms of last year's Sun, her first album of new material in six years, translate into a live setting?
Dan DeLuca

, Inquirer Music Critic
Philadelphia guitarist Jef Lee Johnson died on Monday night at Roxborough Memorial Hospital. He was 54. The list of people Johnson played with is staggering, from McCoy Tyner and Roberta Flack to Ronald Shannon Jackson and The Roots to Mariah Carey and Aretha Franklin.
My obituary of Johnson is in the Wednesday Inquirer and here. The video below is of Johnson playing and talking music with bass player Chico Huff in 2012. The photo is by Jempi Samyn. More videos are here.
Johnson's death was deeply felt among the community of Philadelphia musicians. Here's what a few of them had to say.
Dan DeLuca

, Inquirer Music Critic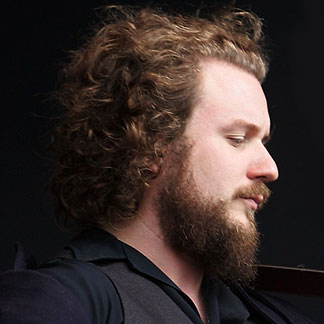 My Morning Jacket frontman Jim James' first solo album, Regions Of Light and Sound of God, comes out next Tuesday. Today, it's streaming over at NPR Music. Click here to listen.
On February 18, James will play a super sold out show at Johnny Brenda's in the first date of a three date small club mini-tour. In the spring, however, the MMJ singer with the soaring voice and predilection for fancy capes will return to the road, and play Union Transfer in Philadelphia on April 27. He'll also be on Late Night with Jimmy Fallon on Feb. 4th. "A New Life" is below.
Previously: Talking with Nightlands Dave Hartley Follow In the Mix on Twitter
Dan DeLuca

, Inquirer Music Critic
Dave Hartley has just released his second album as Nightlands, the self-described "baroque bedroom pop" project that is the Philadelphia musician and songwriter's chief creative outlet when he's not playing bass in The War On Drugs. It's called Oak Island, and it's out on Secretly Canadian. My interview with him is in today's Inquirer and here.
Hartley is a man of many hats. Besides singing in the Silver Ages and writing a basketball column for the WXPN music blog The Key called Top Of The Key, he's also an amateur photographer. This month, after Spin magazine named both Nightlands and Philadelphia power trio Purling Hiss as among the five artists to watch for January, Harltey returned the favor by providing the Spin web site with a 25 picture photo gallery that works as a love letter of sorts to Fishtown, where the Maryland native has lived for the past seven years. Check that out here.
On Monday, I went to a Sixers game Hartley and his War on Drugs band mate Adam Granduciel, in part to watch Matt Bonner, the San Antonio Spurs three-point shooting specialist who is the inspiration for the Hartley founded online campaign #LetBonnerShoot. the Eva Longria-endorsed movement's intention is to get the unfrashionable power forward into this year's NBA All-Star Weekend three-point shooting contest.
Dan DeLuca

, Inquirer Music Critic
Robert Earl Keen plays the World Cafe Live tonight. Last year about this time, Keen played Philadelphia for the first time in a long time, and I interviewed him in the pages of the Philadelphia Inquirer. That Q and A is here.
Keen is one of the sharpest, savviest, funniest roots-country songwriters alive, and he brings with him an excellent band, whose like is rarely seen in these parts, featuring Rich Brotherton on guitar. And because it's still January, he might even do his dysfunctional family mini-masterpiece "Merry Christmas From the Family."
"Gringo Honeymoon" is below. Andrea Davison opens up. Show info is here.
Dan DeLuca

, Inquirer Music Critic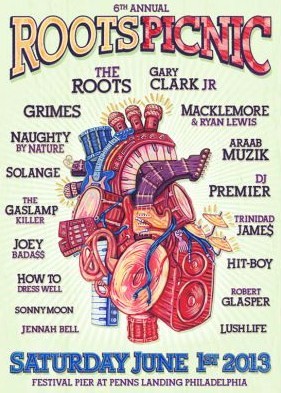 The Roots announced the lineup for the 6th annual Roots Picnic at Festival Pier today. This year's fesitivites - scaled back to one day after last year's two-day fete - will take place on June 1 and feature Solange, Macklemore & Ryan Lewis, Naughty by Nature (backed by the Roots), DJ Premier, Grimes, Gary Clark Jr., Araab Muzik, Robert Glasper, Sonnymoon, How To Dress Well, and more. It's a little hip-hop, a little indie rock, and a little electro, and with the presence of Glasper and Clark on the bill, both jazz and the blues will be represented.
Cool poster.
Tickets go on sale Friday at 10 a.m.
Dan DeLuca

, Inquirer Music Critic
Pint-sized soul man Lee Fields & the Expressions play the World Cafe Live tonight. The gruff, pugnacious North Carolina native, now based in Plainfield, N.J., is a terrific one-step-removed-from-James Brown live performer, who hasn't received the attention he deserves in the current retro-soul revival. Put it this way: Sharon Jones started to make a name for herself when she tried out to sing back-up in Fields' band. I saw him upstairs at the WCL when he was pushing his album Faithful Man last year at the Non-Comm convention, and he tore it up for real.
Below, check out the videos for "Love Comes and Goes" and "Ladies" (which is mashed up with clips featuring Marcello Mastroanni in Federico Fellini's 8 1/2).
Previously: Free Energy, back with 'Love Sign' Follow In The Mix on Twitter
Dan DeLuca

, Inquirer Music Critic
Now only-partly-Philadelphian rock band Free Energy are back with the sophomore release, Love Sign, which comes out on Tuesday.
My interview with the Paul Sprangers and Scott Wells-led cowbell-loving fivesome is in Sunday Inquirer A & E section and here.
Back in 2010, when the band released its James Murphy-produced debut Stuck On Nothing, I wrote a couple of humoungous Inquirer stories about the band's travails as they made their way though the remade music insutry. Those stories are here and here.