Archive: September, 2012
Dan DeLuca, Inquirer Music Critic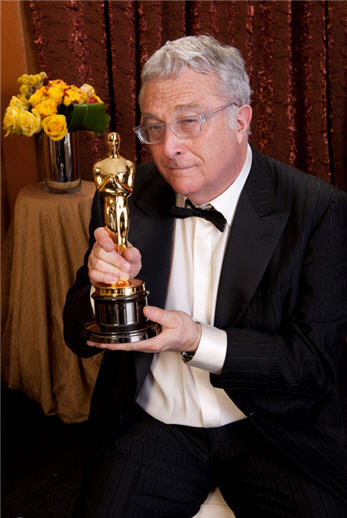 Master satirist Randy Newman makes his voice heard this election season with "I'm Dreaming," using Irving Berlin an Bing Crosby as a starting point to humorously target those that he suspects oppose President Obama on the basis of the color of his skin.
As you would suspect, it's funny, starting with the opening line, "I'm dreaming of a white President / Just like the ones we've always had." In this morning's Slate, estimable sometime Inquirer contributor Ben Yagoda talks to Newman and asks him how he knows, as Newman has put it, "there are a lot of people who don't want a black person in the White House and they want to get him out."
"Well, I don't know, partly because no one, and I mean no one, would admit feeling that way," the Oscar-winning Toy Story and Rednecks songwriter replies. "Still, it's clear that there are lots of people out there who are uncomfortable. The Civil War was a long time ago but there are aspects of it that remain unsettled, I think. Early on in Obama's term, there was heat generated by issues that you wouldn't think would cause such passion. Even the term "Obamacare," the way it's spit out, like he was some kind of witch doctor. Maybe I'm overly sensitive to the issue, but I don't think so. There's an edge to things that normally wouldn't have an edge. I thought it was a little extra."
Dan DeLuca, Inquirer Music Critic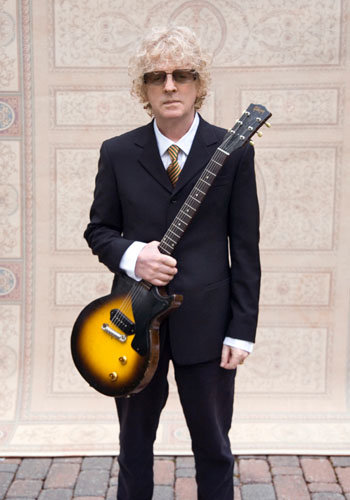 Former Mott the Hoople frontman Ian Hunter plays the World Cafe Live tonight. Still with that mop of blond hair at age 73, Hunter is the guy who wrote "All The Way From Memphis" and "Cleveland Rocks" and sang David Bowie's "All The Young Dudes."
Remarkably, he's been working at a level in recent years that measures up quite respectably with his classic glam-slash-pub rock glory days with Mott and as a solo artist with albums like 1979's You're Never Alone With A Schizophrenic and the 1981 Mick Jones (of the Clash) production Short Back n' Sides. The latest example of Hunter's continued excellence is the brand new When I'm President, credited to Ian Hunter & the Rant Band, which came out last week. The title track and a 2007 Hunter interview with Craig Ferguson are below. Show details here.
Lady Gaga coming to Wells Fargo Center Follow In The Mix on Twitter
Dan DeLuca, Inquirer Music Critic
Lady Gaga's tour sponsor, Skype, today announced tour dates for the pop star's Born This Way Ball tour. Gaga begins her worldwide jaunt in Manchester, England tonight, and after winding her way around the globe, will play the Wells Fargo Center in South Philadelphia on February 19 of next year and Boardwalk Hall in Atlantic City on March 2.
It's a bit odd that the these tour dates are still being labeled with the Born This Way brand after the pop star's 2011 album, because last week she announced that she readying for a release a new album called ARTPOP, which will is expected to come out in early 2013, according to her website as "an iPad, iPhone, mobile and computer compatible application that is completely interactive with chats, films for every song, extra music, content, Gaga-inspired games, fashion updates, magazines, and more still in the works!"
No word yet and when tickets go on sale for the Philadelphia and Atlantic City dates. The complete tour listing is on Gaga's home page.
Dan DeLuca, Inquirer Music Critic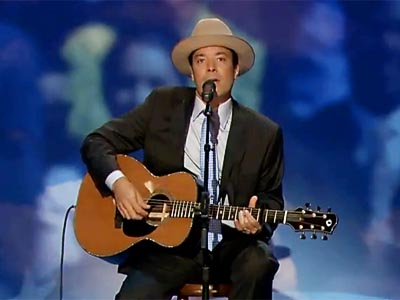 This week at the Democratic National Convention, James Taylor entertained the delegates. On Friday on Late Night with Jimmy Fallon, the host who's previously parodied David Bowie, Neil Young and Eddie Vedder, among others, added Taylor to his list, transforming "Fire & Rain" into a spot-on "Romney & Bain."
Fallon's performance is a pro-Obama guitar strummer, for sure, but with bipartisan digs. It mentions Vice President Biden's name followed by the lyric "Oh Joe keep your piehole closed you're killing me" and rhymes "I've heard Bill Clinton speeches I thought would never end" with "I've seen Chris Christie jiggling in the wind."
Thanks to Joan Myers for this. Watch below.
Dan DeLuca, Inquirer Music Critic
The attendance figures are in for the Budweiser Made In America festival, which took place over the weekend on the Benjamin Franklin Parkway.
On Saturday, when Jay-Z was headlining, the fest drew 41,336, acording to Live Nation, who promoted the show. On Sunday, with Pearl Jam on top of the bill, 39,146 people showed up.
That makes for a total of 80,482. The fest was mainly in the business of selling two days passes, but single day tickets were available. For two days, that puts it at 80.48% of capacity, a number that local Live Nation head Geoff Gordon says was expected in the first year of the fest, which he says lost money this year. No word yet on the million dollar question of what Made In America cost the city.
Dan DeLuca, Inquirer Music Critic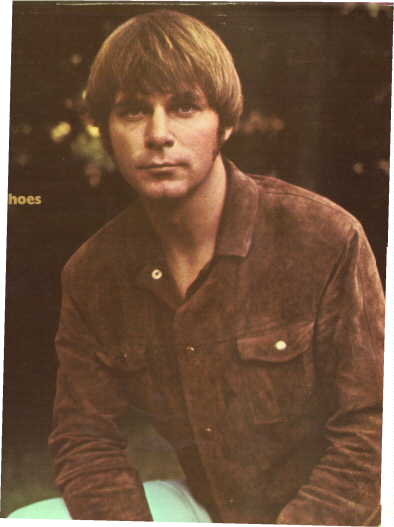 Rest in peace to Joe South, the '60s and '70s pop-country-soul songwriter and session man who wrote hits for himself and others like "Walk A Mile In My Shoes," "Games People Play" and "(I Never Promised You) A Rose Garden)," a huge country hit for Lynn Anderson in 1973.
The empathic "Walk A Mile" became a standard of the late -eriod jumpsuited Elvis Presley's repertoire, and "Games People Play" was a typically tart South lyric that took aim at hypocrisy and religous sanctimony: "Then they want to sock it to ya / In the name of the Lord."
He also played guitar on Bob Dylan's Blonde on Blonde album and Aretha Franklin's "Chain Of Fools." South - who was born Joseph Souter - was 72. He died of a heart attack at his home in Buford, Ga.
Dan DeLuca, Inquirer Music Critic
Here's a set list from Bruce Springsteen & the E Street Band's second of two shows at Citizens Bank Park in South Philadelphia on Monday. Great show, a superbly focused Labor Day special honing on on the twin themes of "ghosts" and "work."
To answer the questions posed by my early deadline review: No, Eddie Vedder of Pearl Jam, who was reportedly watching the show from a Citizens Bank suite, did not come on with Springsteen. And no, "Rosalita (Come Out Tonight)" was not performed, nor were any of the numerous covers the Boss did the night before.
This was a much more serious affair. There were no covers whatsoever, other than a snippet of the Bo Diddley's "Mona," which usually precedes "She's The One" but here led into "Shackled and Drawn," the Wrecking Ball song in which Springsteen sings "I always love the feel of sweat on my shirt / Stand back, son, and let a man work / Let a man work, is that so wrong?"
Dan DeLuca, Inquirer Music Critic
Reunited rappers Run-DMC, whose two principals hadn't performed together in 13 years - their DJ Jam Master Jay die in 2002 - were the biggest crowd pleasers of the day. Rappers Darryl McDaniels and Joseph Simmons set off the crowd with 1980s rock power-chord boosted bangers like "it's Tricky," "My Adidas" and of course, their trailblazing Aerosmith collaboration "Walk This Way." (Joe Perry and Steven Tyler were only, heard, and not seen, at Made In America, however.)
In a touching interlude, the group handed over the wheels of steel to Jam Master Jay's two sons Jason Mizell Jr. and TJ Mizell, both of whom grew up to be Deejays. For an added thrill, the big video screens showed Jay-Z and Beyonce moving through the crowd during the old school rappers' set.
Follow In The Mix on Twitter