Archive: September, 2010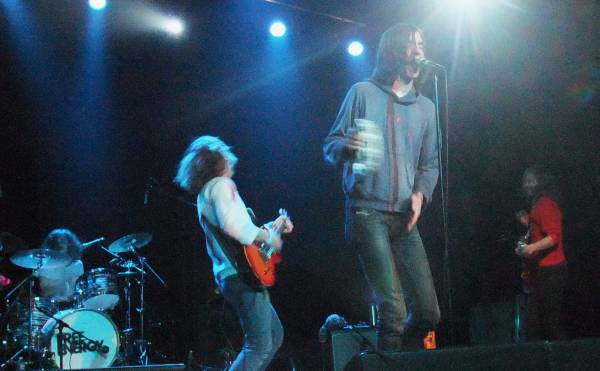 I've got a rather large story in this Sunday's Inquirer A & E section that looks at the various ways the music business has been turned upside down in the last decade. The story is here. It follows Philadelphia rock band Free Energy as they work to make a name for themselves in the business.
I've been keeping an eye on Free Energy - who are led by singer Paul Sprangers and guitarist Scott Wells, who are from Red Wing, Minn. and moved here in 2008 - going all the way back to a Haiti benefit they played at the Trocadero in January which I had completely forgottten about and which is where the photo above was taken. If I'm counting correctly, I've seen them seven times since then, and they've always delivered the goods live. On Thursday, they share a particularly strong double bill with well-read North Jersey punks Titus Andronicus at the First Unitarian Church.
Free Energy, "Free Energy"
FREE ENERGY "Bang Pop" from Free Energy on Vimeo.
Free Energy, "Bang Pop"
Free Energy, "Hope Child," at Main Street Music in Manayunk, 5/28/2010
Free Energy, "C'mon Let's Dance," Cleveland, Ohio.
Wood Talk with Nick Shuminsky
Pavement leader and sports fan Stephen Malkmus dedicated "Unfair," from 1994's Crooked Rain, Crooked Rain to Eagles QB Kevin Kolb at the Mann on Friday night. An amusing moment, though not quite as funny as the Malkmus quip after one of several times boundlessly energetic hype man and percussionist Bob Nastanovich took his wireless microphone into the crowd that knew every word to every song. "Going wireless is like Viagra for the back up vocalist," Malkmus said. "Bob can now go longer, deeper, and further into the crowd." The Pavement reunion tour was an impressive enterprise, though perhaps not as impressive as the hula hooping to "Unfair" seen below. (Until it all falls apart at the 2:18 mark.) My review of the Pavement reunion is in Monday's Inquirer and here.
Previouskly: Sanity vs. Fear
Comedy Central titans Jon Stewart and Stephen Colbert both made a much anticipated Big Announcement last night on their respective fake news shows. As they say in those Southwest ads, it is so totally on: The Daily Show's measured and reasonable The Rally To Restore Sanity faces off against The Colbert Report's alarmist and panic-strricken The March To Keep Fear Alive on the National Mall in Washington, D.C. on October 30.
Previously: Rattled By The Rush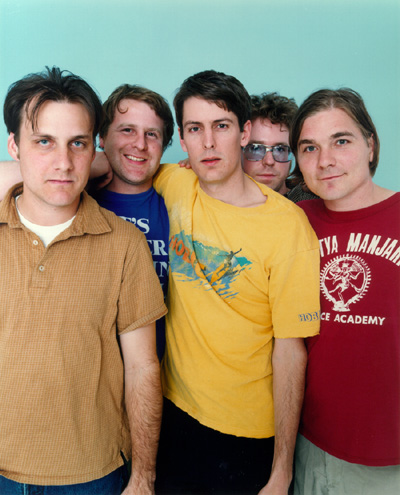 As reunited alt-rock 1990's bands go, I'm sort of sorry I missed The Pixies last week, but I'm pretty stoked for Pavement tonight at the Mann Center For Performing Arts. I've never completely warmed to Stephen Malkmus' solo career, but he made great records with Pavement that were droll and ironic, yeah, but also packed with classic-rock schooled hooks. They were also a most lively live band, at their best, though Malkmus was also very good at derailing things when he got bored. Michael Pollock's preview from Friday's Inky is here. Malkmus is the one in yellow, bass playing Lancaster native Mark Ibold is on the far right. The retrospective Quarantine The Past, 1989-1999 is out on Matador. Philadelphia's own (and Pavement's Matador label mate) Kurt Vile opens. The "Rattled By The Rush" video is below. Careful, it might upset your stomach.
Previously: When Werner Rescued Joaquin
Were it not for German film director Werner Herzog, Joaquin Phoenix's meta faux-documentary I'm Still Here (which director Casey Affleck just admitted was a faux documentary) might not exist. And what a shame that would be. (Read Steven Rea's review of I'm Still Here here.) As anyone who's ever seen and heard Herzog's docs Grizzy Man or Encounters At The End Of The World knows, the Fitzcarraldo director is a strangely compelling master of voice-over narration. And in the clip below directed by animator Sascha Ciezata, Herzog narrates the story of the day he was driving down in Los Angeles in 2006, and it turned out the guy sitting upside down in a flipped over car trying to smoke a cigarette while gasoline dripped everywhere around him was the future star of I'm Still Here.
Previously: Where Gaga Got The Idea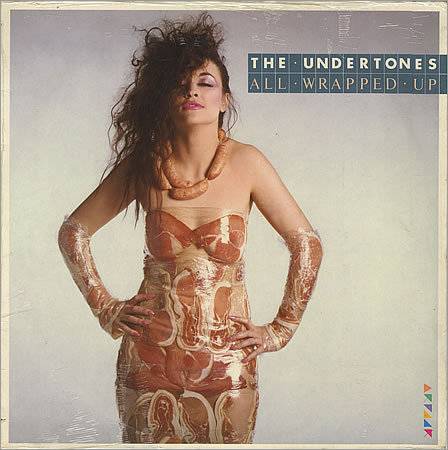 Turns out that Lady Gaga dress made out of meat isn't an original idea. I'm crestfallen. Here's the cover from The Undertones' All Wrapped Up, the 1983 best-of compilation by the British New Wave band led by Feargal Sharkey who were responsible for "Wednesday Week," "My Perfect Cousin" and of course, the immortal "Teenage Kicks." Thanks to Sam Wood for this.
Previously: Lady Gaga Setlist
The Undertones - Teenage Kicks CHIKE2 by charlieboorman4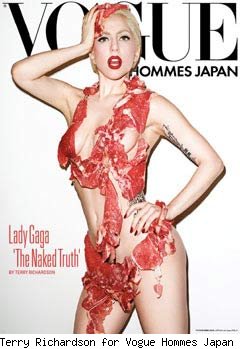 What would Morrissey say about Lady Gaga's meat bikini? PETA has a beef with it, and the "rotting flesh" dress she wore while hugging Cher on the VMA's Sunday night. The cover model for Japanese Vogue is at the Wells Fargo Center tonight and tomorrow.
Previously: Lady Gaga Tickets Released
Giddy from winning 8 MTV Video Music Awards on Sunday - "I haven't slept in 48 Hours," she said - Lady Gaga played the first of her two Monster Ball shows at Wells Fargo Center on Tuesday.
In two talkative hours, she dressed up to look like a giant lampshade (or was that a giant mushroom?). She spoke out against the military's "Don't Ask, Don't Tell" policy. She mentioned the name of her upcoming album, Born This Way, many, many times. She wondered why people would be upset by her wearing a dress made out of meat. She writhed around on the ground covered with fake blood and yelled "Jesus Loves Everybody!" And, of course, she tangled with a giant Angler Fish/Octopus while flames shot out of her bra and crotch. A full review of Tuesday's show iis in the Thursday Inquirer, and here.