Archive: July, 2010
Dan DeLuca, Inquirer Music Critic
Bono is back. Or at least he will be, by next summer. The Philadelphia stop on the U2 360 Tour was supposed to happen yesterday, but was postponed along with the entire North American trek when the Dublin messiah proved to be all too human and severely injured his back in Germany in May.
But now Bono's back is better, and the Irish stadium band's show at Lincoln Financial Field is on for July 14 of next year. The re-slated tour kicks off on May 21, 2011 in Denver. Original tickets will be honored, refunds are available at point of purchase. Tickets are on sale at LiveNation.com. Check U2's web site for details.
Previously: Lady A, Not Lady G
Dan DeLuca, Inquirer Music Critic
Who's the biggest selling artist of 2010? Gotta be Lady Gaga, right? She's everywhere.
Nope, sorry. Eminem? He moved almost three-quarters of a million albums in the first week Recovery was out, and he's already up to 1.2 million, what with the success of his great "Love The Way You Lie" single with Rihanna.
But it isn't Slim Shady, either. It's Lady Antebellum, the Nashville soft country-pop threesome opening for Tim McGraw at the Susquehanna Bank Center in Camden, whose name rings a disturbing note of nostalgia for a pre-Civil War era in the American South, which, if I'm not mistaken, was a time when cotton was king and, along with a lot of fancy plantations and pretty Spanish moss, there were also a lot of slaves.
Dan DeLuca, Inquirer Music Critic
Bing Crosby's "Winter Wonderland" turned up on shuffle on my iPod today. I hate when that happens. It's not the time of year for that. 'Tis the season, though, for Sleigh Bells, the distorted electro-pop duo of Derek Miller and Alexis Krauss, who are playing the pool part at Making Time at Bamboo tonight. They go on at 10. My interview with Miller from Friday's Inquirer is here.
Previously: She & Him X 2
Dan DeLuca, Inquirer Music Critic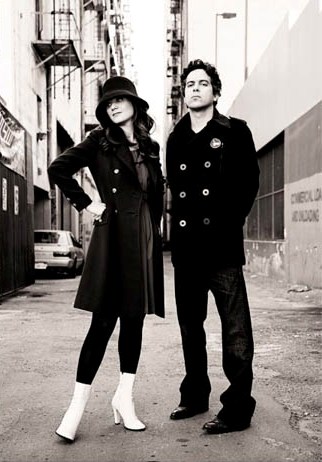 She & Him, the grammatically impaired almost-too-cute pop duo of songwriter-actress Zooey Deschanel and guitarist-producer Matt Ward, are doing two shows in town on Friday. The first is a WXPN Free at Noon at the World Cafe Live, a gratis doubleheader with Delta Spirit. Sorry to say, that's sold-out. Deschanel and Ward are also playing the Great Plaza at Penn's Landing tonight, however, and tickets for that are still available, here. She & Him's new Volume Two is perhaps not quite as fresh and charming as 2008's Volume One, and they're no longer everybody's favorite new coed duo of the year. (That would be Sleigh Bells, who are at Bamboo on Sunday.) But S & H's retro perky stylings should sound perfectly swell on a breezy night along the Delaware.
Previously: Eminem's Big Week
Dan DeLuca, Inquirer Music Critic
Eminem's Recovery made the music industry seems healthy - or at least not on life support - for one week, anyway. The Detroit rapper's seventh album sold a whopping 732,000 copies in its first week. (My Recovery review is here.) That's the most anybody's sold since AC/DC moved 784,000 in 2008, and more than 7 times as many as Miley Cyrus' Can't Be Tamed, which sold 102,000 last week. The Roots' How I Got Over came in sixth, at 51,000. I guess this advertisment showing off the Recovery CD's many uses got the message out. With Jay-Z, Slim Shady plays Comerica Park in his hometown on September 2 and 3, and Yankee Stadium on September 13 and 14. You can hear Recovery here.
Previously: Great Plaza Summer