Archive: June, 2010
Dan DeLuca

, Inquirer Music Critic

Rapidly blowing up Philadelphia snap-crackle-pop hip-hop duo Chiddy Bang, whose MGMT-sampling "Opposite Of Adults" broke big in the UK this spring, are headlining the teen-organized Summer 618 festival at Snipe's Farm in Morrisville on Friday. Keep your eye on these guys, who met as freshmen in Drexel University's music program, then dropped out to head for the big time. Also on the main stage of the fest: Super Mash Bros, 5 & A Dime and DJ Traffikjam. The after party for the "Space Age Dance Music Party" will be held a four story geodesic dome. Doors are at 4. More info at Summer618.com. You might ask yourself: Where is Morrisville? Here. Free shuttles are available fom the Trenton train station. The "Opposite Of Adults" video is below. Seems like Chiddy Bang's heads are getting a little big already.

Previously: Philly Sound At Phillies Game
Dan DeLuca

, Inquirer Music Critic
Inide-rock marrieds Kori Gardner and Jason Hammel - the Mates of State - have quite the fetching covers album out, digital only, called Crushes. Girls, Death Cab for Cutie, Fleetwood Mac, Tom Waits and Belle and Sebastian get the by turns glitchy, poppy, and lyrical treatment. More info about the album here. Gardner and Hammel play the First Unitarian Church tonight, with Todd Barry and Suckers. Nick Lowe's "Love Letters" is below.
Previously: The Mann Season
Dan DeLuca

, Inquirer Music Critic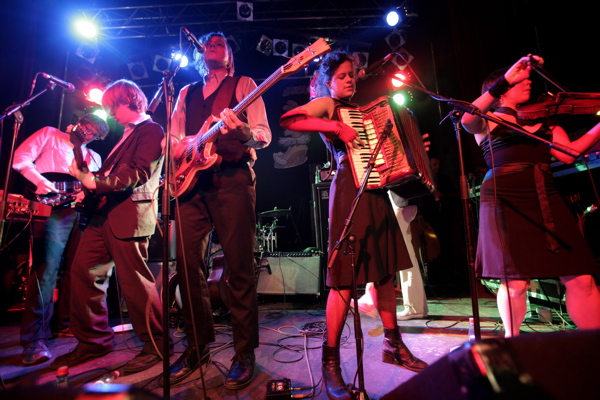 Between Richard III in Central Park, The Philadelphia Orchestra in Fairmount Park and Bloomsday, I must say that I've been having quite the high art week. But while hearing the Fab Philadelphians on Tuesday was a sure fire kick - read David Patirck Stearns' perspicacious review in today's Inquirer here - spending an almost-summer night being rocked by Beethoven at the Mann Center mainly got me jonesing for the rock shows coming up later in the season.
There are some good ones. West Coast based promoter AEG Live contracted with the Mann to present the summer season, which includes trumpeter Chris Botti playing with the orchestra tonight, and kicks off, rock-wise, on June 27 with indie dance band Passion Pit, with Tokyo Police Club. A handful of genuine buzzworthy bills are on the way: Mike Patton and the reunited Faith No More on July 3, the Arcade Fire with Spoon on August 2 (the day before the AF's The Suburbs hits) and the reformed Pavement on Sept. 17. Other noteworthies include the Dead-centric Furthur fest on July 10 and 11, Squeeze and Cheap Trick on July 16, Rufus Wainwright on August 4, Herbie Hancock on August 10, MGMT on August 15 and Tony Bennett on August 28.
Dan DeLuca

, Inquirer Music Critic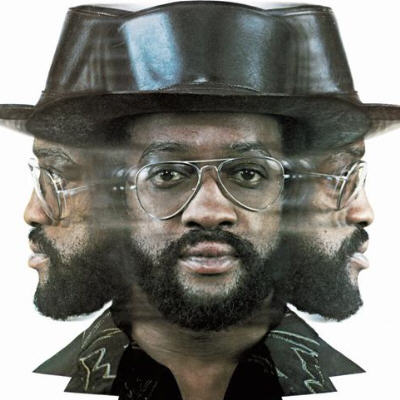 In a Black Music Month celebration, the Phillies are paying tribute to Gamble & Huff and the Sound Of Philadelphia before Friday night's game against the Minnesota Twins at Citizen's Bank Park. Among the honorees will be Billy Paul of "Me & Mrs. Jones" renown (that's his three-sided picture, from back in the day), WDAS radio legend Joe "Butter" Tamburro, original Intruders Phil Terry and Robert "Big Sonny" Edwards, and Kevin Eubanks, the stepping-down Jay Leno guitarist who's in town to get a plaque with his name on it put in the Philadelphia Walk Of Fame. There will be a free show outside the park at 5 p.m. with the Intruders and the great Russell Thompkins Jr. of the New Stylistics, among others.
Previously: Simon & Garfunkel, Peter Wolf Postponed
Dan DeLuca

, Inquirer Music Critic
Two upcoming geezer rock shows keep getting delayed. The Simon & Garfunkel tour, which was supposed to get started in April, and bumped back to the summer, has been delayed again. The July 31 date at the Trump Taj Mahal has been postponed indefinitely, due to Art Garfunkel's vocal paresis. I heard him struggle to sing at the New Orleans Jazzfest and it was pretty painful. No word on when the show will be rescheduled for, but ticketholders can get their money back at point of purchase.
Meantime, Peter Wolf's show at the Note in West Chester - the place Bam Margera got slugged outside of with a baseball bat last weekend - has been pushed back yet again, this time from July 25 to sometime in a "September/October time frame." No word on the reason for the postponement. Tickets can be refunded at point of purchase.
Previously: Mates Of State At the First Unitarian
Dan DeLuca

, Inquirer Music Critic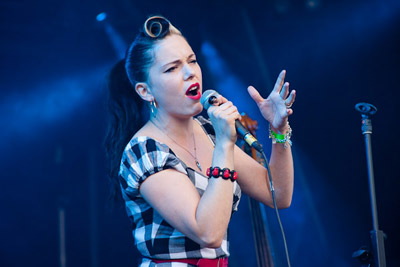 Irish rockabilly singer Imelda May, who made a name for herself stateside by swinging through "How High The Moon" with Jeff Beck during his Les Paul tribute at the Grammys this year, plays at Johnny Brenda's in Fishtown tonight. May's new album, Love Tattoo, is a vivacious roots music rip. Steve Klinge's interview with her from Friday's Inquirer is here. Here's a link to the performance with Beck. Below, she goes "Psycho."
Previously: Tom Petty's Mojo
Dan DeLuca

, Inquirer Music Critic

Tom Petty & the Heartbreakers' first album in eight years, Mojo, is out. My review from Tuesday's Inquirer is here, along with Michael Pollock's review of Drake's Thank Me Later and A.D. Amorosi's take on Sarah McLachlan's Laws Of Illusion. Petty plays the Wachovia Center July 31 and August 1, Drake is at a sold-out TLA tomorrow and McLachlan's Lilith Fair comes to the Suquehanna Bank Center on July 28. Petty will be on Tavis Smiley's PBS talk show tonight, and Sam Jones' short film about the making of Mojo is below.

Previously: The BP Blues
Dan DeLuca

, Inquirer Music Critic

Gulf Coast fisherman and songwriter Drew Landry has "The BP Blues." The Lafayette, Louisiana native has an angry, excellently reported blog called Dirty Cajuns which details the devastation caused by the Deepwater Horizon rig explosion in the nearly two months of dithering that's followed. As he succinctly puts it: "50 days is too long to be pissing in the wind!" Landry is a fine songwriter who released an album in 2006 called Tailgaten Relief & Hurricane Companion. His goal with Dirty Cajuns, he says, is "to tell the truth and empower the people of the Gulf Coast whose voices are not being heard. It's not about who's right or wrong, but about helping the fishermen and others whose livelihoods have been destroyed." "The BP Blues" is below.


Previously: Paul McCartney To Play Wachovia Center In August