Archive: May, 2009
Dan DeLuca

, Inquirer Music Critic
Bob Dylan doesn't turn 68 until Sunday, but that won't stop 36 Philadelphians, spearheaded by the indefatigable Kenn Kweder and indispensable Jon Houlon, from celebrating three days early by each doing one song by the inscrutable bard tonight at Rembrandt's on 23rd Street in the Art Museum area. Kweder gets things started with "Can You Please Crawl Out Your Window?," Houlon, of John Train and the Donuts, follows with "Sara," and then they're off, with Dani Mari, Mia Johnson, Rich Kaufmann, Jim Boggia, Larry Ahearn, Adam Brodsky, Scot Sax and Michael Tearson all contributing, among a slew of others. Below, Loudon Wainwright III wishes Dylan a Happy 50th in "Talking New Bob Dylan Blues."
Talking New Bob Dylan - Loudon Wainwright III
Dan DeLuca

, Inquirer Music Critic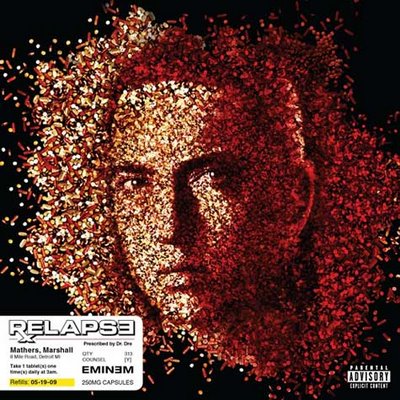 Popular provocateur Eminem is back in full force this week, with Relapse, which is an impressive bounce back from 2004's disappointing Encore. My review from Tuesday's Inquirer is here. The entire album, which kicks off with a skit starring actor Dominic West - that's McNulty to you Wire fans - is streaming on Eminem's MySpace. And here the natural brunette is performing "3 a.m.," one of the sicker, and stronger, cuts off Relapse, on Jimmy Kimmel Live last night. Watch carefully and you'll notice that when Em moves the mic away from his mouth, the words still miraculously come out. Didn't Milli Vanilli get in trouble for that?
Dan DeLuca

, Inquirer Music Critic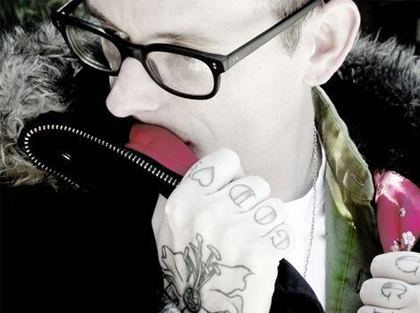 Indie-tronic electro-twee one-man band Her Space Holiday - the longtime bedroom-pop moniker of Marc Bianchi - makes a rare appearance at the Barbary tonight. Hurry up, if you're going. It's an all-ages show, and the Holiday gets started at 6:30 p.m. "My Girlfriend's Boyfriend" and "Japanese Gum" below.
Japanese Gum - Her Space Holiday
Dan DeLuca

, Inquirer Music Critic

The new Green Day album, 21st Century Breakdown, came out on Friday. You can listen on Lala here. My review from the Sunday Inquirer is here. And here's the video of Billie Joe Armstrong, Mike Dirnt and Tre Cool doing "Know Your Enemy," 21st's first single.
Dan DeLuca

, Inquirer Music Critic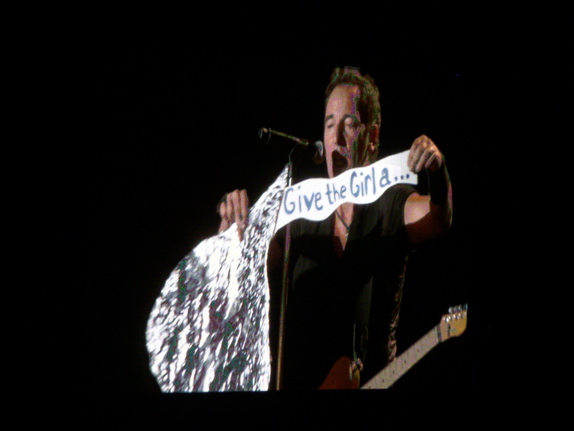 Deciding that twice was not enough, I headed out to Hershey on Friday for a third Springsteen show, half worried that it could never live up to the two at the Spectrum last month. No need: Turned out to be a full three hour blowout before a crowd of 30,000, the only outdoor show of the current U.S. tour on a perfect pre-summer night, and just the second time that the drummer's throne was held down solely by 18 year old phenom Jay Weinberg, who Springsteen introduced as "The Prodigy!"
A great, celebratory evening all around, with a couple of excellent signage moments, though towards the end, the Boss commented, "Love all the signs, but I gotta say, it's getting a little ridiculous." Early on, he grabbed one that read, "If U Play Twist n Shout, I'll Burn My Hannah Montana CDs," so that Isley Brothers-Beatles tune instantly shook up the set list.
Dan DeLuca

, Inquirer Music Critic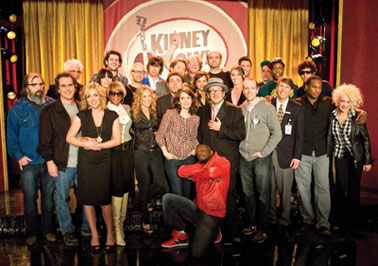 30 Rock finished off its season last night with a "We Are The World" send up in which Alec Baldwin's Jack Donaghy organizes a celebrity kidneython singalong to find an organ donor for Milton Green, his long lost father played by Alan Alda. Here's the video for "He Needs A Kidney," which features, among others, Mary J. Blige, Norah Jones, Welcome America-headliner Sheryl Crow, Talib Kweli, Michael McDonald (who sings "This country has 600 million kidneys, and we really only need half"), Wyclef Jean, two out of three Beastie Boys, Elvis Costello (whose mid-song spoken interlude goes "Listen, when someone starts talking in the middle of the song, you know it's serious"), Steve Earle, Adam Levine, Cyndi Lauper, Clay Aiken, Rhett Miller, Moby and Philadelphia's own Rachael Yamagata. The video is for sale on iTunes, and all proceeds go to the National Kidney Foundation.
Dan DeLuca

, Inquirer Music Critic
Wilco's new album, which is called Wilco (the album), and contains a song called "Wilco (the song)," as well as "You And I," a duet with Feist, and has a picture of a camel in a party hat on its cover, is streaming here. It doesn't officially come out until June 30. So far, sounds good. Jeff Tweedy and the boys play Frawley Stadium in Wilmington on July 10.
Dan DeLuca

, Inquirer Music Critic

There's a benefit concert tonight at The Fire on Girard Ave. for Dominin Weston-Wilkerson, the son of Philadelphia drummer G. Calvin Weston, who was killed in a hit-and-run accident last week and would have turned 19 last Sunday. It's an open jam session with many Philadelphia and Philadelphia-area luminaries scheduled to appear, including Jamaladeen Tacuma, Chuck Treece, Marc Benevento, Doc Gibbs, Kenny Taylor and Wadude, among others. There will be a raffle featuring an Eagles helmet autographed by all team members, along with Ropeadope Records and Ars Nova Workshop prizes. Funds raised will go to cover funeral expenses.