Archive: April, 2012
Dan DeLuca, Inquirer Music Critic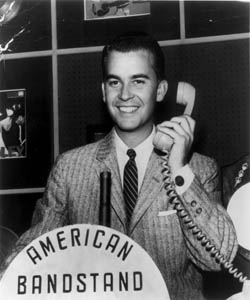 Back in 1959 when he was all of 30 years old, Dick Clark, who died today at the age of 82, was the subject of the NBC network TV show This Is Your Life. Host Ralph Edwards surprised Clark with the introduction "musical starmaker, America's #1 disc jockey, and the spokesman of the great wholesome majority of American teenagers!"
Watch the clip below. Thanks to David Stampone.
Previously: Springsteen adds second Citizens Bank show Follow In the Mix on Twitter here
Dan DeLuca, Inquirer Music Critic
Without waiting to see if the first one will sell out, Bruce Springsteen & the E Street Band have added a second show at Citizens Bank Park. In addition to the September 2 show scheduled to take place while the Phillies are away in Atlanta, the band will also play on Labor Day, Sept. 3.
Tickets for both shows go on sale at 10 a.m. Saturday through ComcastTix.com or at 800-298-4200 or at the ballpark box office.
That's a photo I took of Springsteen crowd surfing at the Wells Fargo Center during Wilson Pickett's "634-5789" in March. The clip below is of "Talk To Me," from a recent tour stop in Tampa.
Dan DeLuca, Inquirer Music Critic
Levon Helm, the legendary drummer (and singer) for The Band, is in "in the final stages of his battle with cancer," according to a note posted on his web site this afternoon.
"Please send your prayers and love to him as he makes his way through this part of his journey," the note, which was signed by Helm's daughter Amy and wife Sandy. "Thank you fans and music lovers who have made his life so filled with joy and celebration... he has loved nothing more than to play, to fill the room up with music, lay down the back beat, and make the people dance! He did it every time he took the stage..."
Last weekend, Band guitarist Robbie Robertson, who has been involved in a public feud with Helm for years, said he sent his "love and prayers" to Helm at the Rock and Roll Hall of Fame induction ceremenony in Cleveland, and just yesterday, Helm's gig at the New Orleans Jazz & Heritage Festival next week was cancelled.
Dan DeLuca, Inquirer Music Critic
Dr. Dre and Snoop Dogg headlined Coachella last night, with a little help from their friends both living and dead. Eminem, 50 Cent, Kendrick Lamar and Wiz Khalifa showed up, and the late Tupac Shakur was present in the form of a shirtless crucifix-wearing hologram.
Watch the set below, divided into two parts, via Pitchfork, and check out the understated ring Snoop's sporting on his right hand. And follow Hologam Tupac on Twitter here.
Previously: Azealia Banks, Radiohead, and Pulp at Coachella Follow In The Mix on Twitter here
Dr. Dre & Snoop Dogg (Live at Coachella, 2012)...
by coachellasets

Dr. Dre & Snoop Dogg (Live at Coachella, 2012)... by coachellasets
Dan DeLuca, Inquirer Music Critic
Lots of the performances by acts playing the Coachella Festival in Indio, Ca. this weekend and next are being streamed live on YouTube. To see what's going on in real time, go here. Below, see full sets that have already happened by art-rock kingpins Radiohead, Brit-pop reuniters Pulp and rising rapper Azealia Banks (that's her), who covered Amy Winehouse's ocer of the Zutons' "Valerie" and Prodigy's "Firestarter."
Personally, I'd rather be there than partake in the online stay-at-home music festival that twittering wags have dubbed Couchella. But it's cheaper this way.
Previously: Sharon Jones, Armed and Dangerous Follow In The Mix on Twitter
Dan DeLuca, Inquirer Music Critic
Funk-soul woman Sharon Jones is without her Dap-Kings this weekend. Instead, she'll be singing with Daryl Hall tonight at the Music Box at the Borgata in Atlantic City. It's a date on the Live From Daryl's House tour, which takes its name from Hall's web show which pairs the Philly soul singer off with a wide variety of collaborators.
I talked to the both of them this week, and though she didn't mean to brag or boast, Jones told me about what an expert markswoman she was back in the day when she was packing heat working as a prison guard at Rikers Island and driving around an armored truck for Wells Fargo.
That interview is here, and a LFDH clip of Hall and Jones singing "100 Day" is below. Watch the whole H & J show, from 2010, here.
Dan DeLuca, Inquirer Music Critic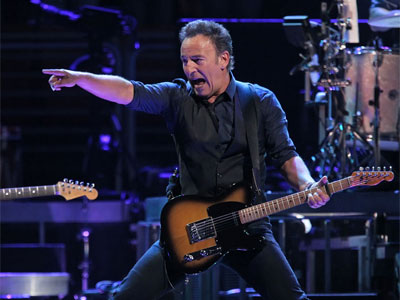 With two sold-out Wells Fargo Center shows in March behind them, Bruce Springsteen & the E Street Band will return to South Philadelphia to play Citizens Bank Park on September 2. It's part of a stadium sized second leg of the American tour for Wrecking Ball, which will also include three Meadowlands shows at New Jersey's MetLife Stadium later that month.
The Philadelphia date falls on Sunday night of Labor Day weekend, so so much for New Jersey Gov. Christie's hopes to have the Boss play at the Revel casino resort in Atlantic City that weekend. The Phillies are out of town until Sept. 5 and Springsteen is off until Sept. 7, so there's room for another date to be added should ticket sales be brisk. Tickets are $98 and $68 and go on sale next Saturday April 21 at 10 a.m. at comcasttix.com.
A video of Springsteen and the E Streeters with guest guitarist Tom Morello doing Wrecking Ball's "Death To My Hometown" compiled from tour rehearsals an shows in Austin, Texas and New York is below. More info on the tour here.
Dan DeLuca, Inquirer Music Critic
You won't be able to hear a pin drop during the screening of the 1920 Douglas Fairbanks-starring The Mark of Zorro at The Rotunda in West Philadelphia tonight. And you're not likely to be able to sit still, either.
That's because the swashbuckling action flick depecting the daring adventures of masked Mexican Robin Hood Don Diego Vega - a.k.a. Zorro - will be accompanied by a zesty pan Latin musical score written by Brendan Cooney of the West Philadelphia Orchestra. It will be performed live by a musical consortium consisting of members of said brass band, plus players from tango group Oscuro Quintet and rock band TJ Kong and the Atomic Bomb.
Tickets are $10 for tonight's Not-So-Silent-Cinema screening and performance, which begins at 8. The movie and a live performance of Cooney's score will be paired togther one more time, at the Bryn Mawr Film Institute on May 22. More info about both shows here. There's a clip below of the trailer for the film, and of a rehearsal for tonight's big show.