Archive: April, 2011
Dan DeLuca, Inquirer Music Critic
As of this morning, the Fishtown Shad Fest is on for today at Penn Treaty Park, despite enough water falling out of the sky for the fish to really go to town. The event is pushed back by an hour or so, which means that Girls Rock Philly will be the first act on stage, later than their previously scheduled start time of noon. Also on tap, along with the Kenzinger: rap soul revue headliners Black Landlord, plus Spinto Band, West Philadelphia Orchestra and Springs. Below, the WP Orchestra does their gypsy punk jazz thing with "Burkan Cocek." Shad Fest details and updates here.
Previously: Femi Kuti at World Cafe Live
Dan DeLuca, Inquirer Music Critic
The star-studded clip for the Beastie Boys new old school single "Make Some Noise" is below. The video features Danny McBride, Seth Rogen and Elijah Wood as the Licensed To Ill-era threesome, who meets their future selves in the form of Will Ferrell, Jack Black and John C. Reilly. Along the way, they meet Steve Buscemi, Chloe Sevigny, Will Arnett, and Ted Danson, among others. Hot Sauce Committee, Part Two comes out May 3. UPDATE: That means today. My review of the album, which is a heartening return to form, will be in Sunday's Inquirer A & E section. You can hear the whole thing below.
Previously: Shaking Through: Hezekiah Jones
Dan DeLuca, Inquirer Music Critic
Femi Kuti, son of Afro-pop pioneer Fela Anikulapo Kuti (and older brother of fellow scion Seun Kuti), plays the World Cafe Live in West Philadelphia tonight with his band Positive Force. Nicole Pensiero's preview from the Inquirer Wkend section is here. "Beng Beng Beng" is below.
Previously: Make Some Noise
Dan DeLuca, Inquirer Music Critic
The new Weathervane Music Shaking Through episode debuted on Tuesday. It focuses on Philadelphia's Hezekiah Jones, which is not a person but a folk music collective led by Raphael Cutrufello. Read more about the "new music incubator" that is Weathervane in the Philadelphia Inquirer here. Below, the making of video with the 11 piece band for "Borrowed Heart," a song written to sync with a scene from James Whale's 1935 movie Bride Of Frankenstein, starring Boris Karloff and Elsa Lanchester as the woman whose hairdo fills Nicki Minaj and Marge Simpson with envy. More info here.
Previously: New Radiohead: "The Butcher" and "Supercollider"
Shaking Through: Hezekiah Jones from Weathervane Music on Vimeo.
Dan DeLuca, Inquirer Music Critic
No matter how you feel about Radiohead's music - and really, what's not to like? - you have to love the way the Brit art-rock band does business. After taking the Internet by surprise with the release of The King Of Limbs in February, the Thom Yorke and Jonny Greenwood-led Oxonians put two newly recorded songs - the jittery "The Butcher" and calming 7 minute synth-driven "Supercollider" - on sale as a double-sided limited edition Record Store Day single. By the time I got to my preferred mom and pop emporium on Saturday, however, the cupboard was bare. No worries, though. if you, like me, bought your copy of King Of Limbs from the Radiohead web site when it was released, late last evening you found an email with the words "Thank You" in the subject field in your inbox. Within it was a reward for the willingness to actually pay for music with your cold hard credit card: "The Butcher" and "Supercollider" arriving unannounced, for free. No, thank you, Thom.
Previously: Record Store Day Recap: Creepoid at Main Street Music
Radiohead - The Butcher by ianbhoy
Dan DeLuca, Inquirer Music Critic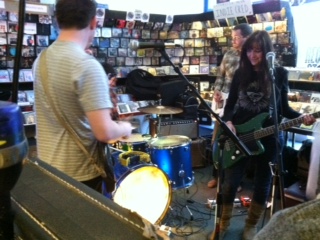 "I shop here three times a month because I'm on a budget," Pat Troxell, who plays the drums for Philadelphia rock band Creepoid, said at Main Street Music in Manayunk during his band's hard driving mid-afternoon Record Store Day set on Saturday. "I pay for my art. Those who don't make art should buy more f--in records!"
On Saturday at Main Street, people were doing just that, despite the epic rain that one might have expected to be a crowd killer. By the time I showed up early in the afternoon, almost all of the specialty Record Store Day exclusives had been snapped up by music heads who waited on line outside for the store to open. (Forty copies of the Foo Fighters vinyl only covers album, Medium Rare, were all gone before lunch.)
I did get there in time, however, to grab a vinyl copy of the self-titled debut album by Amerindie obsessed Brit baby band Yuck (who play the First Unitarian Church on April 27), plus a limited edition single of "I'll Never Get Out Of This World Alive," the Hank Williams cover title track of Steve Earle's new T-Bone Burnett-produced album (which, by the way, is not on the album, if that makes any sense), as well as new discs by Anthony D'Amato and the Civil Wars. You could say that I made off with quite a haul.
Dan DeLuca, Inquirer Music Critic
Ahmir "?uestlove" Thompson has a lot of things to do. This weekend, for instance, The Roots drummer did a Friday night 4 hour DJ set at Coachella - that's in the California desert, people. Then he flew back across the country to Philadelphia for a rehearsal for Philly-Paris Lockdown, his Philadelphia International Festival of the Arts collaboraton with Parisian singer Keren Ann. Then, because idle hands are the devil's workshop, he got behind the kit for a Roots show in Vermont on Saturday night, before comng back home for Philly-Paris Lockdown at the Kimmel Center tonight.
Along with all those things to do, ?uestlove also has many things to say. When I talked to him about the Keren Ann collabo one afternoon in between Late Night with Jimmy Fallon rehearsals - that interview is here - it was a few days after he and the Roots has done a cover of "Friday," the robotic viral hit by ascendant teen pop star Rebecca Black. Stephen Colbert handled lead vocals, and Fallon, former American Idol winner Taylor Hicks, Roots rapper Tariq "Black Thought" Trotter and the Knick City Dancers all played pivotal roles.
It was quite an elaborate production. So I asked ?uesto which was more diffiicult, and time consuming: Updating early 20th century composers like Stravinsky, Debussy and Ravel for Philly-Paris Lockdown, or taking on a widely mocked teen pop sensation for late night TV yuks?
Dan DeLuca, Inquirer Music Critic
Nick Principe of Port St. Willow and Peter Silberman of The Antlers will play Friday night at Miner Street Studios in Fishtown in a benefit for Weathervane Music, the non-profit "new music incubator" founded by producer Brian McTear. Port St. Willow is a Portland, Oregon-based recent Weathervane "Shaking Through" artist. You can read all about Weathervane and McTear in a story I did for the Sunday Inquirer back in January here. Info about the 7 p.m. show in the cozy, intimate confines of Miner Street, which will include food and beverages provided by Johnny Brenda's, is right here. Below, the making-of clip for Port St. Willow's "Stay Even," featuring childhood buddies Silberman and Principe being interviewed along the banks of the Wissahickon.
Previously: Toro y Moi at FU Church
Shaking Through: Port St Willow from Weathervane Music on Vimeo.