Archive: March, 2013
Dan DeLuca, Inquirer Music Critic
Foo Fighters leader and former Nirvana drummer Dave Grohl, who's in Austin to push his new Sound City: Real to Reel music documentary, gave the keynote address for the 27th annual SXSW in a standing room only hall at the Austin Convention Center on Thursday morning.
The son of a speech writer and a school teacher, Grohl whipped out a pair of drug store bought reading glasses at the start, quipping "I hope I still look like a rock star." He said that he sought the advice of last year's keynoter Bruce Springsteen, who only laughed at him.
Grohl talked about growing up in the Washington, D.C. area, coming under the influence as a 13 year old of a female cousin from Chicago who he referred to as a "punk rock superhero." Along with falling in love with rock via Edgar Winter's "Frankenstein," he recounted the DIY lessons he learned by going to see bands like Naked Raygun, Minor Threat, Black Flag, Bad Brains, the Minutemen and the Dead Kennedys during the Reagan 1980s.
Dan DeLuca, Inquirer Music Critic
Nick Cave is a hellacious frontman, and the Australian songwriter with the stentorian voice never cracked a smile as he whipped his rail thin frame around the stage of Stubb's BBQ on Wednesday, starting off the NPR Music showcase, one of the marquee bills of SXSW, with a bang.
The sun hadn't entirely set when Cave, violinist Warren Ellis and the rest of the Bad Seeds took the Stubb's stage, so the singer said "We're going to start off with a realy long song, and hopefully by the time we're done, it'll be dark." The band then blasted into the bruising "Higgs Boson Blues," and it got plenty dark from there, with lots of bloody Biblical imagery, mixed in with Cave's highly theatrical yet dead serious belief in the mythological power of early rock and roll.
Maybe the funniest moment of SXSW so far came when Cave, who in a SXSW interview on Tuesday compared birthing songs to "pushing burning watermelons out a tiny orifice" wordlessly mocked texting fans in front of the stage by imitating their thumb movements. Don't cross Nick Cave, he'll make fun of you in front of 2000 people, and on a streaming webcast to boot! Cave & the Bad Seeds play a sold-out show at the Keswick Theater on Tuesday.
Dan DeLuca, Inquirer Music Critic
When it comes to SXSW serendipity, there's the time when you run into someone you trust who's just seen an unbelievably awesome band and they tell you you just have to see them and in fact they do have another showcase coming up and the line isn't too long, and yes, they do indeed turn out to be awesome.
Better still, there's the time when you're walking home along Red River Street - or, in this case, riding your bike - and though you know the wise thing to do would be to continue on to your hotel, you hear an inspired, impassioned, beautiful racket spill out of some open air venue and you think, okay, just one more band tonight. The blog can wait.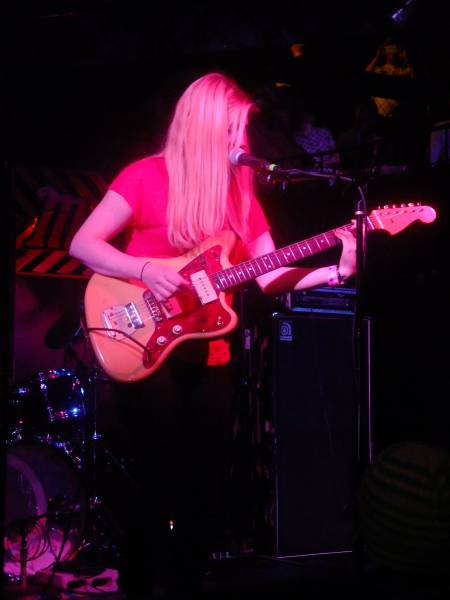 Dan DeLuca, Inquirer Music Critic
Every year, it seems like the South by Southwest music festival can't possibly get any bigger - and each year it does.
In 2012, Bruce Springsteen came to SXSW, and in order to keep badge wearing conference goers from lining up day in advance, a lottery was held to decide who got in. This year, that distribution system is being employed for at least three shows expected to draw oversized crowds: A Nick Cave & the Bad Seeds show on Wednesday, that also features Mexican rock band Cafe Tacuba, New York art-punks Yeah Yeah Yeahs and Waxahatchee, the nom de rock of Philadelphia songwriter Katie Crutchfield; a Dave Grohl & Friends show on Thursday with Stevie Nicks, John Fogerty and members of Nirvana; and a Green Day concert on Friday night.
Those shows are kind of a big deal in the Lone Star State capital city where there are scores of venues - an even 100 official sites are listed in this year's handy pocket guide - but most are on an intimate scale. They're relatively small potatoes, though, compared to the two big names expected to drop in on Austin on Saturday night: Prince, who will bring a 22-piece band to the realtively cozy La Zona Rosa, and Justin Timberlake, who everyone expects to anounce a secret show any day now in support of his new album The 20 / 20 Experience, which comes out Tuesday.
Dan DeLuca, Inquirer Music Critic
I'm headed to South by Southwest in Austin, Texas on Tuesday.
I'll be blogging, Tweeting and Instagramming from down there in the Lone Star State all week, and hopefully seeing Prince and a whole lot of bands I haven't heard of yet while I'm at it. I don't think anybody else is doing that down there, are they? So follow me @delucadan if you want to see what those Korean tacos I'm about to eat look like.
The SXSW preview that ran in Sunday's Inquirer A & E section, which focuses on Philadelphia band Grandchildren, is here. That's a picture of Katie Crutchfield, the West Philadelphian who records as Waxahachee and is playing the big NPR SXSW showcase at Stubb's on Wednesday.
Dan DeLuca, Inquirer Music Critic
Justin Timberlake's hotly hyped The 20/20 Experience, which comes out on March 19, is now streaming for free on iTunes. Listen here.
JT was all dressed up in his "Suit & Tie" on Saturday Night Live this weekend. Check him out below, and decide for yourself whether he hit Kanye West back with his "got rappers acting all dramatic" line.
Reviously: Once more, with Wussy Follow In the Mix on Twitter
Dan DeLuca, Inquirer Music Critic
It's an alliterative Friday in Philadelphia.
The single D and double D action pop music action begins with hard to pigeonhole Brit pop band Django Django, who play a Free at Noon at the World Cafe Live today and then move on to headline Union Transfer tonight. Steve Klinge's interview with the Mercury Prize nominated quartet's singer Vinnie Neff is in Friday Inquirer Wkend section and here.
In Chinatown, Denver gypsy music foursome Devotchka play the Trocadero, debuting new material accompanied by a strong quartet. My Wkend preview is here.
Dan DeLuca, Inquirer Music Critic
Wussy is back in town.
The formidable Cincinnati rock and roll band, featuring the sharp, shambling songwriting talents of both ex-Ass Ponys leader Chuck Cleaver and Lisa Walker, are playing the North Star Bar tonight, which they last visited back in August, which is when I interviewed Cleaver and wrote this profile of the band.
For a taste fo what Wussy is all about, check out Jonah below. It's a four band bill at the North Star, and Wussy is on last, so it won't be early. Show details here.