Archive: March, 2011
Dan DeLuca, Inquirer Music Critic
I'm not entirely sold on Trampled by Turtles, the five man power bluegrass band from Duluth, Minnesota - Bob Dylan's birthplace - with the amusing name. (Perhaps not as amusing as Gay For Johnny Depp, who also played SXSW on Wednesday, but amusing nonetheless.) Impressively percussive fast picking style - you keep looking for the drummer, and then you realize there isn't one. But I'll hold on to my Bill Monroe and Del McCoury records for now, thank you. I do really like this Legends of Country Music mural that the guys in TBT were playing in front of at the Paste party at the Sixth street Stage on Wednesday, though. That's the second disembodied sighting of Ray Benson's image this week.
Previously: Jessica Lea Mayfield, The Clioud and The Future Of Music
Dan DeLuca, Inquirer Music Critic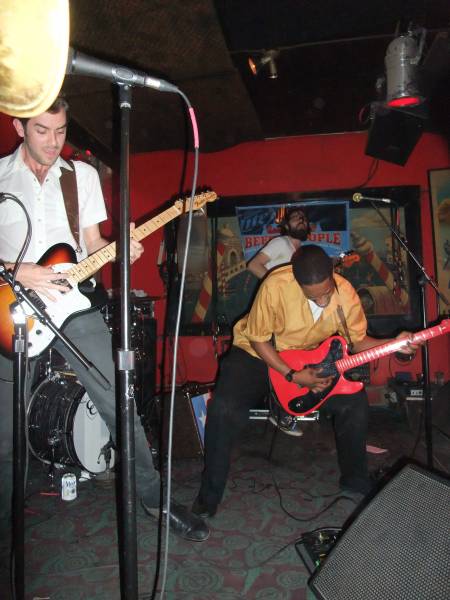 That's a baritone saxophone on the left side of the frame, crowding it's way into the picture and honking in my ear. Black Joe Lewis & the Honeybears were on fire at the Continental Club on Tuesday night, cutting loose with a sold-out hometown show before the full on SXSW madness begins. (Though Lewis couldn't help mischievously taunting the crowd a bit, and showing the native Austinites proper disdain for the whole ove crowded enterprise: "How's your SXSW? Standing in line a lot? Spending lots of money?")
Lewis' confrontational, Otis Redding rasp pushed hard against the blaring horns and stabbing guitars. Until proven otherwise, these guys are the hottest live band in Austin, and they know how to stir up a crowd in a way that may not be positively Scandalous - the name of their new album, which came out on Lost Highway yesterday - but is not without a hint of danger. They'll be all over Austin this week, so I was proud of myself for getting a leg up and catching them on Tuesday. A bit worse for wear while interviewing Hayes Carll this morning, however. No Philadelphia date for BJL & the HBs announced yet. Their SXSW schedule is here.
Dan DeLuca, Inquirer Music Critic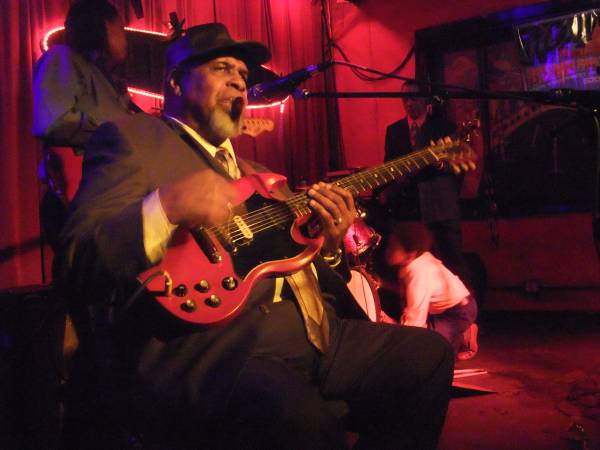 My first out-of-the-blue discovery of SXSW was last night at the Continental Club, where after catching Sonny Throkmorton (who wrote "The Way I Am" and "If We're Not Back In Love By Monday" for Merle Haggard) and unjustly obscure Lubbock songwriter David Halley at Threadgill's, I was off to see Black Joe Lewis & the Honey Bears celebrate the release of their wicked new Scandalous with a hometown show.
I had never heard of the opener: Classie Ballou & the Family Band. Ballou is the Waco, Texas based sizable gentleman seated Solomon Burke-like on the left. That's his daughter Cechaun, who's got a warm caramel colored soul voice ("She sings almost as good as Beyonce," according to her father) on second guitar, and his 11 year old grandson Cam'ron on rub board. (Later Cam'ron switched to drums, and after the show I asked him who his favorite drummer was. "Tony Royster Jr." Ever heard of ?uestlove? "?uestlove? No.")
Dan DeLuca, Inquirer Music Critic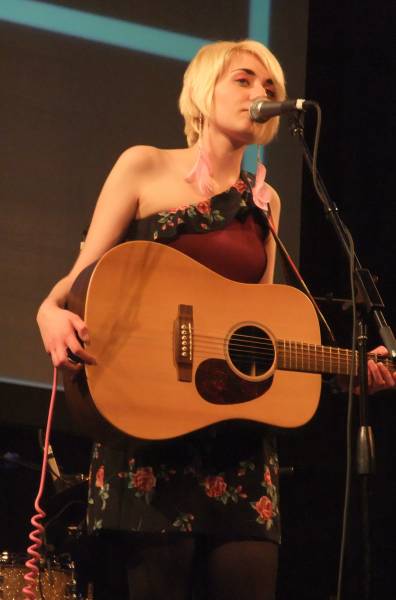 The best music I heard Wednesday afternoon was made by Jessica Lea Mayfield, the 21 year old songwriting veteran from Kent, Ohio who played at one of the many daytime stages at the Austin Convention Center. Dan Auerbach produced Mayfield's new album, Tell Me, and it's easy to hear what the Black Key heard in her. Mayfield writes narcotic, sad country-soaked songs that also can deliver an emotional grandiosity that reminded me of Nick Cave.
"Our Hearts Are Wrong" is a killer, but "I'll Be The One That You Want Someday" is pretty devastating, too. And along with impressive composure and an effectively emotive voice, Mayfield's got a sense of humor, too. "This is the season," she said, "when Austin is covered in a blanket of plaid." With her pink feathered earrings matching her guitar cord, Mayfield didn't fit the description of the rest of the indie rock invaders of this Hill Country capitol city, but her drummer and guitar player did.
So what's that got to do with The Cloud and The Future of Music? Not much, really, though Mayfield certainly has a bright one. But the rest of my time at the Convention Center on Wednesday afternoon was spent at a pair of panels that puzzled over what direction digital music distribution is going, and the impact that's having on the quality of what we hear.
Dan DeLuca, Inquirer Music Critic
That's the route Ray Benson took. The leader of Western Swing band Asleep at the Wheel grew up in Springfield, Montgomery County - back when that was in the 215, I believe - and now he's a cardboard cut out at the Austin airport welcoming wayfaring strangers to South by Southwest conference and festival week.
I arrived in Ray's cowboy booted footsteps this afternoon, welcomed at Austin-Bergstrom by not only the two dimensional Benson, but also the statue of pioneering African American congresswoman Barbara Jordan that sits by the baggage claim area, amid a sea of hand painted guitars. Not to mention Akina Adderley & the Vintage Playboys, who were doing a quite nice swing-blues version of George Gershwin's "Summertime" at the airport's Welcome to Austin stage. Well thank you very much, it's a pleasure to be here.
Even with all that, though, I still didn't feel I had really arrived until I sat myself down at a picnic table outside the Austin Convention Center with my schedule in hand and heard a pair of duelling accordions tooting away on the Clash's "Should I Stay Or Should I Go." Turns out it was a pair of squeeze box squeezers named Joey DeVilla and Jon Grossman, who had only met moments before.
Dan DeLuca, Inquirer Music Critic
The South by Southwest Music and Media Conference kicks off in Austin, Texas on Wednesday. It's a big year: The 25th for the music festival, which is the most important annual showcase event for indie and up and coming acts in the constantly reshaping music industry.
That remains true even as SXSW Music is, in some ways, not even the biggest fish in its own pond anymore. SXSW Interactive, the growing techie confab that makes up the SXSW troika along with an influential indie Film festival, attracted 33,000 registrants last year, outdrawing the music festival for the first time.
But while SXSW Interactive is where the geeks go, SXSW music is where the bands are. With most of the action taking place between Wednesday and Saturday in close to 100 official venues (and many more unofficial ones), there will be more than 2000 acts plugging in and letting it rip in the south central Texas capitol city this week.
Dan DeLuca, Inquirer Music Critic
Bear with me, dear readers. I'm getting the hang of this video technology. I shot the clip below at Johnny Brenda's on Saturday night during the encore of The Biggers Lovers most excellent reunion show with my iPhone. Right before playing Alex Chilton's "Hey! Little Child," from 1979's Like Flies On Sherbert, Bret Tobias dedicated the song to Chilton, who he correctly and fondly identified as the father of "failure rock." After that came a cover of Soft Boys' "I Wanna Destroy You." This is a test. Yeah, I know its kind of dark in there, and the brightest thing on screen is the green Exit sign. All glaring imperfections are entirely my own fault. This is only a test.
Previously: On The Way To Austin
Dan DeLuca, Inquirer Music Critic
Loretta Lynn hurt her knee, and she's not coming to Philadelphia on Friday to play the Baptist Temple. Bummer. My interview with the most country of country singers is in Sunday's Inquirer A & E section, however. That's right here. Below, the pride of Butcher Holler, Kentucky warning her late husband Doo to "Don't Come Home A-Drinkin'." That fellow sitting in beside her goes by the name of Bill Monroe.
Previously: Bigger Lovers Reunion