Archive: March, 2011
Dan DeLuca, Inquirer Music Critic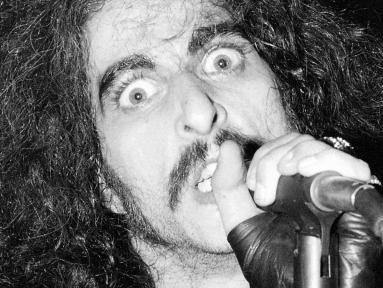 The SXSW Film fest slows down considerably once the music festival gets going, but there are still movie screenings going on amid the madness, particularly of music documentaries. So after fortifying myself with a lunch of pulled pork contained within a waffle cone made of bacon - at the risk of using the most overused word in indie-rock and perhaps the English language, the Austin lunch truck culture is AMAZING - I ducked into the Convention Center, to see Last Days Here, the documentary about metal legend and Pentagram leader Bobby Liebling.
It's a deeply Philadelphia connected project by filmmakers Don Argott and Demian Fenton, who made The Barnes Foundation doc The Art Of The Steal. The film centers around Liebling, a crack addicted aged metal god who lives in the "sub-basement" of his parents suburban Maryland house, and superfan Sean "Pellet" Pelletier, a suburban Philadelphia Pentagram enthusaist with the patience of Job who commits himself to helping Liebling clean up and get back to the business of being the Godfather of Doom. It's a bromance and a romance, with much of the action taking place in Philadelphia after the life of Liebling, the son of a high powered State Department operative, takes an unexpected turn. Is it the metal-meets-the-human-condition Anvil: The Story of Anvil of 2011? For sure.
Pentagram's new album, Last Rites, comes out on April 12 on Metal Blade records. More info about that here. Below, a scene from the movie.
Dan DeLuca, Inquirer Music Critic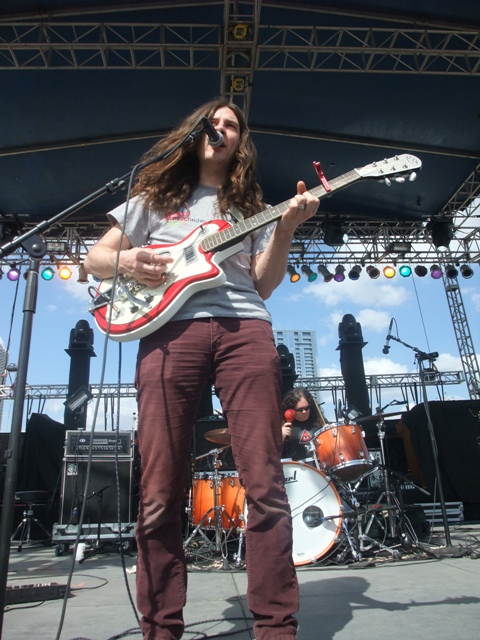 Philadelphia rockers Kurt Vile & the Violators were clear SXSW standouts this year. Vile and the V's supported the excellent new Smoke Ring For My Halo at a variety of day parties during the week, kicked off the big Bright Eyes-headlined all day extravaganza at Auditorium Shores on Saturday (where's Vile's pictured above, with a bit of the Austin skyline behind him), before bolting across town to shutdown the Waterloo Records outdoor stage on Saturday aftenoon. The hirsute guitarist plays Wednesday at the World Cafe Live with J Mascis.
Previously: SXSW: The Agony and The Esctasy
Dan DeLuca, Inquirer Music Critic
I was talking to my friend Luke on the phone, and when I told him that Kanye West was going to be at SXSW on Saturday, he asked me if I, as a long SXSW goer, resented these big bands coming into town and co-opting a festival that used to be for up and comers and unknowns trying to get a leg up in the business. No, I told him, because despite the headlines that will inevitably be grabbed by brand names such as Kanye and Duran Duran and Yoko Ono and the Wu Tang Clan and TV on the Radio and Cee Lo Green (if he hadn't cancelled his show Thursday night at La Zona Rosa), it's still about a mad scramble made up mostly of bands you never heard of and probably never will. It's not too big, I said, it's still a managable situation.
But that was before I went to see the Strokes.
Dan DeLuca, Inquirer Music Critic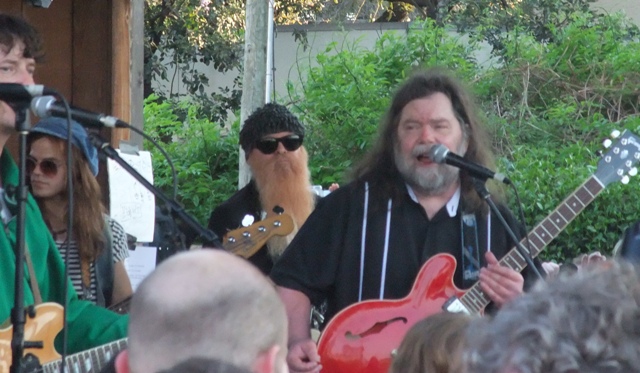 There was a summit of Texas rock legends at Threadgill's South on Thursday afternoon at the annual Ice Cream Social thrown by recovered '60 casualty and psychedelic rock pioneer Roky Erickson. Joining the 13th Floor Elevators - still a great name, when you think about it - was guitar hero Billy Gibbons of ZZ Top. I think you recognize him. He's the one with the beard. They tore it up on "You're Gonna Miss Me." Here's an interview with Gibbons about his relationship with Roky. The wristbands at the show were decorated with smiley faces to look like tabs of acid, but they weren't actually dosed - I don't think.
Earlier, Austin punk rock band the Riverboat Gamblers set the table most effectively, with a pummeling, pounding set. Frontman Mike Wiebe will do anything to get a crowd going, including take to the trees. "I'm not a very good singer," he said. "But I'm a really good climber."
Dan DeLuca, Inquirer Music Critic
Quick: Whose song is #1 on the Billboard dance charts this week, and has reached that spot with her last six consecutive singles? Lady Gaga? No. Lady Yoko.
That song is called "Move On Fast" - it's a remix of a 1972 recording - and the unlikely second career of the 78 year old Yoko Ono as a chart topping dance diva was one of the topics covered in a keynote at the Austin Convention Center on Friday morning in which Ono was interviewed by veteran Austin DJ Jody Denberg.
This despite John Lennon's widow's shrieking singing voice, which she described as "infamous," in attributing her ex-husband's wilder than usual guitar playing on her solo recordings: "He was trying to compete with my voice," she said.
Dan DeLuca, Inquirer Music Critic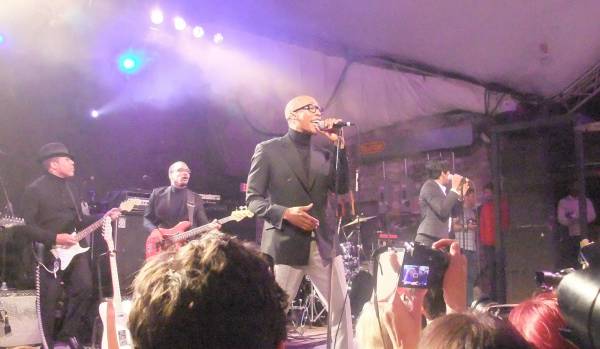 Dear reader, it's true. As much as I admire their initials, I didn't stay for Duran Duran at Stubb's on Wednesday night.
Instead, after three hours of worthy buzz bands, plus natty retro-R & B showman Raphael Saadiq (that's him), I left the Simon Lebon and John Taylor worshsipers alone with the objects of their affection. Saadiq is a fabulous entertainer, with great energy and impeccable fashion sense, and he's a pretty darn good singer and guitar player, too. The former Tony! Toni! Tone! frontman's new album is called Stone Rollin', though he did not bring his friend Mick Jagger, with whiom he performed a Solomon Burke tribute on the Grammys, with him to Austin. Ersatz is too strong a word, but when it comes to his songs, Saadiq suffers from an overly precise passion for recreating something great from long ago. His music is like a fastidious facsimile of his forebears. Now there's some alliteration for you. Still, a really really fun live act. Unfortunately rectangular video below.
Dan DeLuca, Inquirer Music Critic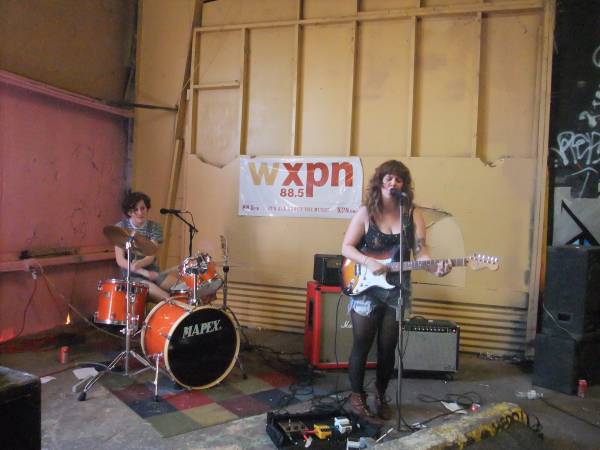 After catching Emmylou Harris' mini-set at the Convention Center - a radio interview plus two songs, one about Gram Parsons, the other about Kate McGarrigle from The Road, due in late April - I took a road trip of my own into east Austin on my bike. Down Cesar Chavez Boulevard past the Pinata Party Palace and the Veracruz All Natural Juice Bar - which I highly recommend - I made my way to the Broken Neck on Red Bluff Road, which turned out to be a warehouse venue a la South Kensington's The Ox.
That was the not so convenient locale for the all Philadelphia band day party sponsored by Fishtown blog YVYNYL and WXPN local music blog The Key. I met and got to hear the colorful road warrior tales of the guys in the Philadelphia band Golden Ages, who are dpoing 10 shows down here and the ones who sell their songs in 45 sized record sleeves that have no records in them, b ut do have a download code on the back. More about them later.
Dan DeLuca, Inquirer Music Critic
Jack White, formerly of the White Stripes, has parked a yellow bus somewhere in a parking lot in Austin. It's a Rolling Record Store, for his Nashville-based Third Man label. I haven't found it yet, but NPR Music did, and they filmed White popping out and playing two songs - Buddy Holly's Texas-appropriate "Not Fade Away" plus "Dead Leaves On The Dirty Ground," one of my White Stripes personal favorites. Then he handed it over to Third Man signee Seasick Steve. Eleven minutes in total, courtesy of NPR, below.
Previously: SXSW: Trampled By Turtles