Archive: March, 2011
Dan DeLuca, Inquirer Music Critic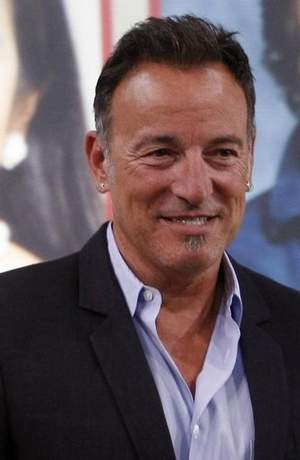 Bruce Springsteen of Colts Neck, N.J. wrote a letter to the Asbury Park Press about a story by Michael Symons out of Trenton about cutbacks to the New Jersey state budget headlined 'As poverty rises, NJ Cuts Target Aid.' The article from yesterday's APP, which talks about the nationwide push to cut social services spearheaded by Springsteen fan Governor Chris Christie, is here. Springsteen's letter, which was published today, is here.
And in other Springsteen news, the Boss will be sitting with his buddy Steve Van Zandt on Little Steven's Underground Garage for a three part interview set for Van Zandt's syndicated show (which airs locally on WMGK at 102.9-FM at 10 p.m. on Sundays) and on his Sirius/XM satellite radio channel. It will run this coming weekend, and the next two.
Previously: Cooking With ?uestlove
Dan DeLuca, Inquirer Music Critic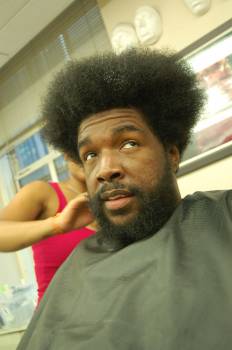 Roots bandleader, DJ, producer and all-around Renaissance man Ahmir "?uestlove" Thompson is expanding into the food game. The Philadelphia drummer is hosting a competitive cookoff at Vintage Wine Bar and Bistro in Center City this Sunday at 8. Nine chefs will have three hours to shop at the Whole Foods on South Street and cook up a family style meal that must include on essential ingredient: ?uestlove's drumsticks. Sorry, the grub will be consumed by "25 special guests," but the culinary action can be followed at @questlove and @cook4quest.
This is the first "in a series of new food ventures ?uestlove is launching," according to Roots management. It's not like he has anything else to do, besides appearing with French-Israeli chanteuse Keren Ann at the Kimmel Center on April 17 as part of the Philadelphia International Festival of the Arts, co-producing Booker T. Jones new The Road To Memphis (due out May 10), and hosting the 4th annual Roots Picnic, where the winner of Sunday's competition will get to cook for the band, on June 4. And oh yeah, playing with The Roots on Late Night with Jimmy Fallon five nights a week.
Previously: Singing the Praises of the Phillies' Fab "Four"
Dan DeLuca, Inquirer Music Critic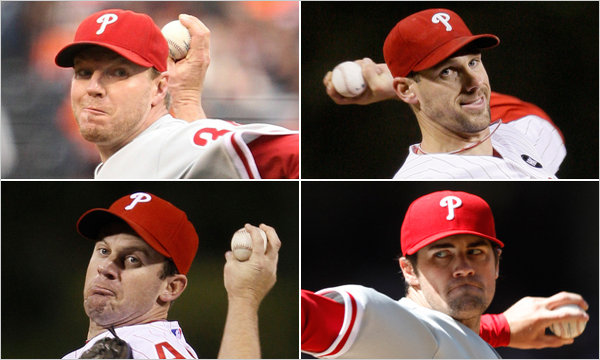 Do you remember, back in December, when the Phillies signed Cliff Lee and a return to the World Series by the 2011's South Philadelphia boys of summer seemed like a fait accompli? Since then, a spring meant to be full of promise turned about to be beset by anatomical and metaphysical worry: about Chase Utley's knee, Placido Polanco's elbow, Domonic Brown's hand, Brad Lidge's shoulder and the disturbing concept that the karmic boomerang is fated to plonk the Fightins in the head like the line drive that found Roy Oswalt's noggin last week in Port Charlotte, Florida.
Say it ain't so. Surely there's still cause for unguarded optimism about the season that begins for real at Citizens Bank Park on Friday. That's the contention of "Four," the swinging ode to aces Halladay, Lee, Oswalt and Hamels by James Harris' Philadelphia song parody band Saint Mad that cleverly celebrates the hurling quartet and rhymes "lesser lights go down to Scranton" with "We just barely kept Joe Blanton." More info on Saint Mad, who play every First Friday, including this one, at Crossroads Coffeehouse in Roxborough, here. "Four" is below.
Dan DeLuca, Inquirer Music Critic
I saw a lot of bands at SXSW in Austin, Texas last week, but I didn't see all the bands. Not even close. A festival of SXSW'a size - and really, with over 2000 acts playing in four days, it's the only festival of its size - is necessarily like an elephant surrounded by blind men. It feels different to everybody.
I've been sharing my take in a whole bunch of posts that were digested in the Inquirer on Tuesday. That's here. Or if you really must read every word I've written you can find them in complete form by either scrolling down this blog.
But enough about my SXSW. To get a different perspective I asked a handful of fabulous Philadelphians also at the festival what the best things they heard, saw or experienced were.
Odd Future at SXSW from NOW Magazine on Vimeo.
Flowers Bloom by High Highs from Big Ugly Yellow Couch on Vimeo.
Dan DeLuca, Inquirer Music Critic
Boogie woogie blues piano great Joe Willie "Pinetop" Perkins died on Sunday in Austin, Texas. He was 97. Along with 95 year old David "Honeyboy" Edwards, he was the last of the surviving generation of original Mississppi Delta bluesmen. Perkins replaced Otis Spann in Muddy Waters' band in 1969, and he remained remarkably busy in his '90s, still regularly playing concerts. He became the oldest Grammy award winner this year for best traditional blues album for Joined At The Hip, his collaboraton with Willie "Big Eyes" Smith. He recently admitted however, that in his old age he could not command the barrelhouse power that he once did: "I used to have bass rolling like thunder. I can't do that no more. But I ask the Lord, please forgive me for the stuff I done trying to make a nickel."
Previously: The Greatest and The King
Dan DeLuca, Inquirer Music Critic
There are twinned photo exhibits of Muhammad Ali and Elvis Presley at the James A. Michener Museum in Doylestown, running till May 15. My piece about the two famous guys is in Sunday's Inquirer. And here. Above, Presley in Alfred Wertheimer's "Going Home." Below, Gordon Parks captures Ali at rest. Info about the exhibits here.
Dan DeLuca, Inquirer Music Critic
Is SXSW a proving ground for thousands of starter bands trying to make a name for themselves, or a launch pad for marquee superstars aiming to promote their brands in tandem with corporate marketeers desperate to portray themselves as hip?
Both. Mega acts have parachuted into Austin in March before - Metallica and R.E.M. were here in recent years. But nobody's ever done it with as much ostentatiously grandiose entertainment value as Kanye West did on Saturday night.
That's a surprise, right?
Dan DeLuca, Inquirer Music Critic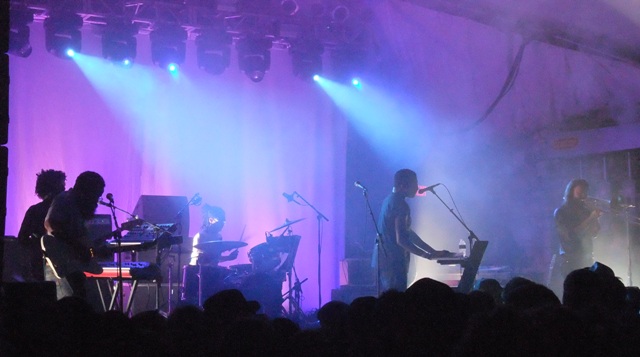 Your feet hurt. You're living on beer, caffeine and Ibuprofen. Cee-Lo cancelled. The lines were too long to get into Bright Eyes or The Civil Wars, and that Mexican band Los Impostors you knew nothing about and decided to take a chance on in hopes that they might be great turned out to suck.
SXSW is a forced march, a sleep deprivation fest where thousands navigate the massive crowds on Sixth Street where everyday is seemingly Halloween and sometimes St. Patrick's Day too. Everyone is unified in a determined effort to find the great music that they know is out there, damn it. Because if you don't find something great, what are you going to tell your friends at the Convention Center the next day when they smugly regale you with tales of all the awesome bands they saw the night before while you were at the Canadian Blast party wondering when Buck 65 is going to come on and why some dude with an acoustic guitar is on stage singing covers versions. Are you even in the right bar?