Archive: March, 2010
Dan DeLuca

, Inquirer Music Critic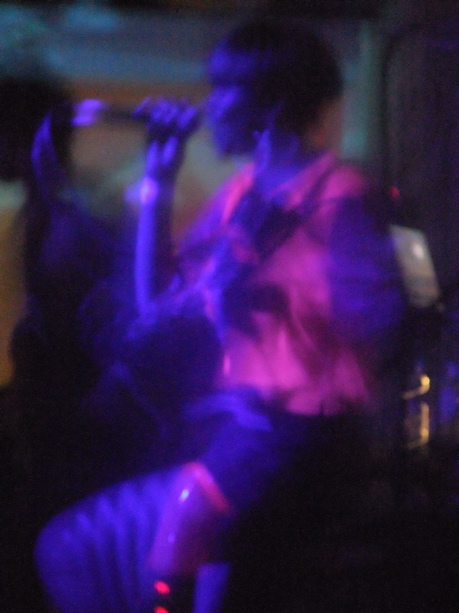 Without a doubt the most visually entertaining act I've seen all week is Rye Rye, the teenaged Baltimore rapper and hyper-energetic stage presence who's worked with Philadelphia's Diplo and is the first artist signed to M.I.A.'s N.E.E.T. label, which esentially means she's signed to Interscope, who will undoubtedly give her Go! Pop! Bang! album a big push when it comes out this summer.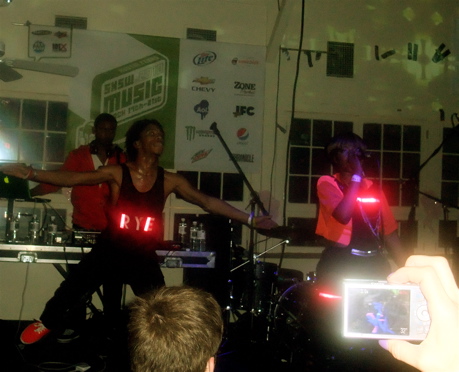 Dan DeLuca

, Inquirer Music Critic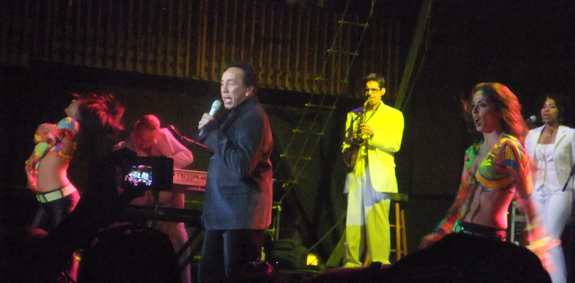 Friday seemed like a not-all-that-insanely busy SXSW day to me, but still, I did see a few things in 14 hours out on the town. In chronological order, it went: Elizabeth Cook, the film fest movie No Crossover: The Trial Of Allen Iverson, the new documentary by Hoop Dreams' Steve James which premiered in Austin), Citizen Cope (at an WXPN sponsored showcase at the Convention Center), Elevators, Courtyard Hounds, Hole, Billy Bragg, Black Joe Lewis, Smokey Robinson, Quasi, Courtyard Hounds again, Rye Rye (the subject of a separate post to come) and Nneka.
Here's a selective sampler, starting with Smokey. The man Bob Dylan once called "the greatest living poet" was interviewed by Dave Marsh for a SXSW keynote on Thursday, and was the centerpiece of a fairly awesome R & B bill at the Austin Music Hall on Friday that also included Mayer Hawthorne, Lewis and his Honeybears, Raphael Saadiq and Sharon Jones & the Dap Kings.
Dan DeLuca

, Inquirer Music Critic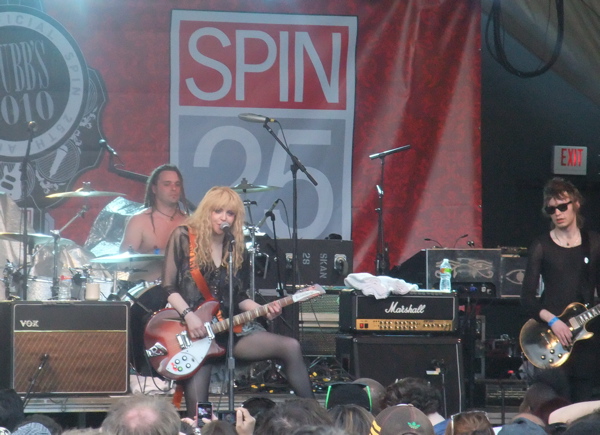 With a guitar monitor as a foot rest, Courtney Love is once again up to no good. One of the most anticipated - or dreaded - events at SXSW this year was the return of the Hole front woman, which began at the top of the bill of the Spin magazine party at Stubb's on Friday afternoon, carried on at the Dirty Dog last night, and will continue at celebrity blogger and fellow attention seeker Perez Hilton's annual blowout tonight, which will also feature Snoop Dogg.
Kurt Cobain's 45 year old widow was not demure in her return. Tossing a bit of the Rolling Stones' "Sympathy For The Devil" into her opening, she led a five man band that included neither cofounder Eric Erlandson nor any of the original members of the grunge-era Hole. "We are Hole, whether you like it or not, you little sucksh---," she told her loyal fans, after promising "I can kick your scrawny little ass," in the new "Skinny Little Bitch," from Nobody's Daughter, due in April, which is the first Hole album since 1998's Celebrity Skin. "I didn't say big floppy vagina. I said Hole!"
Dan DeLuca

, Inquirer Music Critic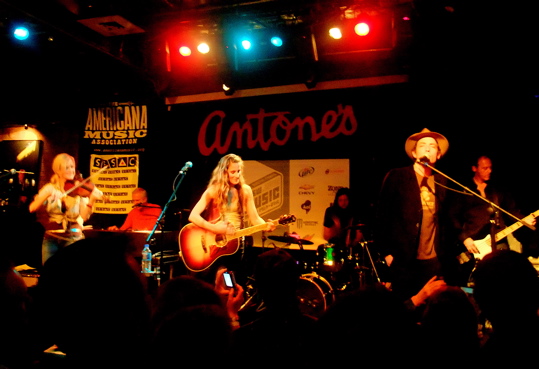 With all the indie-rock overtaking the town at SXSW, it's easy to lose track of Austin's once defining identity as the capitol of cosmic country, the home of the still live annd kicking Willie Nelson and the long gone Armadillo World Headquarters.
The American Music Association showcase at Antone's on Thursday did its part to address, bringing a touch of Western wear twang to Austin's increasingly corporate seeming downtown. (Sorry to report this, but Las Manitas, the great Mexican cafe and meeting place on Congress Avenue in view of the giant state capitol building down the street, is gone. Knocked down to make way for a Marriott which isn't being built now that the economy's collapsed.)
Dan DeLuca

, Inquirer Music Critic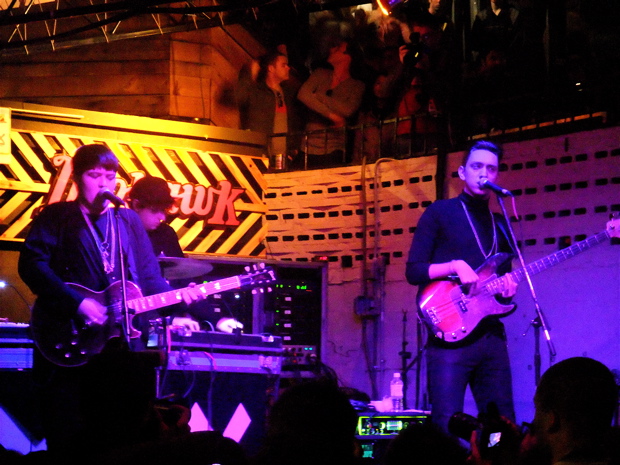 Just back from dodging crazy SXSW traffic on the way back to the hotel on my rental bike as the 100 bars or so let out simultaneously at 2 a.m. It's a little nutty here in Austin, people. Still exhilarated, though, by The xx, the Brit trio of Romey Madley Croft (that's her on the left), Jamie Smith and Oliver Sim, who displayed a masterful control of mood at the Mohawk Patio in the final 1 a.m. slot Thursday. I interviewed Croft earlier in the day in the blinding bright light of the 18th floor restaurant of her hotel, overlooking the Texas state capital building, but the Mohawk show was all sinister, shadowy darkness, spookily effective in its R & B flavored minimalism. More later on The xx, who play the First Unitarian Church Sanctuary on March 29, as well as my Antone's adventures in Americana, including a terrific Jim Lauderdale set and the live debut of the Courtyard Hounds, the sister act of Dixie Chick siblings Martie Maguire and Emily Robison, who had Jakob Dylan as a visitor.
Previously: Wednesday Night Roundup
Dan DeLuca

, Inquirer Music Critic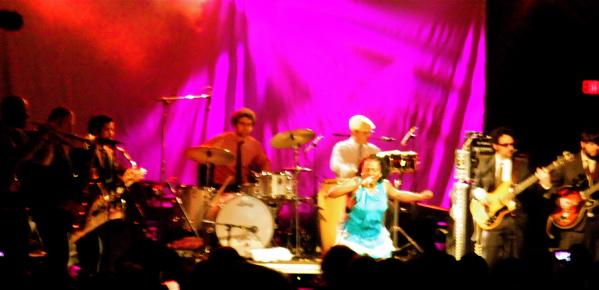 Sometimes - make that most of the time - the best thing you can do at an outsized gathering like SXSW is get away from the allegedy "must see" big shows and head out in pursuit of lesser known pleasures.
On Wednesday, I started out with four satisfyingly mellow country-rock songs at Club DeVille from Dawes - the Gram Parsons-influenced brother band led by Taylor and Griffin Goldsmith, well worth checking out. Then it was on to Wanda Jackson (see separate post here), before heading over to Stubbs for the big NPR Music show with Sharon Jones & the Dap-Kings, Broken Bells and local Austin heroes Spoon.
Dan DeLuca

, Inquirer Music Critic
"I tell you, Jack White pushed me and pushed me on these songs," rockabilly legend Wanda Jackson said at the Beauty Bar Palm Door annex on Wednesday night, "until he pushed me right into the 21st century."
SXSW isn't just for start-up bands trying to raise their profiles. It's also about older acts who are rebooting. (And there as nowhere more appropriate for the 72 year old Jackson to reboot, since they sell cowgirl footwear at the Palm Door, right in the place where the merch stand should be.)
Dan DeLuca

, Inquirer Music Critic
None of the bands I heard in Austin tonight paid tribute to Alex Chilton, the 59 year old Memphian who led both the Box Tops and, more crucially, Big Star, and died in New Orleans on Wednesday. But I suspect that'll be in the cards in the coming days. Big Star is one of the greatest of American rock bands, and Chilton was always an indie role model who couldn't help but wear his outsider status and diffidence about success on his sleeve.
He was scheduled to perform in a Big Star reunion show on Saturday, and there is/was a panel discussion about the band, occasion by the superb box set, Keep An Eye On The Sky, which came out last year, planned for that same day. There's no word yet from SXSW organizers as to whether thoese events will be cancelled, or turned into tributes. SXSW's Brent Grulke issued a statement that said: "Alex Chilton always messed with your head, charming and amazing you while doing so. His gift for melody was second to none, yet he frequently seemed in disdain of that gift. He seemed as troubled by neglect as he did by fame. He wrote the most accessible pop songs that turned into something quite sour on closer reflection. ... And make no mistake: Alex Chilton was an artist of the very highest caliber. It's too early to do much but cry about our loss right now, but he'll be missed, and missed more as the ages pass and his myth continues to expand — that music isn't going anywhere."
Previously: One Eyed Blogger