Archive: February, 2013
Dan DeLuca, Inquirer Music Critic
The lineup for the 2013 Firefly Music Festival in Dover, Delaware this June was announced this morning, and it's looking like a winner.
Marquee names start with Tom Petty & the Heartbreakers and Red Hot Chili Peppers and include Vampire Weekend, Azealia Banks, Kendrick Lamar, The Lumineers, Public Enemy, MGMT, Yeah Yeah Yeahs, Ellie Goulding, Alabama Shakes, Avett Brothers, Dr. Dog, Calvin Harris, Japandroids, Spinto Band, the Walkmen and Amanda Palmer.
In other words, it's loaded. Last July's inaugural Firefly was a three-day four-stage event featuring the Black Keys, Jack White and The Killers, located in a beautiful wooded glade adjacent to the Dover Downs speedway. In 2013, the experience will be repeated a month earlier on June 21 to 23 as the fest swells to include 71 acts, which are enumerated in the video below.
Dan DeLuca, Inquirer Music Critic
When Jim James comes to town, it's usually as the frontman for My Morning Jacket, the adventurous jam band that has made a habit over the last few years of entertaining 7,000 or so souls at the Mann Center in Fairmount Park on steamy summer nights.
It was a little different on Monday night at Johnny Brenda's, the cozy Fishtown club. The singer with the haunting, luminous voice kicked off a tour for his debut solo album Regions of Light and Sound of God to a packed house of around 200, who snapped up tickets in a matter of seconds when they went on sale last month.
In the music industry, this was what's known as an "underplay," a buzz-building, must-see, intimate event by an act that could easily be playing a larger room. If all went according to plan (and it did), fans would wind up three deep at the balcony rail, standing on tippy toes and craning their necks to catch a glimpse, and taking cell phone photos of their hirsute hero as he played guitar, tapped drum machines and tooted a saxophone (!) while shaking his lion's mane on the stage below.
Dan DeLuca, Inquirer Music Critic
The 2013 Grammy Awards are on TV tonight, to be broadcast on CBS3 from the Staples Center in Los Angeles at 8.
Some are predicting a Frank Ocean runaway, but I don't see it way. The R&B innovator deserves a near clean sweep, but my hunch is that Grammy voters are too conservative to give him one. We'll see, and we'll also see if Chris Brown has cleaned himself up nicely after crashing his Porsche into a wall yesterday.
My preview and predictions are in the Sunday Inquirer and here. Below, videos from the five nominees for album of the year: Ocean's Channel Orange, The Black Keys' El Camino, fun.'s Some Nights; Mumford & Sons' Babel and Jack White's Blunderbuss. Channel Orange is my should win, and Babel my will win.
Frank Ocean, "Thinkin Bout You"
The Black Keys, "Lonely Boy"
fun., "We Are Young"
Mumford & Sons, "I Will Wait"
Jack White, "Freedom at 21"
Dan DeLuca, Inquirer Music Critic
Today in New Orleans, David Simon, Wendell Pierce and crew are filming the last episode of the fourth and final season of Treme, the HBO show that's does such a great job of showcasing the music and culture of the Crescent City and which you will miss when it's gone.
Tonight in West Philadelphia, Kermit Ruffins, the post-Satchmo trumpeter, ambassador for New Orleans music and frequent Treme guest star, plays at The Blockley in University City with his band the BBQ Swingers. The Main Squeeze and New Sound Brass Band open.
Mardi Gras is coming up next week, and this is as close as you're going to get to a second line Social and Pleasure Club parade this far from the 504. Show details are here. Below, check out Ruffins & the Swinger Jam in the Van performance of "Drop Me Off In New Orleans."
Dan DeLuca, Inquirer Music Critic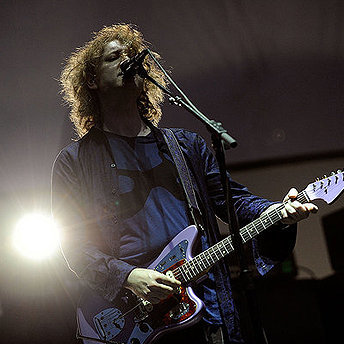 Kevin Shields' name belongs on the short list with creators like Ralph Ellison, Shuggie Otis, Henry Roth, Jeff Mangum (of Neutral Milk Hotel) and Axl Rose. Guys whose towering artistic achievements in their youth loomed so large that for a prolonged period they were either unable to continue to produce new work, or unable to stop fiddling with it and let it loose into the world.
In Shields case, the vehicle is My Bloody Valentine, the half English-half Irish half male-half female rock band that invented and perfected the genre that came to be known as "shoegaze" with the 1991 gloriously messy, assaultive-yet-intimate 1991 Jackson Pollock drip painting of a rock album, Loveless.
In case you hadn't heard, on Super Bowl eve, Shields shocked the indie rock world by finally making good on his long running promise to someday actually release the follow-up to Loveless. The 9 song m b v (***) is available for purchase only through mybloodyvalentine.net, and when it became available on Saturday it "broke the Internet," as they say, or at least caused the band's servers to crash for a time so it because quite difficult to buy the thing.
Dan DeLuca, Inquirer Music Critic
The Lumineers, who just played a sold out Tower Theater last week and are nominated for a best new artist Grammy this Sunday, will headline the WXPN Xponential Festival at the Susquehanna Bank Center in Camden on July 27th. The undercard on the bill is filled out by Philadelphia local heroes Dr. Dog.
The Xponential fest runs from Friday 7/26 to Sunday 7/28 in Camden's Wiggins Park, adjacent to the Susq. This will be the second year that the fest will move to the larger venue for a Saturday night show. Last year, Wilco, Avett Brothers and Dr. Dog played on Saturday night, and Counting Crows on Sunday. Those who buy a three day pass to the fest get lawn tickets to the Lumineers show on Saturday.
Tickets go on sale on February * at 10 a.m. throught Ticketmaster. The lineup for the rest of the fest will be announced on April 16. "Ho Hey" is below.
Dan DeLuca, Inquirer Music Critic
UPDATE: As expected, Beyonce's big Super Bowl splash is being followed by a tour announcement. The Mrs. Carter Show World Tour play the Wells Fargo Center on July 25 and Boardwalk Hall in Atlantic City on July 26. Tickets for the Philadelphia show go on sale Feb. 15 at ComcastTix.com.
Before the Superdome power outage became the story of the night, Beyonce put all the brouhaha over her lip-synching the National Anthem at President Obama's inauguration this month behind her with what was surely the most scintillating big game halftime show since Prince played Super Bowl XLI in 2007.
Earlier this week at her Super Bowl press conference, Beyonce promised "I absolutely will be singing live," and it surely seemed she was, albeit with pre-recorded back up vocals, as she appeared several times larger than life on stage to a Vince Lombardi voice over.
Dan DeLuca, Inquirer Music Critic
Canadian honky tonk songstress Lindi Ortega plays the Tin Angel in Old City tonight. The Inquirer's Nick Cristiano interviewed the Torontonian who recently moved to Nashville - and guest starred on ABC's Nashville - in today's Weekend section. Read that here.
Check out "Cigarettes and Truckstops," the title cut from Ortega's 2012 album, below. An Ortega cover of Janis Joplin's "Mercedes Benz" is here. Show info is here. Dustin Bentall and the Smokes open.
Previously: Cat Power at the Electric Factory Follow In the Mix on Twitter