Archive: February, 2011
New Orleans funk polymaths Galactic play the Trocadero tonight, still on tour from last year's Ya-Ka-May. Below, the Crescent City conglomeration and regular Treme guest stars consort with the great Irma Thomas on "Heart of Steel." Cyril Neville, Corey Henry of the Rebirth Brass Band and the High and Mighty Brass Band are all on board at the Troc.
Previously: Help Me Wanda
Rockabilly hellcat Wanda Jackson plays the World Cafe Live tonight. Sam Adams' interview from the Friday Inquirer Weekend section with the 73 year old former Elvis Presley dater is here. "Thunder On The Mountain," the Bob Dylan cover that's the first single from the Jack White-produced The Party Ain't Over is below, with White on guitar.
Previously: Radiohead's The King Of Limbs
As promised, here's my Radiohead review. To recap: The King Of Limbs was announced last Monday, was supposed to come out on Saturday, but got moved up a day until Friday. My review will be in Tuesday's Inquirer, and it starts below and continues after the jump.
Radiohead are masters of surprise. Going back to Kid A, the 2000 album that followed 1997's prog-rock landmark OK Computer with a left turn into ambient-electronic experimentation, the acclaimed British quintet have grown practiced at turning every release into an event that catches their fan base unawares.
Last time around, with 2007's In Rainbows, the Thom Yorke fronted band of Oxford townies got everybody's attention byreleasing their music – at first, anyway – as a pay-what-you-wish download, embracing a music-should-be-free ethos that they could well afford, having already spent a decade selling millions of CDs and packing arenas.

Radiohead's The King Of Limbs came out yesterday, a day before it was supposed to. Those Oxonians are full of surprises, though not so much so, musically, this time around. Below, Thom Yoke does a marionette dance in his Laurel and Hardy-A Clockwork Orange bowler hat. Full review coming Monday.
Previously: Jon Langford's Skull Orchard at the Bloodshot Brew Bash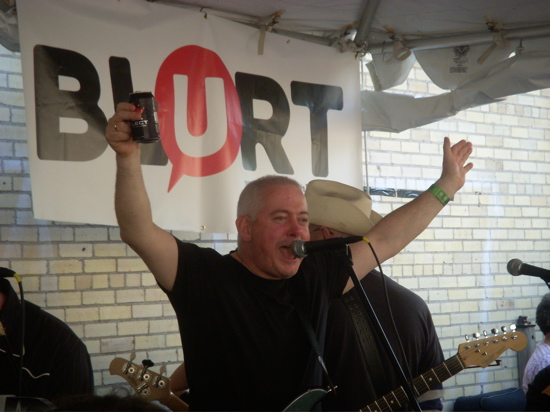 The great - and I do mean great - Jon Langford of Mekons, Waco Brothers, Pine Valley Cosmonauts, Three Johns and Jon Langford fame - plays the North Star on Sunday night with the Bloodshot Records Brew Bash.
Langford - the Chicago based Welshman (pictured above a couple of SXSW's ago, with the Wacos) known for his trenchant wit and second career as a visual artist specializing in bone faced cowboys - has a new album out with his Skull Orchard sideline called Old Devils.
As we were on this blog in relation to the Grammys, Lady Antebellum, and Rick Perlstein's Nixonland just the other day. Thanks to Perlstein for sending me this clip of the then-POTUS knocking out a little "God Bless America" on piano at the Grand Ole Opry in Nashville in March 1974. Turns out the multi-talented Milhous had more than dirty tricks up his sleeve.
Previously: The World's First Newspaper Album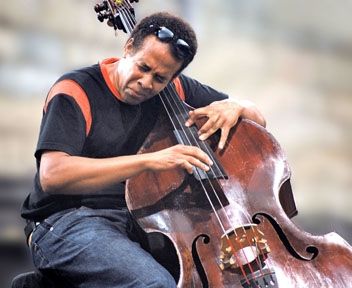 My apologies to Roxborough-raised jazz bass virtuoso Stanley Clarke for missing that he won a best contemporary jazz album Grammy on Sunday for his The Stanley Clarke Band. He was also up for best instrumental pop performance for "No Mystery," but lost to Jeff Beck. It's in this story now.
Clarke wasn't in L.A. to collect his award because he had the good sense to be on a summer time tour of Australia with Return To Forever at the time. But he told AllAboutJazz this: "I'm grateful on behalf of the whole band for this honor. It's humbling to be in such strong company. It's so gratifying to see that jazz and instrumental music remain such vibrant and exciting musical forms, and that we could contribute to their vitality." In 1971, Clarke graduated from the Philadelphia Musical Academy, which later became part of the University of the Arts. Below, Clarke sits down and struts his stuff.

Previously: How The Roots Got Over (at the Grammys)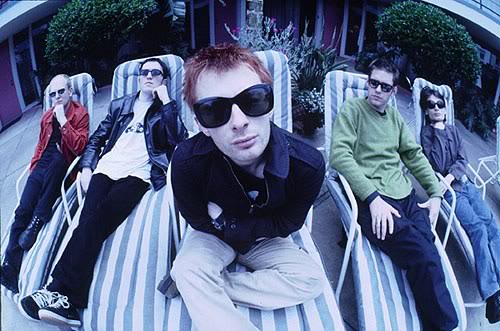 I'm not sure what that means, but that's what Radiohead are calling the deluxe version of their new album The King Of Limbs, which comes out in fancy schmancy very expensive form on May 9. The package will contain two 10 inch vinyl records, one CD, plus "many large sheets of artwork, 625 tiny pieces of artwork and a full-colour piece of oxo-degradable plastic to hold it all together." All that plus a bunch of mp3 files for $48, or .wav files for $53. (The announcement came with an asterisk attached to the word "perhaps," suggesting that Radiohead aren't in fact sure whether or not The King Of Limbs is in fact "the world's first Newspaper Album." Whatever that is.)
All this is very interesting, but it buries the lede, which is this: the digital only version of The King Of Limbs comes out on Saturday. Last time, with 2007's in Rainbows, the British rock band famously allowed fans to pay what they wished. For all of the fawning media attention the Thom Yorke-fronted outfit received, there's a clear acknowledgement that that strategy didn't work in the new pricing plan. Which is this: Pay what Radiohead, not you, wishes. It's $14 for .wav files or $9 for mp3 files. Get it at thekingoflimbs.com. And after you do, read about it, in the newspaper.