Archive: November, 2009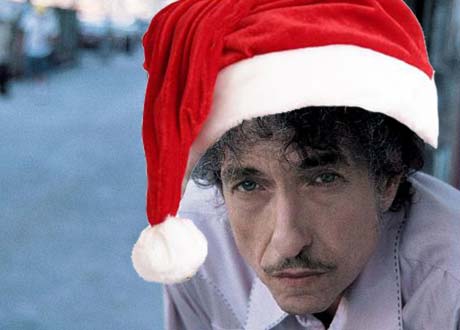 Who's the guy in the goofy wig and the Santa hat? Must be Bob Dylan. If you thought the Christmas in the Heart album was strange, here's something weirder still: The Nash Edgerton-directed video for Dylan's Xmas polka tune "Must Be Santa," featuring a jaunty bard swigging wine, smoking a stogie and hanging out with St. Nick himself at a smashing holiday party. Nice socks, Bob. Watch it here.
Previously: Norah vs. Fiddy
Georgia-born, Philly-bred and now New York-based singer songwriter Adam Arcuragi plays the North Star Bar in Brewerytown tonight. Here's my review of his new album I Am Become Joy, from yesterday's Inquirer. And here's a clip of Arcuragi and band busking in Manhattan, doing Joy's joyous "The Bottom Of The River."
Previously: Live Lobos
Sometimes the best gigs happen in the strangest places. There I was, eating fondue on Saturday night, and getting ready to go see Los Lobos at Harrah's in Chester. "Los Lobos is playing a casino?" a friend of mine said. "Oh, how the mighty have fallen." Not really - though the low-ceilinged Harrah's ballroom where the east L.A. rockers played a wicked 80 minute set was a long steep escalator ride down from the casino floor. Harrah's may be Tony Orlando and Ronnie Milsap territory, and the sparkly lights hanging behind wouldn't have been out of place in a high school gym. But there's next to no stigma left for rock bands playing casino showrooms anymore, and Los Lobos are a working band, 30 plus years down the road, who handle themselves with class whether they're playing the White House (which they did last month as part of Fiesta Latina) or a less august venue. And from the sound of the sextet on Saturday night, they're as good as they've ever been when it comes to reading an audience and thinking on their feet on stage.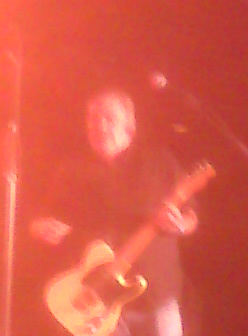 I caught Max Tundra at a day party at SXSW in Austin, Texas earlier this year, and as the video below suggests, the DJ, guitarist and crowd pleaser is quite the clever all-around entertainer. He's at Kung Fu Necktie in Fishtown on Saturday night.
Previously: Los Lobos Does Disney in Chester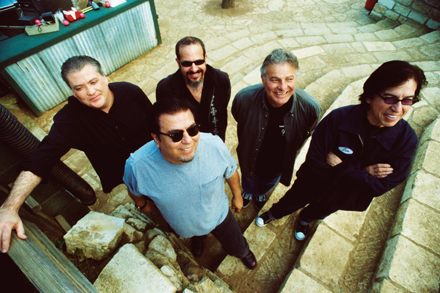 The great East Los Angeles rock and roll band Los Lobos have been signed to Disney owned Hollywood Records for years. And back in 1988, the all-Chicano plus one Jewish guy from Abington (saxophonist Steve Berlin) quintet cut "I Wanna Be Like You," from Jungle Book for Philly-born producer-conceptualist Hal Willner's Disney Stay Awake compilation, and reprised it last year in L.A. at a 20th anniversary concert.
So it's not all that shocking that the David Hidalgo and Cesar Rosas-fronted formidably flexible outfit has recorded an uniformly excellent album of songs from Uncle Walt's entertainment empire, released last month as Los Lobos Goes Disney. Give it a spin, though, and it's quite a kick to realize just how good it is, from Halloween appropriate reggae flavored "Grim Grinning Ghosts," from the Haunted Mansion album, to a jazzy Rosas sung "Cruella DeVil" from 101 Dalmations and a Spanish "Heigh Ho," from Snow White and The Seven Dwarfs.
This one goes out to Kareem Abdul Jabbar, the sky hook progenitor and worthy foe to Moses Malone back in the day born Lew Alcindor who announced on Tuesday he's suffering from a rare form of leukemia that, strangely, is known as Philadelphia chromosome-positive chronic myeloid leukemia. "Sweet Lew" is the Pearl Jam song inspired by Jabbar that Jeff Ament - he's the one in the Wilt Chamberlain jersey - and Eddie Vedder had never performed live before they did it on the Spectrum on Halloween.
Previously: Dylan Setlist, Liacouras Center
Bob Dylan looked snazzy in a broad brimmed white hat and sang "Man in The Long Black Coat" at the Liacouras Center in North Philly on Monday night. With Charlie Sexton jump starting the five piece band, the golden throated Bard stepped lively for nearly two hours, touching on this year's Together Through Life and wholly ignoring his new holiday album, Christmas In The Heart. The set list is below, a review is on its way.
Stuck Inside Of Mobile With the Memphis Blues Again / Man In The Long Black Coat / I'll Be Your Baby Tonight / Beyond Here Lies Nothin' / Spirit On The Water / High Water (For Charley Patton) / Tryin' To Get to Heaven / Cold Irons Bound / Desolation Row / Po' Boy / Highway 61 Revisited / Workingman's Blues #2 / Thunder On The Mountain / Ballad Of A Thin Man
Encore: Like A Rolling Stone / Jolene / All Along the Watchtower