Archive: January, 2011
We as Philadelphians have much to be proud of. According to Rolling Stone, Kanye West may be the most followable musical Tweeter on Twitter, but caught-in-a-technology-loop Roots drummer Ahmir "?uestlove" Thompson, who got his picture taken with Barack Obama recently, comes in second. His Tweets are here. And sandwiched between 50 Cent and British rapper Mike Skinner - better known as The Streets - is north Philadelphia producer-DJ and Blackberry spokesman Diplo (pictured), who just the other day tantalizingly Tweeted an entry from his Mad Decent blog that he and Derek Miller and Aiexis Krauss from Sleigh Bells were in the studio in New York last week with Beyonce. If you need somebody to lead you when deciding who to follow, the Rolling Stone top 50 list is here.
Previously: Lykke Li's "Get Some"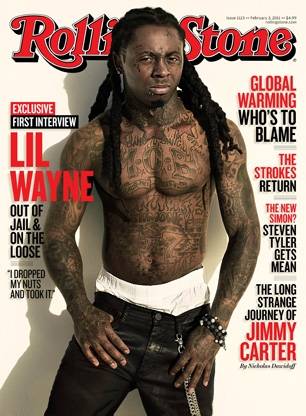 No longer incarcerated rapper and Roling Stone cover boy Lil Wayne will play the Wells Fargo Center in South Philadelphia on March 26 with an all-star undercard that includes Nicki Minaj, Rick Ross and Travis Barker. With typical Weezyan self-deprecation, Wayne has titled this jaunt, which kicks off in Buffalo on March 18, the I Am Music II tour.
In the Rolling Stone issue currently on shelves, Wayne talks about his reading material in Rikers Island, which included bios of Vince Lombardi, Joan Jett, Anthony Kiedis, Jimi Hendrix and Marvin Gaye. "I also read the Bible for the first time," he told Josh Eels. "It was deep! I liked the parts where some character was once this, but he ended up being that. Like he'd be dissing Jesus, and then he ends up being a saint. That was cool." Below, Wayne's new single, "Six Foot Seven Foot." More tour info here.
Update: Tickets go on sale this Saturday, 2/5 at 10 a.m., the same time that ducats become available for the May 21 show at the Tower Theare by harmonious indie rock woodsmen Fleet Foxes. Info on both sows at LiveNation.com.
Lil Wayne - Six Foot Seven Foot (Feat Cory Gunz) by pigeonsandplanes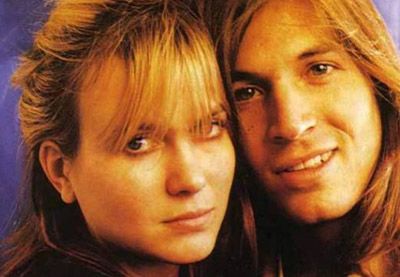 Once upon a time, Juliana Hatfield and Evan Dando were the it girl and boy of what used to be called "alt" and later became "indie" rock. It was the early '90s, and after leaving the Blake Babies behind, Hatfield seemed marked for great things with 1993's Become What You Are, while Dando's Lemonheads showed off impressive pop skills on 1992's It's A Shame About Ray. (Hear Hatfield do Ray back in the day here.) Tonight at the World Cafe Live, the New Englanders team up for what one hopes will be more than a nostalgia trip. Below, they do a duet from last year on Dando's typically slack, captivating and sad "My Drug Buddy."
Previously: Ted Leo Postponed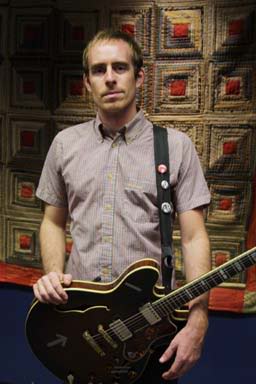 The Ted Leo solo show that was supposed to happen early at Kung Fu Necktie on Sunday, before the Matthew Dear late show, has been rescheduled. The Jersey rocker announced on his Twitter page that he's "in the midst of a very bad time, folks," so he's postponed all of his dates until the spring. Leo is now set to play the KFN on May 1. In addition, the Scranton show at the Vintage Theater scheduled for this coming Tuesday is now happening on April 30. Below, Leo turns out to not be such a great arm wrestler after all, in the video for "Colleen."
Previously: Bigger Lovers Are Back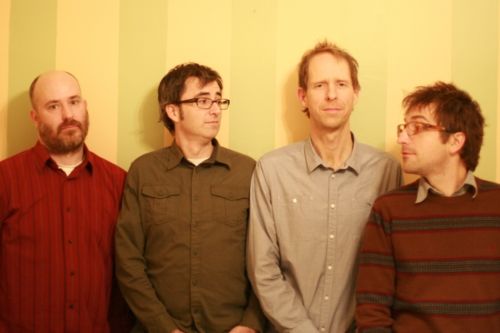 Philadelphia ipower-pop stars The Bigger Lovers are back in action after spiitting up in 2005. The Lovers are reuniting to mark the digital and vinyl re-release of their 2001 debut, How I Learned To Stop Worrying, which comes out on March 8, with a pair of bonus tracks. There's new music, too, or at least music that the band - above, Scott Jefferson, Ed Hogarty, sometime Inquirer contributor and drummer Patrick Berkery, and Bret Tobias - began working on almost years ago and polished off this past October with producer Tony Goddess of Papas Fritas.
The choice cut among the newbies is the quite tasty "Little Giant," which is streaming for your listening pleasure below and is also available as a free download until Feb 1. On that day, a five song Little Giant EP goes on sale for 4 bucks at biggerlovers.com and on iTunes. And on March 12, the Lovers will play Johnny Brenda's, with Dennis Diken and Bell Sound on the undercard. To hear Berkery expound on the the Lovers renewal, as well as explain the "what would Bonham do?" philosophy he shares with Daniel Smith of Danielson, head on over to WXPN's The Key.
Last night at the Merriam Theater, before he sang "Cute As A Bug" about half way into a deeply relaxed, richly enjoyable two and a half hour show with John Hiatt that contained so many songs abut cars and girls that you might have thought you were at a Bruce Springsteen show, Lyle Lovett talked about his first time on the Schuykill Expressway, when he was 11 years old, along for the ride on his father's business trip to Bala Cynwyd. There's something about that image that just doesn't compute.
But that's not the only way in which Philadelphia has gone country on this particular snowy Friday. Julie Thanki of The 9513 country music blog posted her favorite Philadelphia country songs today in a Friday Five feature. Number one is Charlie Rich's rockabilly hiccup "Philadelphia Baby," which is posted below. Number five is Woody Guthrie's folkie "Philadelphia Lawyer" is number five. If you want to find out what #2 through 4 are, from J.B. Beverley & the Wayward Drifters, Del Reeves and Marah, you'll just have to go to The 9513, here. Thanki, Julie.
Previously: Hard Headed Woman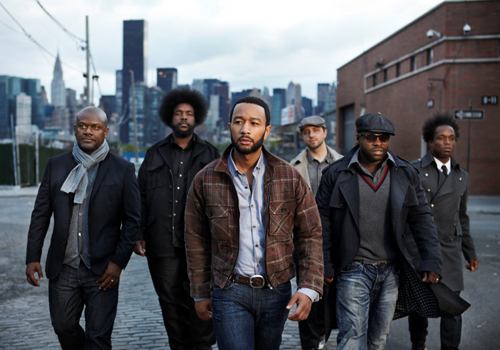 If today's headline about the New Orleans JazzFest looks a lot like yesterday's headline about Coachella, well that's because there apparently aren't that many headliners to go around.
The two festivals - one with an indie-electronic focus, held in the California desert, and one held way down in Louisiana, in the birthpalce of jazz - have more in common than you might think. For instance: The Arcade Fire and The Strokes, two of the top four headline names at Coachella, are also among the marquee acts in New Orleans, where the two weekend fest begins April 29 - May 1 and concludes May 5 - 8. There are two other acts in common, too: Brit folker Mumford & Sons and Fugee femme Ms. Lauryn Hill.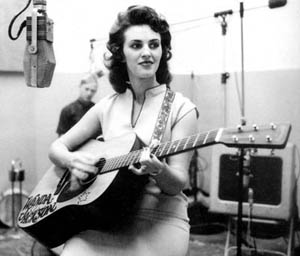 1950s rockabilly queen Wanda Jackson's Jack White makeover comeback album The Party Ain't Over arrives next Tuesday. "Thunder On The Mountain," a Bob Dylan cover on which Jackson changes the words "Alicia Keys" to "Jerry Lee", is the lead single. You can hear her have her way with that here. or listen to the whole hopped up album at NPR Music. Below, Jackson shows off what a "Hard Headed Woman" she was back in 1959. Jackson plays the World Cafe Live on February 22.
Previously: Arcade Fire, Strokes, Roots Healine New Orleans JazzFest