Archive: May, 2013
Dan DeLuca

, Inquirer Music Critic
I had a busy night on Thursday.
My biggest regret: Not getting to the World Cafe Live in time to see Mavis Staples perform at the Non-Comm confab. Still, I heard the 73 year old force of nature getting down and dirty with Curtis Mayfield's "Let's Do It Again" on the radio driving in, and ... Lord have mercy. She's got a new album coming on June 25 on Anti-, produced by Wilco's Jeff Tweedy, who also handled 2010's You Are Not Alone. sorry, no picture.
After, that, it was Wild Belle, the Chicago brother sister duo of Natalie and Elliot Bergman, whose Columbia debut, Isles, came out in March. The siblings are quite comfortable working reggae rhythms into their breezy pop songs, and she's a confident singer. Not awesome, but perfectly legit.
Dan DeLuca

, Inquirer Music Critic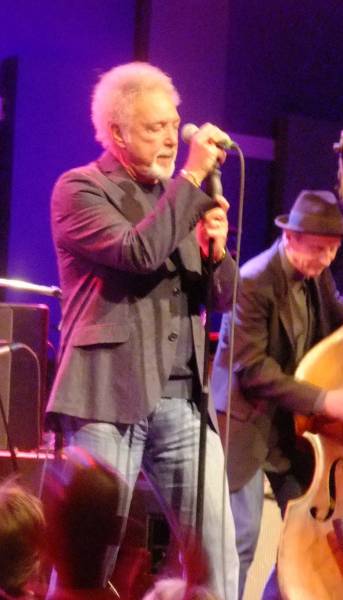 As good as Tom Jones sounded musically - and the blues, gospel and R & B living lounge lizard's voice is in great shape - at the World Cafe Live on Thursday during the second day of the 2013 Non-Commvention, the 72 year old Welshman's stage patter was even better.
Do you know who Paul McCartney wrote "The Long and Winding Road" for? Tom Jones, that's who. That's according to Jones, who was playing the Triple A / Adult Alternative radio confab a day before performing for paying customers at the TLA on South Street tonight.
Back in 1970, Macca responded to Jones' repeated entreaties to write him a song by serving up "TLAWR," but his handlers advised him not to record it becasue he had a different hot hit single at the time. instead, The Beatles put it on Let It Be, and Jones finally got around to covering the Liverpudlian's "(I Want To) Come Home," on his rock solid new Ethans Johns produced Spirit In The Room.
Dan DeLuca

, Inquirer Music Critic
First the Susquehanna Bank Center, then Late Night with Jimmy Fallon and finally the World Cafe Live: French rockers Phoenix have been bussing up and down the New Jersey Turnpike this week in support of their new album Bankrupt!
If it was Wednesday, Thomas Mars and crew must have been at the WCL for WXPN's Non-Commvention confab of radio muckety mucks. Sandwiched between an acoustic Kurt Vile upstairs that didn't work so well due to conversational cacophony and a closing set by rumbling Link Wray-style Portland retro rockers Sallie Ford & the Sound Outside, Phoenix was the stellar attraction on an action packed evening, that also included sturm and drang folkie John Murry, bluegrass celebs Steve Martin & Edie Brickell with the Steep Canyon Rangers and pleasantly poppy 1980s funksters The Tom Tom Club.
It was a kick to see Coachella sized headliners like the fashionable Versailles quartet, who recorded a session with World Cafe host David Dye before performing, in such relatively cosy environs. And though Bankrupt! has its sluggish moments, the band's Wednesday night was a 45 minute energy bar of synth and guitar powered power-pop.
Dan DeLuca

, Inquirer Music Critic
The annual radio confab known as Non-Comm kicks off tonight at the World Cafe Live in West Philadelphia, with Steve Martin & Edie Brickell, Kurt Vile and Phoenix among the marquee names slated to take the stage.
For the full schedule of this year's Non-Commvention, which is hosted by WXPN-FM and attracts (mostly) non-commercial adult-alternative stations reps from all over the country, click here. The shows are sold out, but with the exception of Phoenix will be broadcast live on XPN.
Tomorrow, I'll have an interview in the Inquirer with bass player, producer and Blue Note Records president Don Was, who will be interviewed at the WCL on Friday by XPN deejay Dan Reed. Check out Vile's video for "Never Run Away" below.
Dan DeLuca

, Inquirer Music Critic
Yesterday, Canadian astronaut Chris Hadfield tweeted a video of himself singing David Bowie's "Space Oddity" as he and his guitar floated around the International Space Station.
Planet earth is blue, and there's nothing he can do, except make viral videos that truly are out of this world. As he prepared to return home at the end of his mission, Commander Hadfield wrote: "Almost time to leave Station. Hard to express all of my emotions, but mostly gratitude. I came here on behalf of so many people - thank you." (His Twitter feed is here.) The papers want to know whose shirts he wears, and Bowie himself was impressed, pushing the caps lock key to tweet: CHRIS HADFIELD SINGS SPACE ODDITY IN SPACE! "Hallo Spaceboy..."
(Hadfield is also the shutterbug who has been posting photos of earth - and more importantly, Philadelphia - from space. Check out some of those shots here.)
Dan DeLuca

, Inquirer Music Critic
"We made this album because we don't like you," Adrian Younge told me the other day.
He was joking, I think. But let me explain: The album in question is Adrian Younge Presents Twelve Reasons To Die starring Ghostface Killah, the hip-hopera that tells the story of Tony Starks, the fictional Mafia hit man alter ego of the Wu Tang Clan rapper, who goes to war with a crime family known as the 12 DeLucas.
The DeLucas think they have done Starks in when they dump his body in a vat of boiling oil in an Italian record plant, but when the 12 records made from that vinyl are played ... well, let's just say that's when they need to beware of the stare of the Ghostface Killah.
Dan DeLuca

, Inquirer Music Critic
So far, David Bowie has made good on his promise to not tour in support of The Next Day, his potent comeback album (his first in 10 years) which came out in March.
The Thin White Duke is doing a good job, however, of keeping himself in the news in the absence of any live dates. After featuring actress Tilda Swinton in the clip for "The Stars (Are Out Tonight)," he ups the ante with the video for the album's title track, which features British actor Gary Oldman, who plays a corrupt priest, and Oscar winning French thespian Marion Cotillard, who depicts a dancing girl afflicted with stigmata.
Bowie himself appears as a Christlike rock singer in a decadent lounge full of sinning clerics, whom Oldman lashes out at after Cotillard begins spewing blood from her wrists. Like "The Stars," the at times NSFW video was directed by Floria Sigismondi.
Dan DeLuca

, Inquirer Music Critic
Country rock crooners The Mavericks and British guitar god Richard Thompson (with his Electric Trio) will headline the Philadelphia Folk Festival when it's held at the Old Pool Farm in Upper Salford Township for the 52d time from August 16 to 18.

This year's bill also includes Texas swing band Asleep at the Wheel (fronted by Montgomery County native Ray Benson), modern jug band Carolina Chocolate Drops, ukulele wiz Jake Shimabukuro, David Uosikkinen's In The Pocket: The Essential Songs of Philadelphia, Camden county vintage rocker Ben Vaughn, bluesman Otis Taylor and gospel knockouts Como Mamas.
Also on the bill for the fest: Luella & The Sun, Reverend Peyton's Big Damn Band, Sierra Leone Refugee All Stars, Spirit Family Reunion, Sleepy Man Banjo Boys, The Stray Birds, Star & Micey, Otis Taylor, Caravan of Thieves, Amy Helm, Jeffrey Gaines, Gabe Butterfield, Burning Bridget Cleary, Andy Statman Project, Runa, David Francey, Frank Fairfield, Joe Crookston & the BlueBird Jubilee, The Toy Hearts, The Amigos Band and Mike 'Slo-Mo' Brenner.

WXPN-FM deejay and folk Godfather Gene Shay will emcee as always. Tickets are on sale at www.folkfest.org. Check out Como Mamas below.