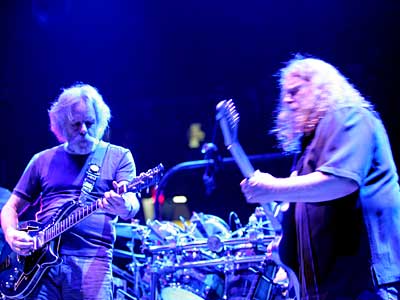 Here's the setlist from Friday's three-hour show by The Dead, the first of of two sold-out shows at the Spectrum this weekend.
First Set: Playing In The Band/Mississippi Half-Step Uptown Toodleloo/New Speedway Boogie/Shakedown Street/Dupree's Diamond Blues/Hard To Handle/Friend of the Devil/Playing In The Band (Reprise)
Second Set: Jack Straw/Alligator/Caution (Do Not Stop On Tracks)/Drums/Space/Loose Lucy/Comes A Time/Cold Rain And Snow/Sugar Magnolia
Encore: Box Of Rain
For any non-Deadheads reading this (and why would you be) "Comes A Time," is a Jerry Garcia/Robert Hunter song, not the Neil Young song. "Hard To Handle," however, is the Otis Redding song that was once sung by the late Ron "Pigpen" McKernan, which was handled on Friday night by Garcia substitute Warren Haynes. That's a David Swanson shot of Haynes to the right and Bob Weir to the left.