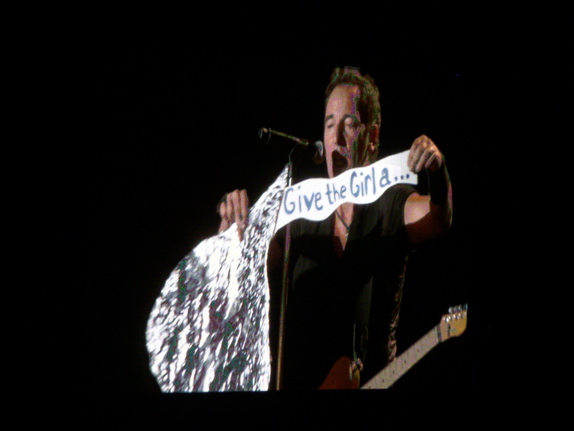 Deciding that twice was not enough, I headed out to Hershey on Friday for a third Springsteen show, half worried that it could never live up to the two at the Spectrum last month. No need: Turned out to be a full three hour blowout before a crowd of 30,000, the only outdoor show of the current U.S. tour on a perfect pre-summer night, and just the second time that the drummer's throne was held down solely by 18 year old phenom Jay Weinberg, who Springsteen introduced as "The Prodigy!"
A great, celebratory evening all around, with a couple of excellent signage moments, though towards the end, the Boss commented, "Love all the signs, but I gotta say, it's getting a little ridiculous." Early on, he grabbed one that read, "If U Play Twist n Shout, I'll Burn My Hannah Montana CDs," so that Isley Brothers-Beatles tune instantly shook up the set list.
And a bit later, right before Jimmy Cliff's "Trapped," Springsteen held up the imaginatively conceived request above, for the girl-group-ish "Give The Girl A Kiss," a '70s outtake that wound up on Tracks. So obscure that Steve Van Zandt had to teach the opening chords to Springsteen, who laughed through a flubbed verse or two. (Sorry folks, no Chocolate Town "Candy's Room")
Other highlights: the ripping, roiling Nils Lofgren solo on "The Ghost of Tom Joad," a brooding, bellowing "Backstreets," and the bank foreclosure/murder saga "Johnny 99" that opts for the electric chair if, as Springsteen sang "you can take a man's life for the noise that's in his head." And after the grand finale of "Rosalita," one more song, after the Boss commanded young Weinberg, "don't go downstairs yet, brother." It turned out to be "Bobby Jean," the sweet, sentimental goodbye song to Van Zandt from Born in the U.S.A., that sent us off into the Central Pennsylvania night.
Here's the set list, and more pics below.
Badlands/Spirit in the Night/Outlaw Pete/Radio Nowhere/Out in the Street/Twist and Shout/Working on a Dream/Seeds/Johnny 99/The Ghost of Tom Joad/Raise Your Hand/Give The Girl A Kiss/Trapped/Waitin' On A Sunny Day/The Promised Land/Backstreets/Kingdom of Days/Lonesome Day/The Rising/Born To Run
Encore: Hard Times/Thunder Road/10th Avenue Freeze Out/Land of Hope and Dreams/American Land/Rosalita/Bobby Jean